Packing for a wilderness retreat can be tricky, especially when you're wondering what to bring camping in a cabin.
With this comprehensive checklist, we're making your preparation easier and more efficient.
Our main goal is to ensure you have everything you need to fully enjoy your cabin camping experience.
In the coming sections, you're going to find a meticulously crafted list of essentials based on years of outdoor adventures.
Feel the thrill as you get ready for a truly unforgettable getaway.
So, buckle up and read on because we're about to transform your cabin camping trip into the epitome of outdoor comfort and fun.
Understanding Cabin Camping
Cabin camping is a unique experience, offering a blend of nature's tranquility and the comforts of home. So, what is it exactly, and why should you give it a shot?
What is Cabin Camping?
Cabin camping is, quite simply, camping in a cabin! It's a fantastic middle-ground for those who want the charm of camping but prefer some modern comforts. Unlike tent camping, where you pitch a tent and sleep under the canvas, or RV camping where you're on wheels, cabin camping provides you with a solid structure. It's a little piece of home nestled in nature's lap, offering you protection from the elements, a comfortable bed, and often, a kitchen to cook your favorite meals.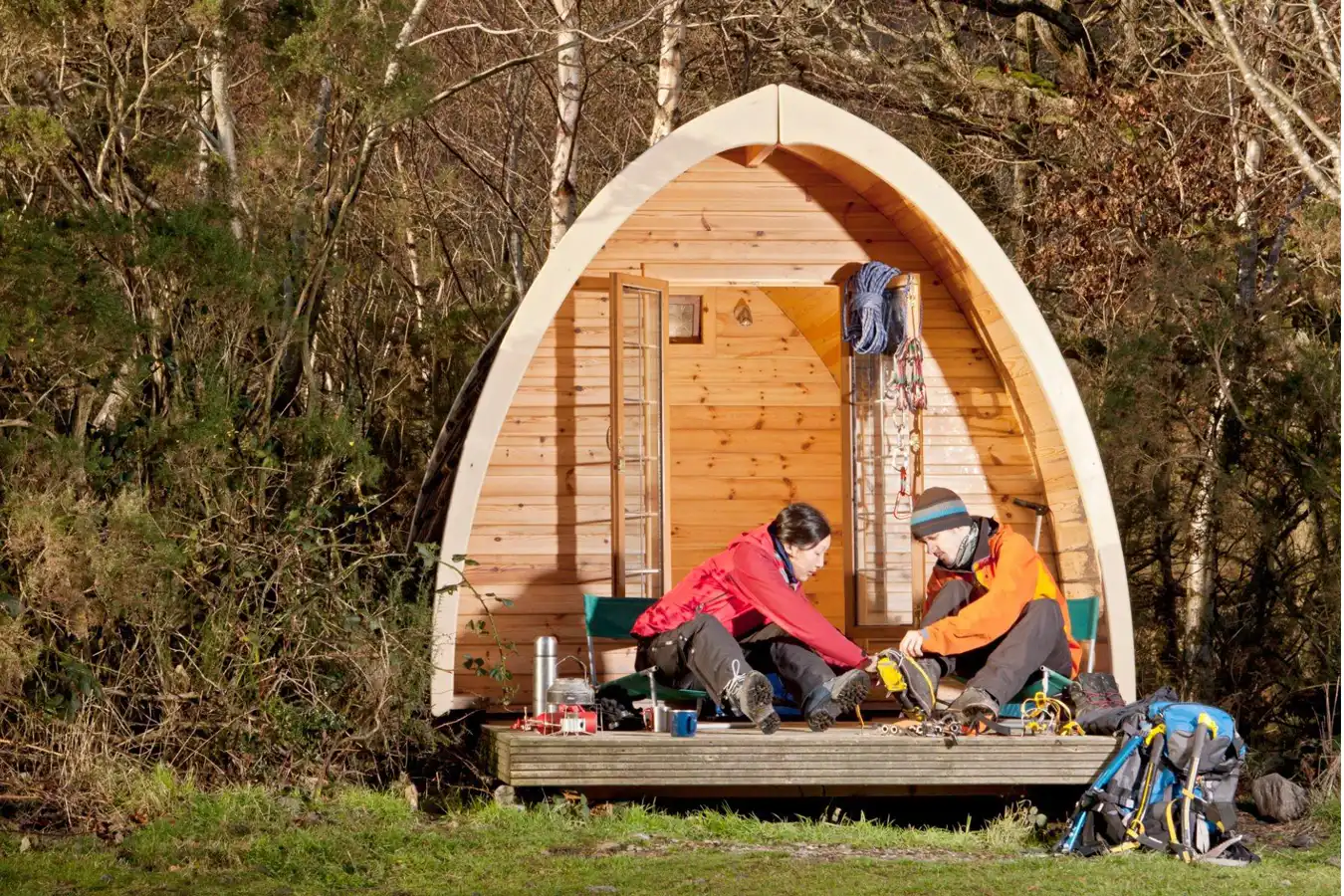 The Benefits of Cabin Camping
Why choose cabin camping? Well, let's talk benefits.
First off, it offers a level of comfort that tent camping can't quite match. After a day filled with hiking, exploring, and adventuring, you get to come back to a cozy bed in a warm, dry cabin. It's a nice reassurance when the weather turns a bit too wild, too.
It's also a safer option for those who are uneasy about critters or nocturnal visitors. With solid walls and lockable doors, you're secure from any curious wildlife.
And let's not forget the convenience. No setting up tents, no packing away wet gear, and with most cabins offering a cooking area, you can say goodbye to struggling with a camping stove. You get to focus on the fun parts of camping – the breathtaking views, the tranquility, and the starlit skies.
Know more: What is Bushcraft Camping
Pre-Trip Planning and Preparation
Before setting out for your cabin camping trip, a little planning goes a long way. From researching your cabin and campsite to listing down the essentials, smart preparation is the secret to a successful adventure.
Research Your Cabin and Campsite
Never underestimate the importance of research. Look into the specific details about your cabin and campsite. Does it have a kitchen, heating, or electricity? Is there a grocery store nearby, or do you need to pack all your food in advance? What's the weather forecast during your stay? The more you know, the better you can prepare.
List Down Essentials
Just as important as research is your essentials list. This is your roadmap to packing, and it ensures that nothing crucial gets left behind. The list will depend on your research, the weather, the length of your stay, and personal preferences. So take your time and customize it to your needs.
Learn more: What Food Should I Bring for 3 Days Camping
The Packing List: What to Bring Camping in a Cabin
Now, let's dive into the packing list. Keep in mind this is a comprehensive guide, and you should adapt it based on your specific needs, trip duration, and available amenities.
Personal Items
First up, personal items. Pack clothing suitable for the weather and outdoor activities, including layers for chilly nights. Don't forget your toiletries, and any medicines you might need. And remember, the great outdoors can be tough on your skin, so sunblock and lip balm are a must.
Kitchen and Cooking Supplies
Next, kitchen and cooking supplies. If your cabin has a kitchen, you'll need utensils, cookware, dishes, and cups. Don't forget essential food items and spices. Remember to bring along cleaning supplies like dish soap and sponges. A cooler is handy for keeping perishables fresh if there's no refrigerator.
Sleeping Arrangements
Even though you're in a cabin, you may need to bring your bedding. Sleeping bags are a safe bet, and they double as extra warmth on colder nights. Pack blankets and pillows for added comfort, and don't forget the cozy pajamas!
Entertainment
Cabin camping is an excellent opportunity to disconnect from digital devices and enjoy traditional entertainment. Pack books, board games, a deck of cards, or even some art supplies. And if you're near a lake or river, don't forget the fishing gear!
Outdoor Gear
When packing outdoor gear, think about the activities you plan to do. Will you be hiking, bird watching, or exploring nature trails? Make sure to pack hiking boots, binoculars, and perhaps even a guidebook of local flora and fauna. Comfortable camp chairs and an outdoor table can also enhance your outdoor living area.
Safety and Emergency Supplies
Last, but by no means least, are safety and emergency supplies. A well-stocked first-aid kit is a must. Navigation tools like a map, compass, or GPS can be lifesavers. Don't forget a reliable flashlight, extra batteries, and a multipurpose tool. And, of course, bug spray to keep those pesky insects at bay!
Remember, the aim is to create an enjoyable, stress-free experience. So take your time with packing, double-check your list, and most importantly, have fun on your adventure! Safe travels!
Read more: What to Bring to a Camping Festival
Tips for a Successful Cabin Camping Trip
Cabin camping is a delightful mix of comfort and adventure. But like all journeys, there are ways to enhance the experience. Here are some pro tips that can make your cabin camping trip a smooth sail.
Packing Tips
Packing for a cabin camping trip can feel like solving a puzzle. Here are a few tricks of the trade:
Pack in categories: Sort items into groups, like clothing, cooking supplies, personal items, and so on. This helps you see if you've missed anything and makes unpacking easier.
Layer your clothes: Instead of packing one heavy coat, consider layering clothes. This way, you can add or remove layers as the weather changes.
Maximize space: Use all available space efficiently. Roll clothes instead of folding, use travel-sized toiletries, and consider multi-use items like a Swiss army knife.
Cabin Etiquettes and Rules
Cabin camping comes with an unwritten rule book. Remember, you're sharing the outdoors with nature and other campers:
Leave no trace: Respect nature and leave your campsite as you found it. Take all trash with you and recycle where possible.
Keep noise down: Sound travels far in the quiet of the wilderness. Respect other campers' peace and enjoy the tranquil surroundings.
Follow camp rules: Every campsite has rules. Make sure you know them and follow them.
Safety Precactions
Safety is paramount when camping. Here are some key safety tips:
Be prepared: Have a well-stocked first-aid kit and know basic first aid procedures.
Stay aware: Pay attention to your surroundings and any potential risks, like poison ivy or wildlife.
Check in and check out: Let someone know where you're going and when you expect to be back.
To know more: What to Bring Beach Camping
FAQs about What to Bring Camping in a Cabin
What should I pack for camping in a cabin?
When packing for a cabin camping trip, consider bringing essentials such as appropriate clothing for the weather, toiletries, food and cooking supplies, as well as sleeping equipment like sleeping bags and pillows, depending on what the cabin provides.
What should be included in a cabin?
A cabin should ideally include basic amenities such as beds or bunks, cooking facilities, a restroom, and sometimes electricity. However, amenities can greatly vary from cabin to cabin, so it's best to check beforehand.
How do I prepare for a cabin trip?
To prepare for a cabin trip, start by researching the amenities your cabin provides, plan your meals and pack food accordingly, pack necessary clothing and personal items, and don't forget emergency supplies like a first aid kit and flashlight.
What are fun things to bring camping?
Fun items to bring camping could include games, books, a frisbee, a guitar or portable speaker for music, and ingredients for s'mores. Additionally, outdoor gear like fishing equipment or binoculars could enhance your experience depending on your cabin's surroundings.
Conclusion
Cabin camping is a unique adventure, offering a blend of outdoor thrills and indoor comforts. Proper planning, packing, and following a few simple rules of etiquette can make your trip memorable and fun.
So, whether you're a seasoned camper or trying it out for the first time, remember to respect nature, be safe, and most importantly, enjoy every moment. Ready for the adventure? Happy camping!
To know more: What is Sky Camping