Looking for the best compression packing cubes for your next adventure? You've come to the right place!
As an avid traveler with a passion for the great outdoors. I've been fortunate enough to traverse breathtaking landscapes, from rugged mountains to serene lakes.
The road to efficient packing begins here!
Our Top Choices
Reviews of the Best Compression Packing Cubes
Making the right choice can be tricky, so we've chatted with some seasoned travelers who know a thing or two about using these packing cubes. They've been down the same road you're on, and they're sharing bits of their travel stories with us. Here's what they had to say:
The TRIPPED Travel Gear Compression Packing Cubes are a traveler's best friend. Let's dive into this product from a user's perspective.
As a frequent traveler, organizing your luggage is paramount. These packing cubes ace that by using a unique two-zipper system to compress your clothes, eliminating wasted space. In practice, it's easier to use than vacuum bags, and you can skip the extra fees of a checked bag. It's like magic!
Trust me, this product stands out! Made from ripstop Polyurethane, these packing cubes are ultra-lightweight, durable, and water-resistant. That means they'll survive nonstop travel and keep moisture out of your clothes, which is a bonus!
Having tested them personally, the reinforced zippers and double stitching are indeed tougher than others on the market.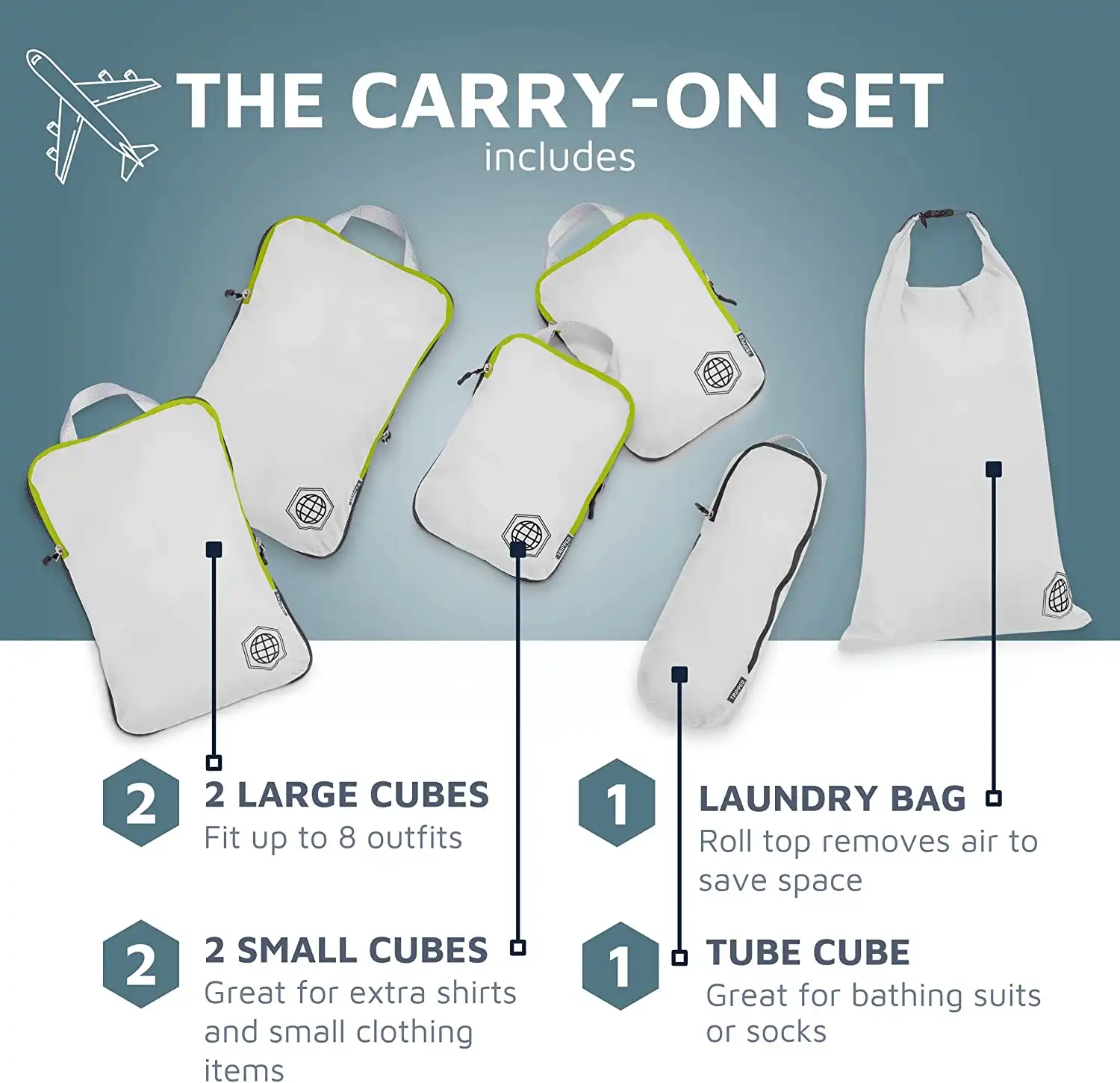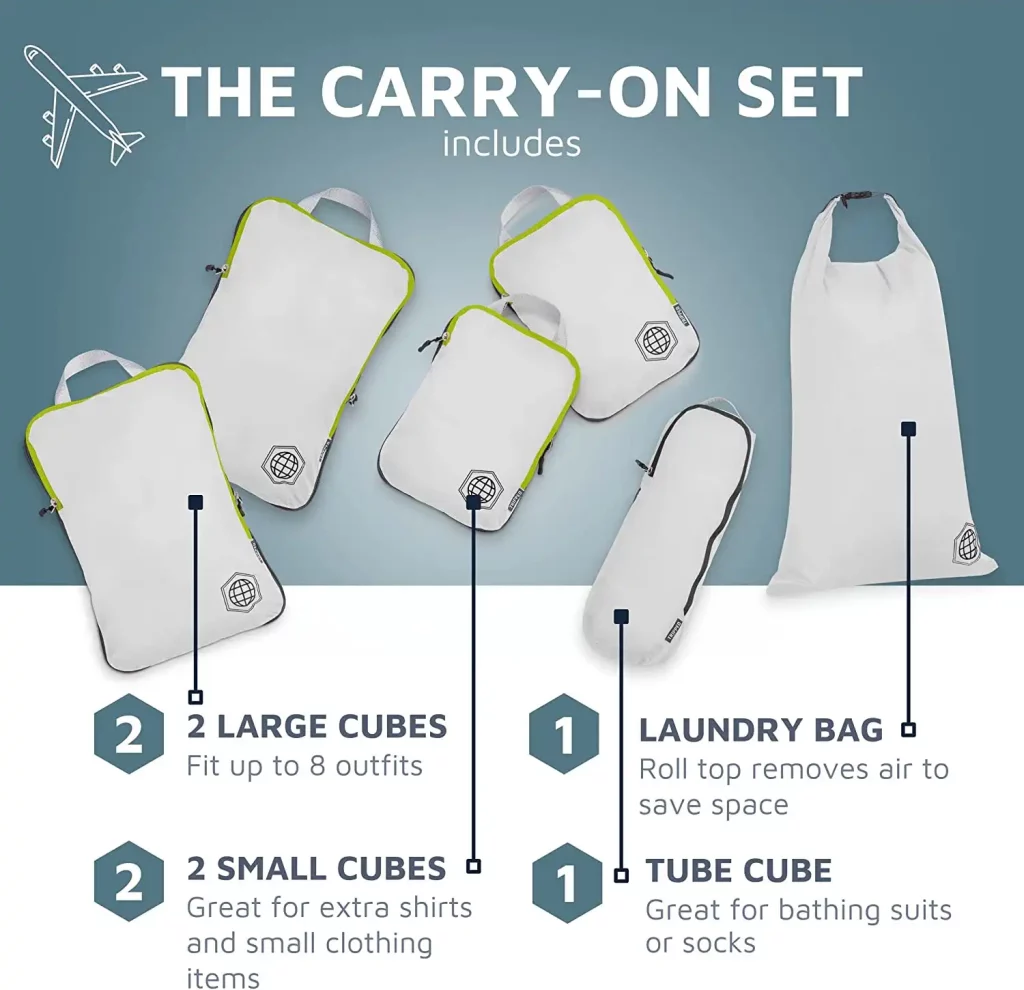 The Large bag can hold a week's worth of shirts, while the Medium can manage the same amount of underwear/socks. That's quite impressive for their compressed sizes: 14x10x1in for the Large, and 10x7x1in for the Medium.
Pros:
Easy to use
Lightweight and durable
Space-saving design
Cons:
Specifications:
Fabric: Ripstop Polyurethane
Sizes: Large (14x10x1in), Medium (10x7x1in)
What Sets This Product Apart:
The durability and functional design set these cubes apart from their competitors. Not to mention the affordability – excellent value for the quality!
Related Buyer's Guide: Top Best Travel Backpacks for Seniors
Ever considered the Biaggi Double Deck Compression Cube? Let's see why this product should be on your radar. If you're aiming for stress-free travel preparation, investing in the best packing cubes is a smart choice.
When it comes to travel, organizing is everything. The cube's unique design featuring two main compartments and a compression zipper makes packing a breeze. Plus, the added Shoe Cube for footwear enhances your travel efficiency.
As an outdoor enthusiast, I can attest to the usefulness of this product. Two inner zippered pockets are great for small items, making it convenient and multifunctional.
Having packed and unpacked this cube during my trips, I've witnessed firsthand how the center compression zipper keeps my clothes fresh and wrinkle-free.
The Compression Cube measures 14″x9.5″x7″, and can expand to 9″ in depth, while the Shoe Cube measures 12.5″x7″x7″. The Shoe Cube can accommodate up to two pairs of shoes, and a pair of flip flops in a separate pocket.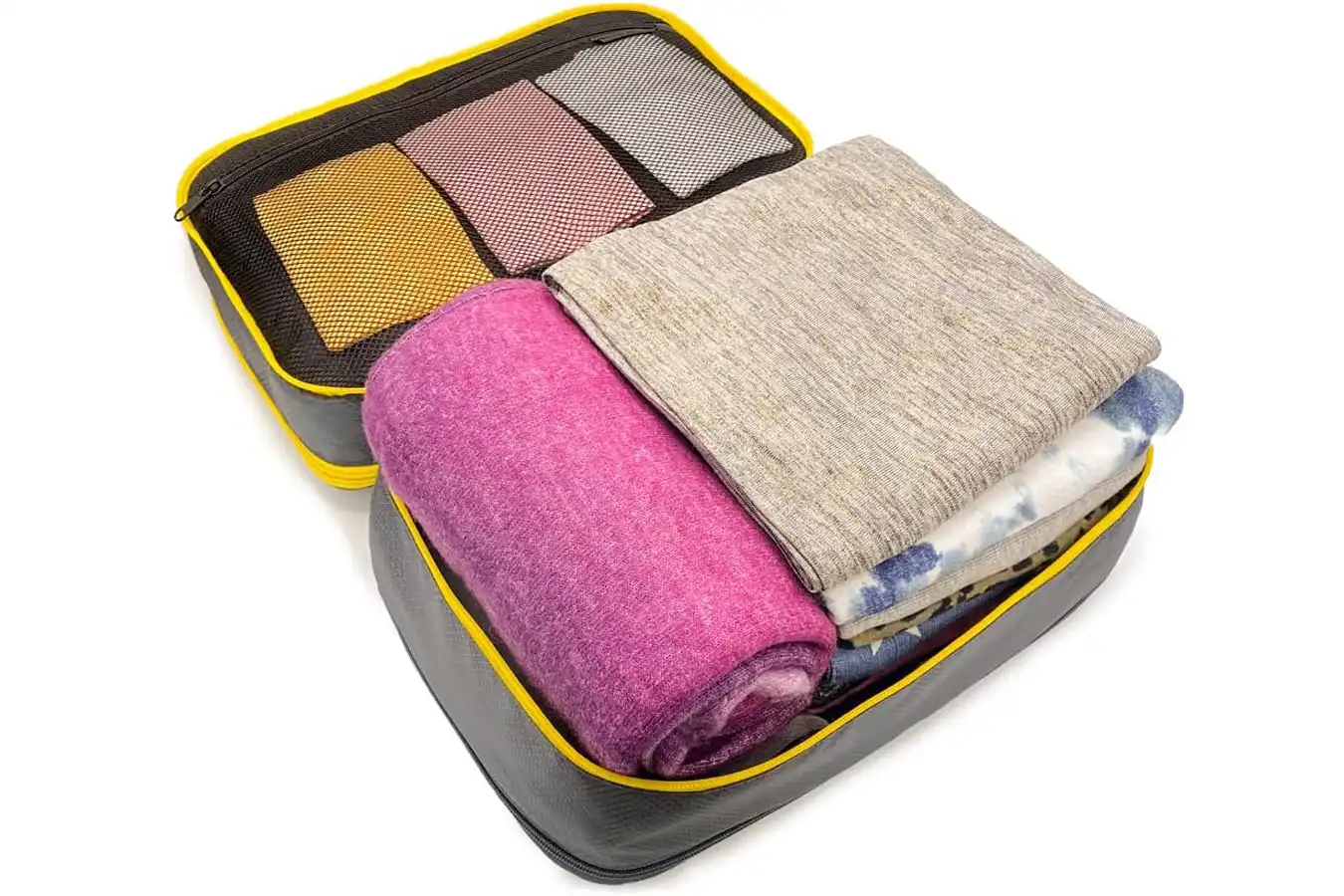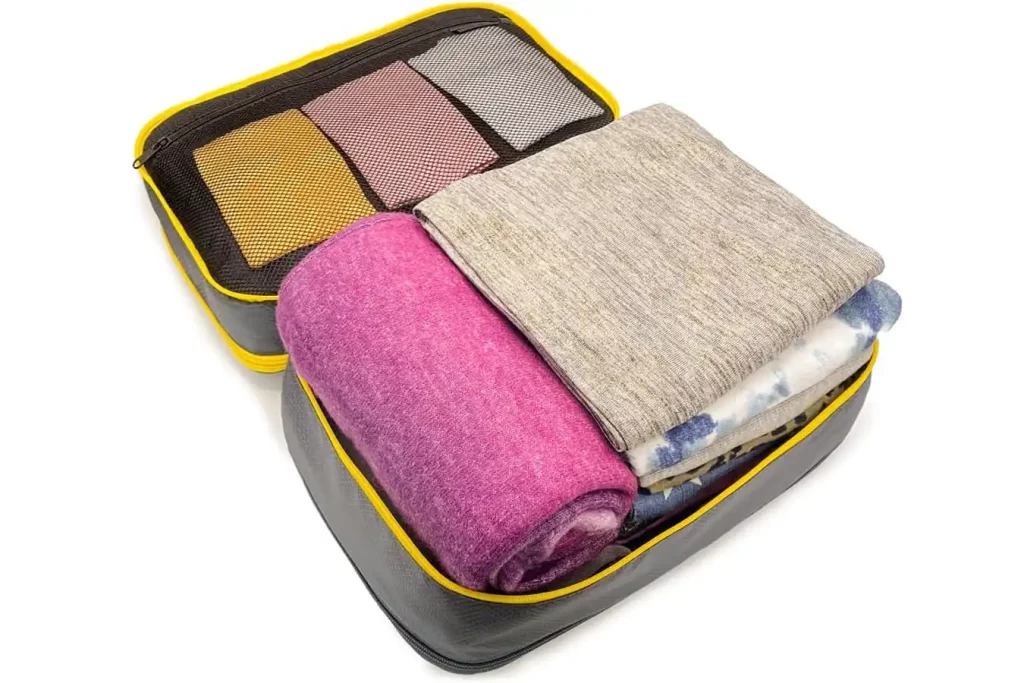 Pros:
Dual compartments for organization
Compression zipper maximizes space
Cons:
Specifications:
Dimensions: 14″L x 9″W x 3″H
Feature: Lightweight
Closure: Zipper
Shape: Cube
Manufacturer: Biaggi
Weight: 1.21 pounds
What Sets This Product Apart:
The separate Shoe Cube and the center compression zipper – these features truly set the Biaggi Double Deck Cube apart, revolutionizing the way we pack.
You're an adventurer, aren't you? You love the road, the skies, the ever-changing landscapes. Then you must know how critical efficient packing is! That's where the Eagle Creek pack steps in.
Traveling light is the mantra of the seasoned traveler. This set of two packing cubes, made of lightweight silnylon ripstop material, offers organization and clothing compression. Imagine fitting more clothes into the same space!
As a regular explorer of the world, I can tell you these cubes are a gift. Water-resistant and machine-washable, they offer practicality on top of organization.
In my own travels, rolling clothes within these cubes truly maximizes storage and decreases wrinkles. The result? More room, less fuss.
Small cube: 10 x 7 x 1.25 in, weight: 1.5 oz. Medium cube: 14 x 10 x 1.25 in, weight: 2 oz. And here's the bonus – they compress further for more space!
Pros:
Lightweight and compressible
Water-resistant, machine washable
Lifetime Warranty
Cons:
Only two sizes offered in the set
Specifications:
Material: Silnylon Ripstop
Set: 2 Cubes
Sizes: Small, Medium
What Sets This Product Apart:
Eagle Creek's commitment to durability is what stands out. Plus, their No Matter What lifetime warranty offers peace of mind like no other. In contrast to traditional packing cubes that often use inferior materials and may tear or deteriorate after just a few journeys, these compression packing cubes are constructed with top-quality materials for enduring durability.
Unpacking the BAGSMART Compression Packing Cubes has been an absolute delight for travel enthusiasts who love to keep their luggage smart and organized.
When it comes to travel, BAGSMART understands that less is indeed more. Their compression packing cubes allow travelers to pack more without compromising style and space. Whether you're packing jackets, sweaters, trousers or shirts, these cubes come in two sizes, offering a suitable space for each item.
From my experience in traveling and organizing luggage, I know the joy of finding a product that promises true space saving. Just like a vacuum sealer, these cubes come with an extra zipper that squashes your clothes down, leaving you with more luggage space than you thought possible.
I can attest to the company's claim of durability. BAGSMART's hundreds of experiments, simulating real use scenarios, ensure the longevity of these cubes. An added bonus is the ID tag pocket, an efficient way to keep track of your packed items.
With product dimensions of 10.5″L x 6″W x 15″H, these lightweight packing cubes offer a significant reduction in luggage weight, an essential feature for those on the move.
Pros:
Space-saving
Durable, lightweight
ID tag pocket for organization
Cons:
Only two sizes offered in the set
Specifications:
Brand: BAGSMART
Material: Polyester
Product Dimensions: 10.5″L x 6″W x 15″H
Number of Items: 6
Size: Set of 2
What Sets This Product Apart:
BAGSMART goes beyond selling a product; they sell an experience, a love for travel, and the journey. Their commitment to customer satisfaction is admirable, with a readily available and responsive customer service team.
The LeanTravel Compression Packing Cubes bring a new level of order and efficiency to the packing process.
Crafted from premium quality polyester, these packing cubes offer a stylish solution to wrinkle-free packing. With their sturdy construction and durable mesh design, your clothes can be inspected easily, and odors are minimized due to the increased breathability of the material.
What impresses me about these packing cubes is their ability to compress your belongings. With the extra zipper feature, you can reduce the packing bag's thickness from 4 inches to 1 inch, allowing you to pack more into less space. The compression zippers are of the highest quality, equipped with anti-catch technology for a smooth packing experience.
LeanTravel prioritizes organization in travel. These packing cubes can be transferred directly from your suitcase or backpack to a dresser drawer, thanks to their reinforced side structure that holds the form of the cubes.
The set of 3 includes two large cubes, which are ideal for packing coats or pants, and one medium cube for shirts, underwear, socks, and other travel gear. The dimensions of these cubes are 15.5 x 11.5 x 4 inches for the large ones and 11 x 11 x 4 inches for the medium one.
Pros:
Extra zipper for added compression
High-quality material and design
More packing capacity
Cons:
The set includes only one size for each cube (2 large and 1 medium)
Specifications:
Material: Polyester
Number of Items: Three packing cubes
Size: 3-Pack (2L+1M)
Number of Sets: 2
What Sets This Product Apart:
Compared to other compression cubes on the market, LeanTravel offers more packing capacity, bringing efficiency and style to your travel experience.
The Gonex Compression Packing Cubes are a traveller's dream come true. For a well-organized and efficient packing experience, the best packing cubes are an absolute must-have travel accessory.
These packing cubes are made from waterproof nylon fabric, providing a robust and tear-resistant solution to packing your clothes. The fabric is dirt-bearing, ensuring that your garments remain protected throughout your journey.
The Gonex Compression Packing Cubes stand out for their versatility. They're available in 8 different colors, catering to a wide variety of personal preferences. From Black and Deep Gray to Apricot and Pink, you can choose the color that matches your style or suitcase.
The packing cubes feature ultra-soft lightweight rip-stop nylon with high density and extensibility. This high-quality material, combined with smooth zippers, ensures the packing cubes are extremely durable, even when filled with more essentials.
The set includes three cubes of varying sizes: large (14.5×10.6×3.54 inches), medium (11.8×8.9×3.54 inches), and small (9.8×7.5×3.54 inches). These varying sizes provide versatility, allowing you to pack a range of items neatly and efficiently.
Pros:
Waterproof and durable materials
Variety of colors
Double zipper for added compression
Travel accessories
Cons:
They might not be suitable for very bulky items due to their design
Specifications:
Brand: Gonex
Material: Nylon
Product Dimensions: 17.32″L x 12.99″W x 3.54″H
Number of Items: 3
What Sets This Product Apart:
What sets these packing cubes apart is their double zipper feature. The double zippers work perfectly in compressing clothes to save space in your carry-on luggage or travel backpack. This feature makes them a great travel gear that minimizes your carry-on size.
The Bagail Compression Packing Cubes are a reliable and efficient way to keep your luggage organized and compact.
These packing cubes are designed with an extra zipper that can be zipped up to compress the cubes and save space, similar to a vacuum sealer. The cubes are made of smooth and soft nylon fabric that protects your clothes from wrinkles and stains.
In terms of durability, Bagail Compression Packing Cubes perform impressively well. They are made from high-quality nylon fabric that can bear high-density wear and tear during traveling. The fabric is water-repellent, adding an extra layer of protection for your clothes from spills or leaks.
The packing cubes feature premium sturdy and smooth double way zipper with an extended cord for fast and easy opening and closing. This level of detail demonstrates Bagail's commitment to quality and user-friendly design.
The set includes four cubes of different sizes: XL (17.5×12.75×4 inches), L (13.75×12.75×4 inches), M (13.75×9.75×4 inches), and S (11×6.75×4 inches). This range of sizes allows you to pack various types of clothing and accessories efficiently.
Pros:
Durable and lightweight material
Multi-sized cubes for versatile packing
Extra compression zipper
Cons:
The compression feature might require some practice to use efficiently
Specifications:
Brand: Bagail
Material: Nylon
Number of Items: 4 (1 XL, 1 L, 1 M, 1 S)
What Sets This Product Apart:
What sets Bagail Compression Packing Cubes apart is their multi-functionality. You can separate your clothes into different packing cubes for easy access. This organization can make your travel more organized and stress-free.
The Well Traveled Compression Packing Cubes are a versatile and stylish solution to your travel packing needs.
The set includes one large and one medium HybridMax Compression Cubes, one small compression cube, and one laundry or shoe bag. The cubes are sturdy and durable, perfect for keeping your belongings organized during your trip.
What stands out about these packing cubes is their HybridMax double capacity design which saves 60% more space. This innovative design allows you to use the large and medium cubes as regular packing cubes or as compression cubes, offering flexibility in your packing.
Well Traveled Packing Cubes are made with ultra-strong twill fabric, making them resistant to wear and tear. They are also water-resistant, which is a helpful feature for protecting your belongings.
The set includes 4 items with product dimensions of 15.8″L x 11.5″W x 1.5″H.
Pros:
Versatile HybridMax double capacity design
Durable and water-resistant material
Stylish design options
Cons:
Specifications:
Brand: Well Traveled
Material: Twill Fabric
Number of Items: 4
Size: 4-piece
What Sets This Product Apart:
What makes the Well Traveled Compression Packing Cubes unique is their style. They come in a variety of exciting colors and unique styles, making them a fun addition to your luggage.
The Suited Nomad Compression Packing Cubes offer a compact and efficient packing solution for your travel needs.
The set includes one extra-large, two large, and two medium-sized well-made compression bags. The reinforced seams of these cubes are extra durable, ensuring you won't have to deal with ripped pouches during your trips. The smooth sliding zippers make packing and unpacking a breeze, even when the cubes are full.
One of the standout features of these packing cubes is the double zipper compression system. It removes all the air from the bag, making it incredibly compact. It's an excellent space saver, helping you pack more efficiently.
Suited Nomad uses only high-quality materials in their products. The compression packing cubes are made of 100% ripstop and water-resistant nylon, offering excellent protection for your clothing and gear during any adventure.
The set includes 5 items with product dimensions of 15″L x 11″W x 1″H.
Pros:
High-quality material and construction
Unique double zipper compression system
Excellent customer support
Cons:
Specifications:
Brand: SUITEDNOMAD
Material: Nylon
Product Dimensions: 15″L x 11″W x 1″H
Number of Items: 5
Size: 3 Piece
What Sets This Product Apart:
What sets Suited Nomad apart from other brands is their attention to quality and the unique double zipper compression system. Plus, the company's exceptional customer support adds an extra layer of assurance for travelers.
Cambond Compression Packing Cubes offer an efficient packing solution with their unique compressing design.
The cubes come in three different sizes, designed to meet all your packing needs. With one small cube for underwear and t-shirts, a medium cube for pants, and a large cube for coats and sweaters, you can easily keep your clothing items organized and accessible during your travels. The cubes' compression design also helps to remove extra air, saving up to 50% of your storage space.
These packing cubes are made from high-quality, lightweight, and durable nylon fabric that adds no extra weight to your luggage. The water-resistant design also protects your belongings from dirt and liquid, making them a fantastic partner for travel.
The Cambond brand is known for its quality products, and these packing cubes are no exception. Their practicality and efficiency make them a must-have accessory for any traveler.
The set includes 3 items in varying sizes, suitable for packing different types of clothing.
Pros:
High-quality, durable, and lightweight material
Compressing design for maximum space efficiency
Versatile use across different types of travel
Cons:
Available only in one color
Specifications
Brand: Cambond
Material: Nylon
Closure Type: Zipper
Number of Items: 3
Size: 3 Set (1L+1M+1*S)
What Sets This Product Apart:
The standout feature of these packing cubes is their compressing design. It removes excess air, enabling you to save substantial storage space in your suitcase. Moreover, these packing cubes can be used in various contexts – from suitcase packing for long trips to backpack packing for hiking or boarding totes for short trips.
What Are Compression Packing Cubes?
So, what are these magic organization tools? In a single sentence: Compression packing cubes are specially designed lightweight containers that compress your clothes and other items, maximizing the space in your luggage and keeping your belongings tidy.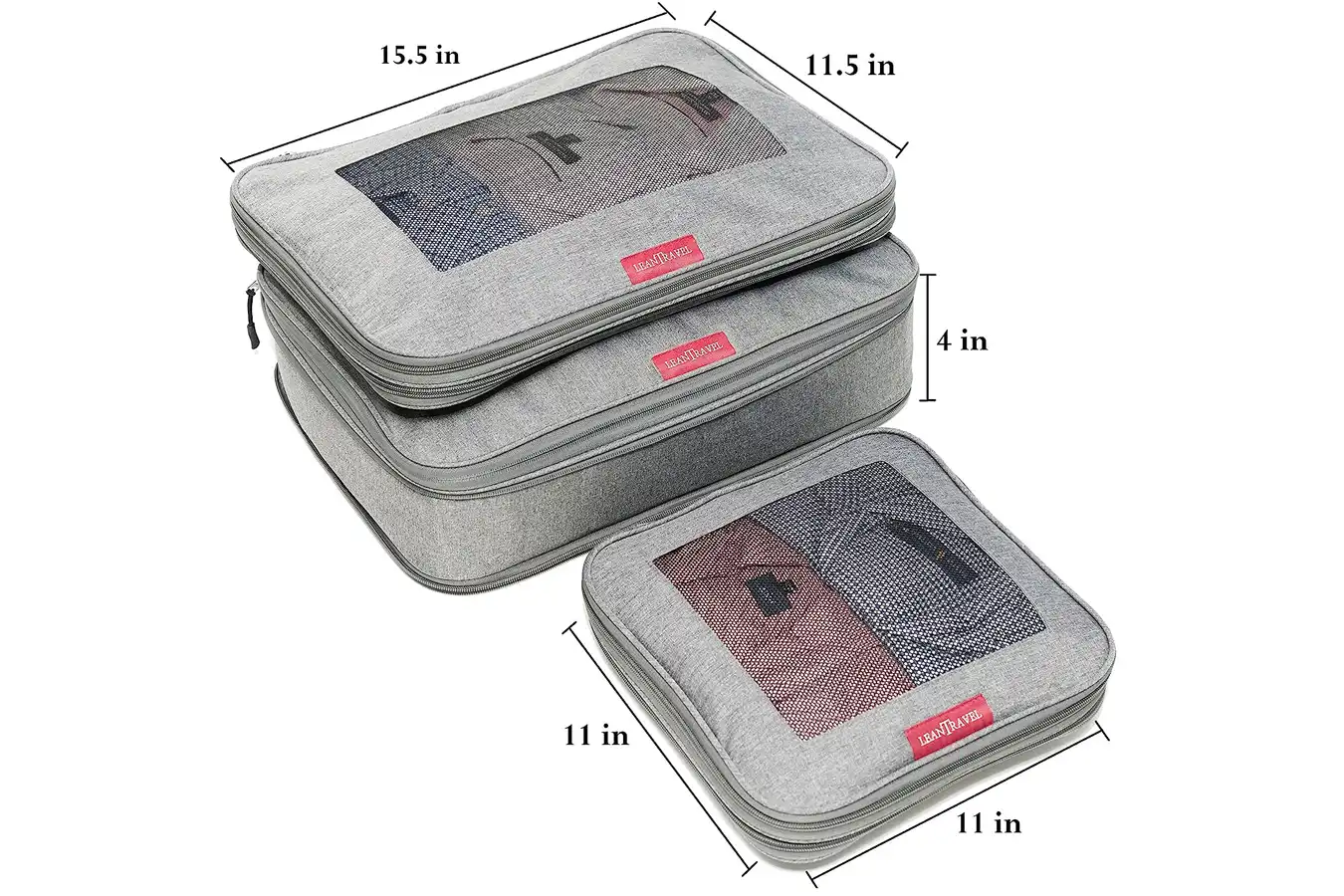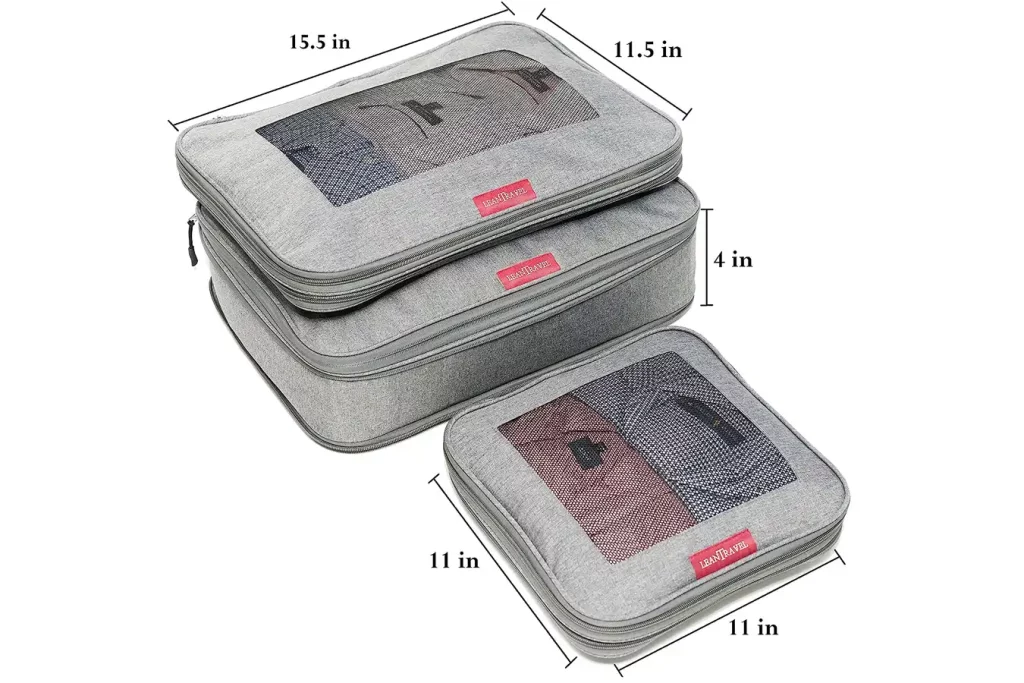 Now, let's dig a little deeper. These cubes are akin to mini portable closets. Imagine being able to pack away your items neatly into separate compartments, rather than stuffing everything haphazardly into your suitcase. Doesn't that sound like a stress-reliever? Not only do these cubes keep your belongings organized, but they also reduce their volume substantially.
This helps you pack more efficiently, fitting more items into your luggage than you thought possible. And the best part? When you arrive at your destination, everything is neat, tidy, and easy to find. No more rummaging through your suitcase to find that one elusive sock or travel-sized shampoo.
How Do Compression Packing Cubes Work?
Intrigued about how these ingenious travel companions function? Let me paint you a picture.
Remember the last time you packed a suitcase for a trip. You started well, laying everything out, but as the space started to dwindle, you resorted to the "stuff and squeeze" method. We've all been there! Now, imagine a different scenario.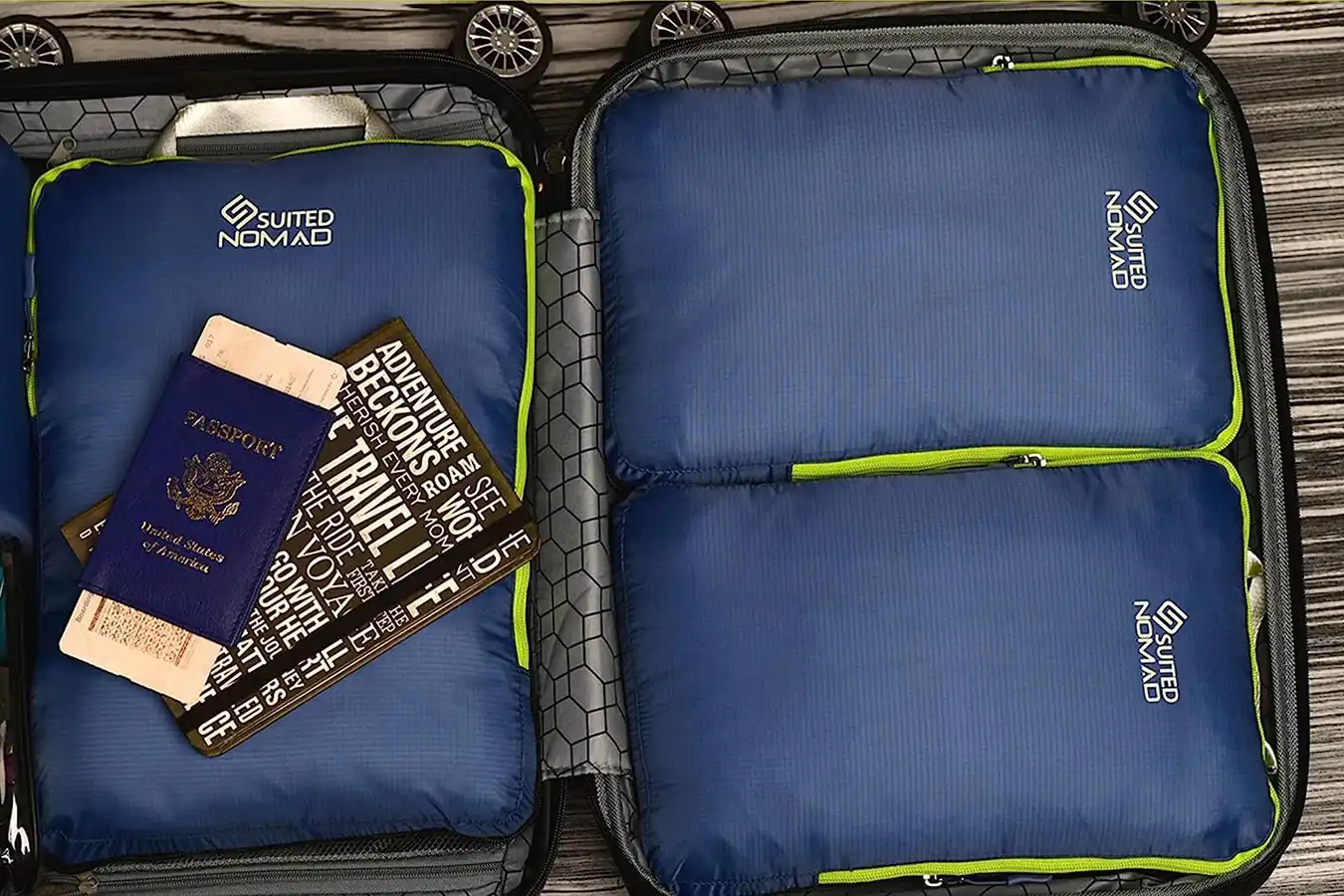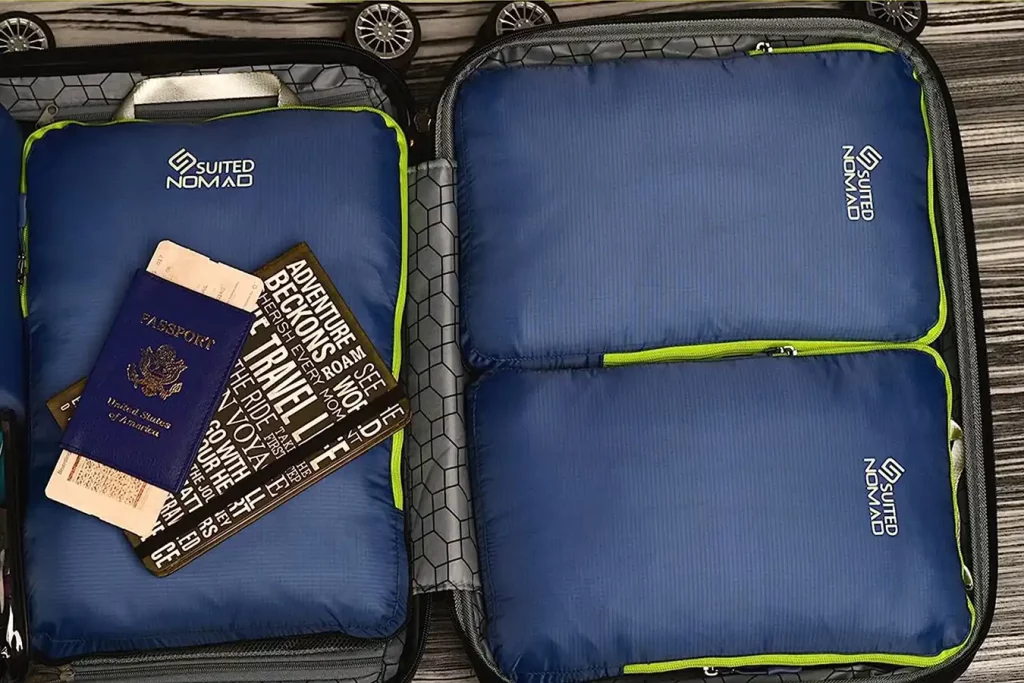 You've laid out your clothes, toiletries, and travel necessities. Instead of tossing them into the suitcase, you neatly arrange them into your compression packing cubes. Clothes in one, toiletries in another, maybe you've got a separate one for your electronics or travel documents. Each packing cube is like a mini suitcase within your suitcase. The compression packing cubes offer separate compartments for clean and dirty clothes, making them a travel essential.
Here's where the magic happens. Once your items are in the packing cube, you zip it up and then use the additional compression zipper to reduce the volume of the packing cube. It's like vacuum-packing your clothes without needing a vacuum. The result? Your bulky items become flat, compact, easy-to-organize squares that fit perfectly into your suitcase.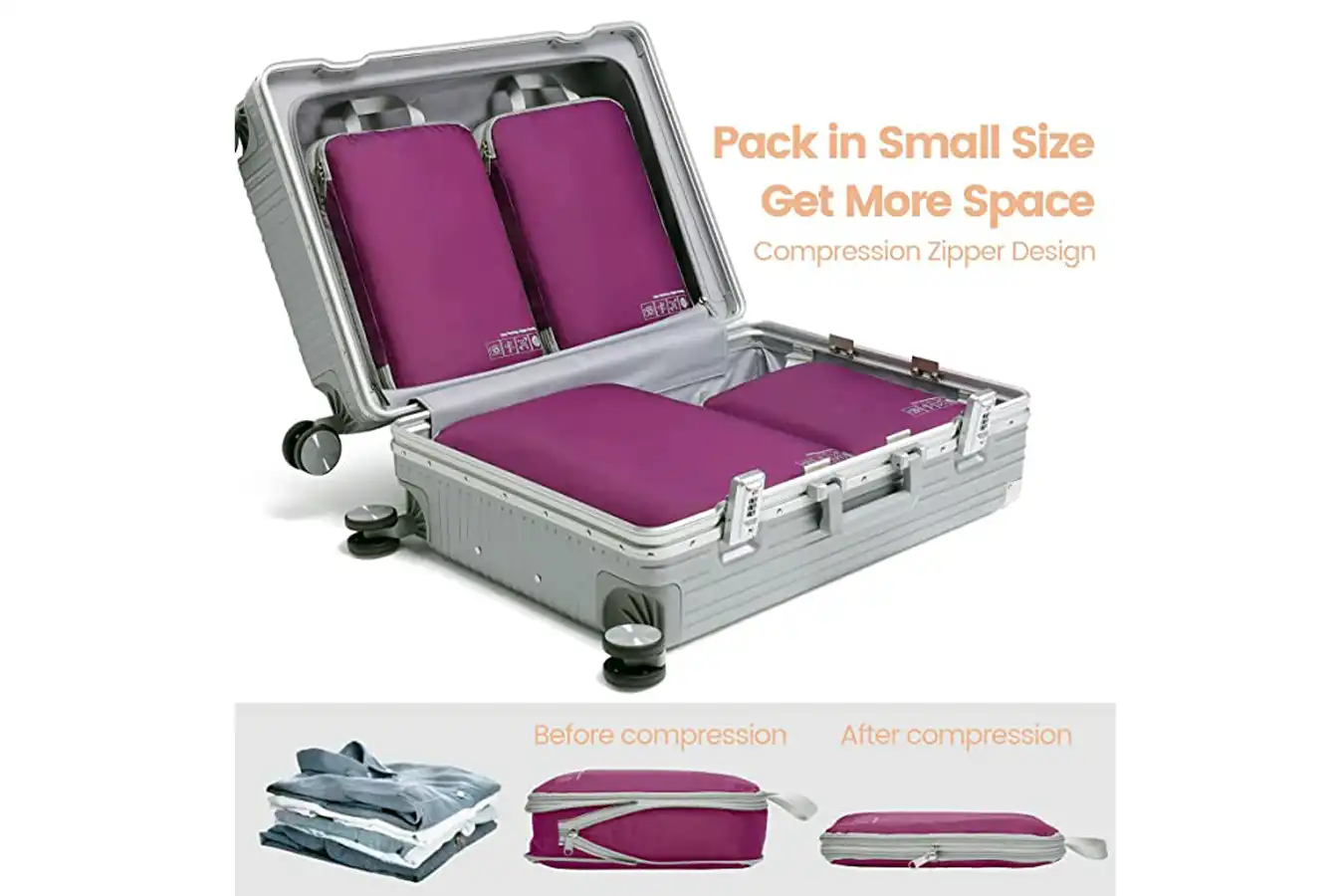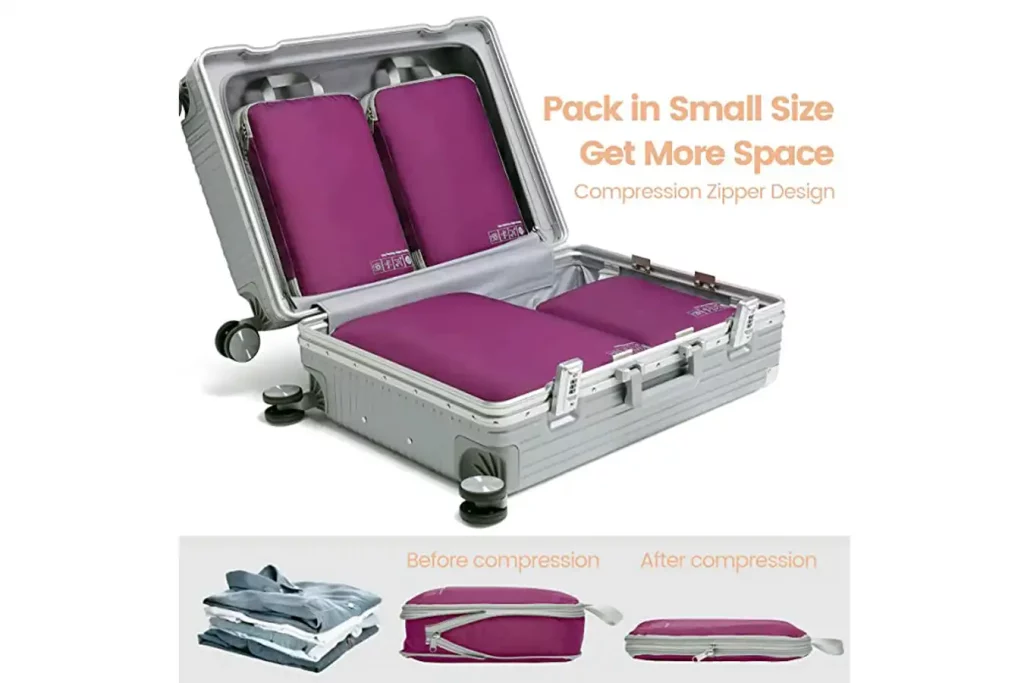 In short, compression packing cubes work by allowing you to fill them with clothing or other items, and then compressing the contents by using a secondary zipper, effectively reducing the volume and maximizing space in your luggage. With its spacious design, you can easily fit a week's worth of clothes into the entire cube.
Factors to Consider When Choosing Compression Packing Cubes
Venturing into the world of compression packing cubes? Excellent choice, my friends! However, not all cubes are created equal. When selecting the right cubes for your travel needs, several factors can influence your decision. Let's delve into these considerations to ensure you find the perfect match for your packing needs.
Material and Durability
When it comes to selecting compression packing cubes, the durability factor is paramount. After all, the last thing you want is for your packing cube to fall apart in the middle of your adventure. The most robust cubes are usually made from high-quality nylon or polyester, materials known for their strength and durability.
Take note, however, that durability doesn't have to mean forfeiting style or convenience. Many brands offer cubes in a variety of colors and patterns, often with a mesh panel for easy identification of contents. This panel should be tough enough to withstand the pressure of compression without tearing.
Size and Capacity
Compression cubes come in a variety of sizes, each designed to cater to specific packing needs. Smaller cubes are perfect for storing items like socks, underwear, or other accessories. Medium-sized ones are great for shirts and shorts, while larger cubes can accommodate bulkier items like jackets and pants.
You may want to consider a set that includes different sizes to cater to your entire wardrobe. This not only helps in organization but also makes efficient use of the available space in your suitcase.
Weight
When it comes to travel, especially air travel, every ounce counts. While the primary function of compression packing cubes is to save space, they should not add significant weight to your luggage.
Lightweight materials like ripstop nylon strike a balance between durability and weight. This ensures that while you save on space, you don't end up paying extra for overweight luggage at the airport.
Ease of Use and Functionality
Good quality compression packing cubes should be as user-friendly as possible. They should open and close effortlessly, with durable zippers that can withstand repeated usage. The compression zipper should also function smoothly without snagging the contents of the packing cube.
Other features to look for include handles for easy carrying and identification tags for a quick find. The level of compression is also an essential factor to consider. Ensure it's high enough to save significant space but doesn't result in a bundle so tight that your clothes end up with deep wrinkles.
Price vs Quality
As with any purchase, striking the right balance between price and quality is key. While it may be tempting to opt for cheaper options, they may not offer the same durability or functionality as slightly more expensive ones. Investing in good quality compression packing cubes can provide better value in the long run, saving you from the inconvenience and cost of frequent replacements.
There you have it! Armed with these considerations, you're now ready to select the best compression packing cubes for your travel needs. Remember, the goal is to find a balance between durability, size, weight, functionality, and price to ensure a seamless and enjoyable travel experience.
How to Pack Efficiently Using Compression Packing Cubes
Getting your hands on a set of compression packing cubes is only half the battle. The real challenge lies in mastering the art of efficient packing. Done right, these nifty tools can revolutionize the way you travel, turning packing from a dreaded chore into a satisfying experience. Let's break it down, step by step.
Step-by-Step Guide to Packing
Plan Ahead: Start by laying out all the items you plan to pack and group them by type (e.g., tops, bottoms, undergarments, etc.). This step also helps eliminate any unnecessary items.
Fill the Cubes: Begin with the largest packing cube, fill it with the bulkiest items first. Next, move onto the smaller cubes, filling them with your lighter, smaller items. Remember, don't overfill the cubes. Leave some room for the compression to work its magic!
Compress: Once filled, close the secondary zipper on each packing cube to compress your clothes. Do this gradually, to ensure that the compression is evenly distributed and you're making the most of the space-saving feature.
Tips and Tricks for Maximum Efficiency
To take your packing game to the next level, here are a few additional tips:
Roll Your Clothes: Rolling your clothes instead of folding can help reduce wrinkles and save space.
Use Cubes for More than Clothes: Packing cubes can also keep electronics, toiletries, and other travel essentials organized.
Empty Space is Wasted Space: Use socks and other small items to fill gaps in your packing cubes and maximize space.
Common Mistakes to Avoid When Using Compression Packing Cubes
As with any new travel hack, it can take some trial and error to get it right. Here are a few pitfalls to avoid:
Overpacking: Compression packing cubes save space, but they don't give you an unlimited suitcase! Overstuffing your cubes can lead to broken zippers and decreased cube lifespan.
Underutilizing Cubes: Each cube should serve a specific purpose. Organize your items by cube to make unpacking and repacking a breeze.
Ignoring Weight Restrictions: While packing cubes help save space, they don't reduce weight. Keep an eye on your luggage weight to avoid fees.
FAQs about Compression Packing Cubes
Do compression packing cubes work?
Yes, compression packing cubes work effectively by reducing the volume of packed items, helping to maximize space and organization in your suitcase.
How to use compression packing cubes?
To use compression packing cubes, simply fill them with your folded or rolled clothes, then close and compress them by zipping the secondary zipper, which pushes out excess air and shrinks the cube.
Do compression packing cubes wrinkle clothes?
Compression packing cubes may cause minor wrinkles on clothes if not packed carefully, but these are generally less than what you'd get with regular packing due to the firm hold the cubes have on the items inside.
Are packing compression cubes worth it?
Absolutely, packing compression cubes are worth it, providing efficient space utilization, organization, and convenience during travel.
What is the difference between regular and compression packing cubes?
The primary difference is that while both help in organization, compression packing cubes also reduce the volume of your items, thereby saving significant space in your luggage.
Do compression packing cubes save weight?
No, compression packing cubes save space, not weight. They compact your items to utilize less space, but the weight remains the same.
Who makes the best compression cubes?
The "best" is subjective and depends on individual needs, but brands like Eagle Creek, eBags, and LeanTravel are well-regarded for their quality compression cubes.
How do I choose compression packing cubes?
Choosing the right compression packing cubes depends on factors like material durability, size and capacity, weight, ease of use, functionality, and the balance between price and quality.
How to pack compression cubes?
Packing compression cubes begins with folding or rolling your clothing neatly, then distributing them into different cubes based on their type or use, and finally compressing them by closing the extra zipper.
What is the best compression packing cubes?
The "best" compression packing cubes often depend on individual needs, but ones that offer durability, efficient space utilization, and ease of use such as LeanTravel, Gonex, and Bagail are highly rated by travelers.
Final Thoughts
My journey was made so much easier by using the best packing cubes, making packing and unpacking a breeze. Travel is all about adventure and exploration, and packing shouldn't be a hindrance to that. With compression packing cubes, you can organize your luggage efficiently, save space, and avoid the dreaded suitcase explosion.
A set of compression cubes is a packing essential that can dramatically increase the space efficiency in your suitcase. Most packing cubes allow for efficient organization of luggage, making it a breeze to locate specific items during your travels. But remember, it's not about packing everything you own into a single suitcase. It's about choosing what's essential for your journey and packing it in a way that makes your life easier. Now that you're armed with all the information and tips you need, it's time to pack up and embark on your next adventure. Happy travels!