"How to fold a sleeping bag" might seem simple at first glance, but any seasoned outdoor enthusiast will tell you there's an art to it.
Trust me, I've been on enough camping trips to know that the way you fold your sleeping bag can make or break your outdoor experience.
Ever tried stuffing an improperly folded sleeping bag back into its sack? Not fun.
Remember those times when cramming your sleeping bag felt like stuffing a giant marshmallow into a coin purse?
Well, those days are about to be behind you.
With a sprinkle of patience, a dash of technique, and the expert tricks I'm about to share, you'll be packing like a pro in no time.
So grab your sleeping bag and let's dive right in! I promise, you'll be a folding pro in no time.
Benefits of Properly Folding a Sleeping Bag
Just so you know, taking a few extra minutes to fold your sleeping bag correctly can make a world of difference! Here's why:
Prolonged lifespan
Remember that time when you were running late and just stuffed your sleeping bag into its sack without a second thought? Doing that often can damage the insulation and stitching over time. But when you fold it right, you're giving your bag the tender love and care it deserves, making sure it lasts for many more adventures to come!
Space optimization
Ever tried fitting your entire camping gear into a backpack? Space is premium real estate! Properly folding your sleeping bag means you're optimizing every inch of space. It's like the difference between cramming clothes into a suitcase versus neatly rolling them. One is a mess, and the other… well, it's pure art.
Fast setup and teardown
You set up camp after a long hike. The sky is darkening, and all you can think of is crawling into your cozy sleeping bag. But wait! It's a twisted mess. Proper folding ensures that you'll set up and pack up quickly. Because let's be honest, after an exhilarating day outdoors, the last thing you need is battling with your gear.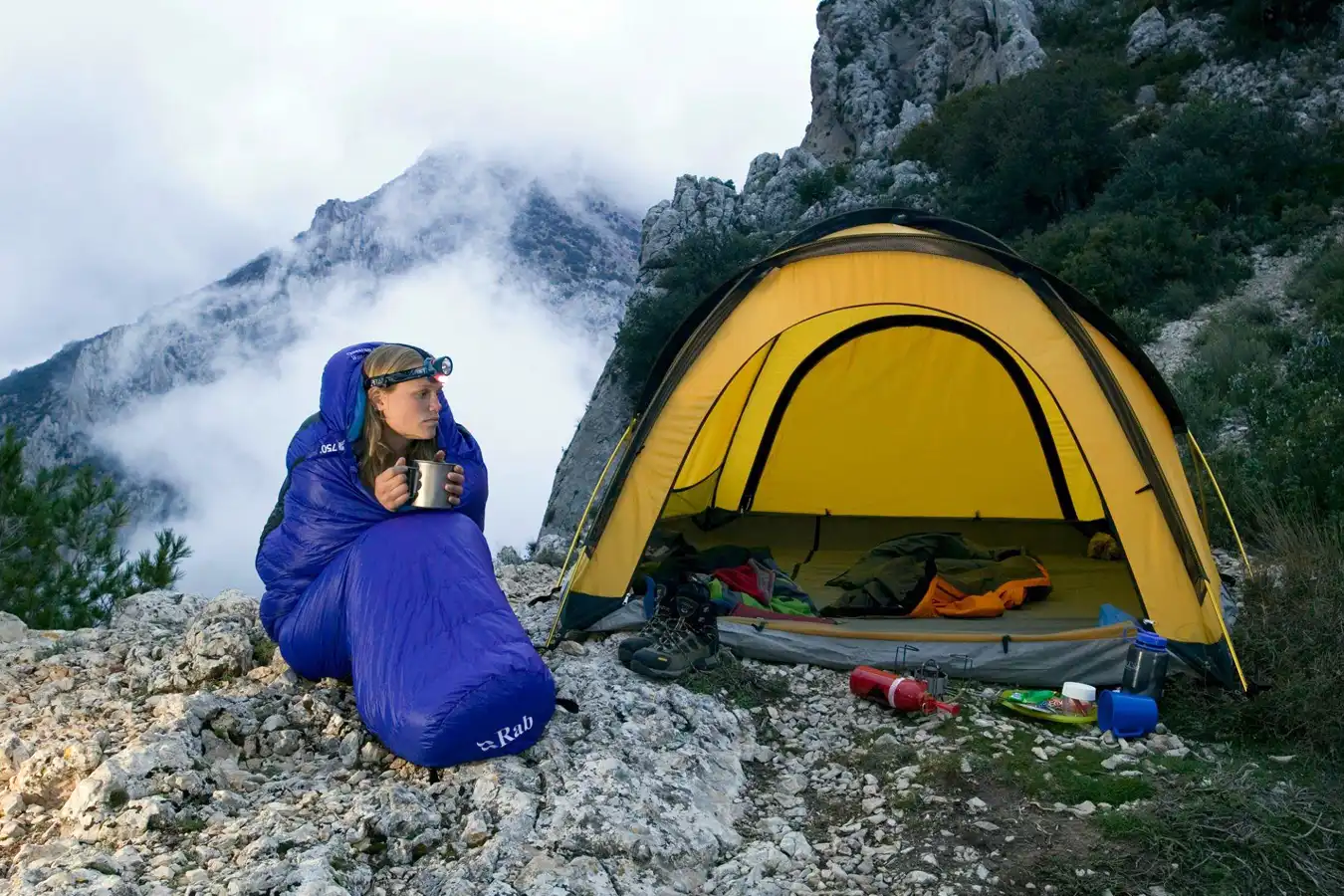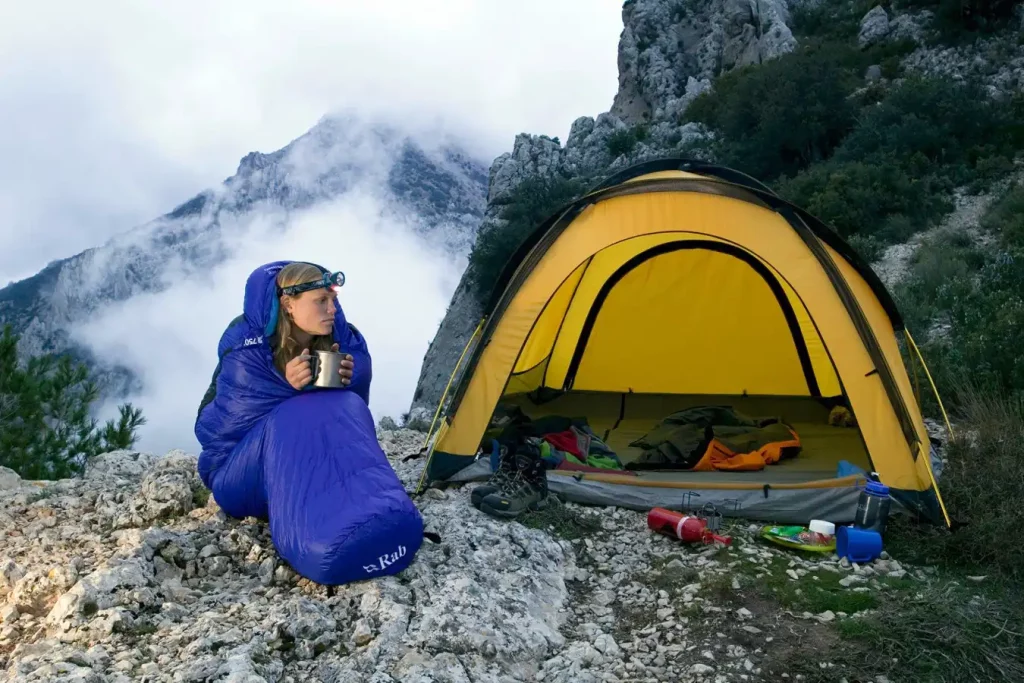 Understanding Your Sleeping Bag
Before diving into the nitty-gritty of folding, let's get acquainted with your sleeping bag. After all, it's not just a sack; it's your outdoor bed!
Different sleeping bag materials and their folding considerations
Hey, not all sleeping bags are made equal! You've got your synthetic bags, your down bags, and even some weird hybrids. Each has its own quirks when it comes to folding.
Synthetic: These are pretty forgiving. Roll, stuff, fold— they're not too picky.
Down: Ah, the delicate divas of the sleeping bag world. You've got to be gentle; otherwise, you'll ruin the insulation.
Hybrids: Here, it's a bit of both worlds. Follow the care instructions carefully.
So, next time you fold, remember to consider the material. You don't want to fold a down bag like it's synthetic and then regret it on a chilly night, right?
Zippers, straps, and extras: A closer look
Ever snagged a zipper while trying to fold your bag? Annoying, isn't it? But there's more to your sleeping bag than just that zipper. You've got drawstrings, straps, and maybe even some inner pockets.
Zippers: Make sure they're all the way open or closed as needed; you don't want a rogue zipper ruining your folding flow.
Straps: These can be your best friends or your worst enemies when folding. Keep them unbuckled or loose until you're ready to secure everything.
Extras: Got a pocket for your phone or headlamp? Make sure it's empty; otherwise, you'll end up with a lumpy fold.
You might think it's no big deal, but understanding how to fold a sleeping bag can actually save you time when you're eager to hit the trail in the morning.
Setting the Stage for Folding
Okay, so you're ready to fold your sleeping bag, but wait! A few quick preparations can make this process smoother than a hot knife through butter.
Choosing an appropriate surface
Believe it or not, where you fold matters. A flat, clean surface is what you're looking for—think a picnic table or even the ground if it's dry and free of twigs and rocks. Stay away from uneven or dirty areas unless you want to carry a part of the forest back with you.
Flattening out initial wrinkles
You know how you smooth out a shirt before folding it? Same principle here. Lay your sleeping bag out and smooth out any wrinkles or lumps. It's like you're giving it a quick massage; you're telling it, "Hey buddy, you're about to get folded real nice."
Positioning: Which way to fold?
The final thing to consider before you start folding is how you're going to do it. Are you rolling or folding? Will you fold it in half lengthwise or go for thirds? Your bag's material and your storage space will help guide this decision. If you've got a down bag, for instance, you might opt for a less tight roll to preserve the insulation.
Basic Fold – The Roll-up Technique
Rolling up your sleeping bag is like rolling up a burrito—it's classic, straightforward, and effective. Here's your step-by-step guide to the roll-up.
Straightening the Sleeping Bag
Okay, first thing's first, you want to lay your sleeping bag out flat on the surface you chose earlier. Run your hands over it to straighten it out, much like you'd do with a wrinkled shirt on an ironing board. Pretend you're the Marie Kondo of sleeping bags; you're about to bring joy through folding!
Removing Air Pockets
This step is like popping the bubble wrap of the camping world, only less fun. Starting from the closed end, run your hands or feet along the length of the sleeping bag to push out any trapped air. Remember, trapped air can make your roll bulky and uneven. So be thorough!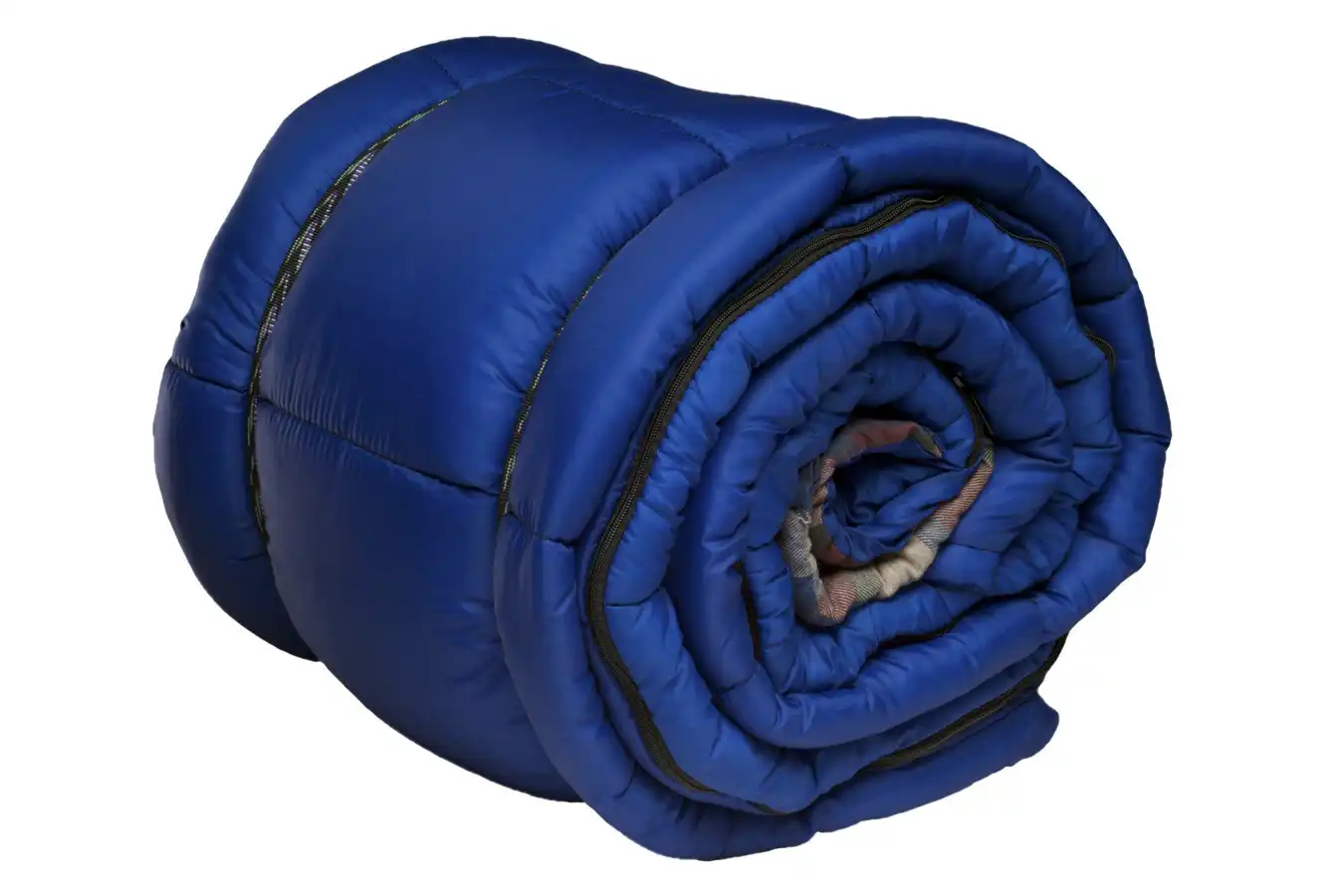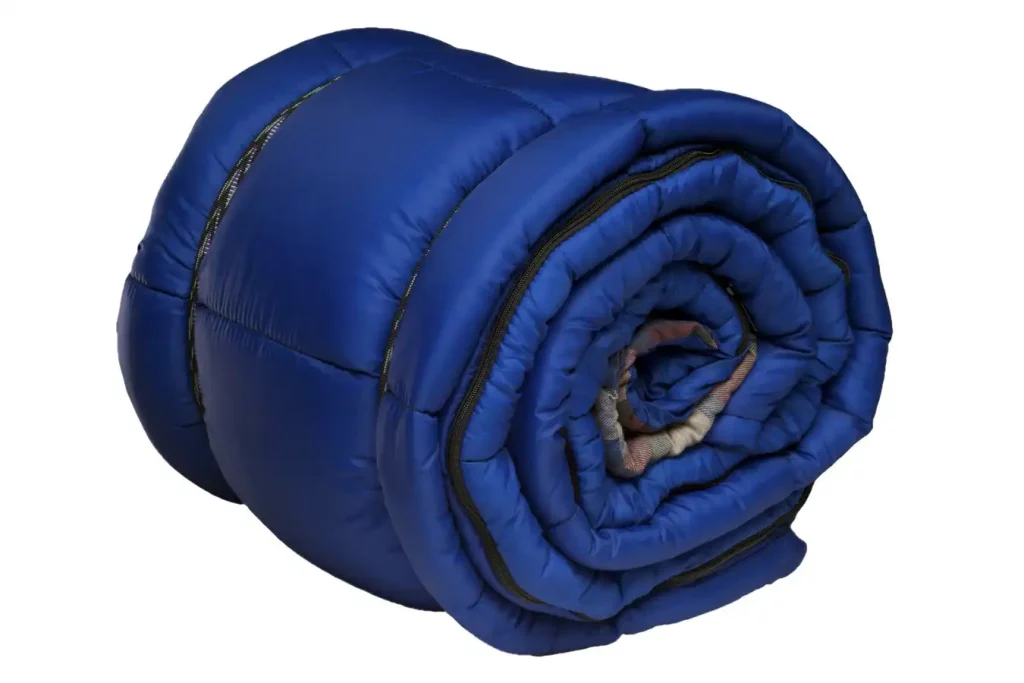 Starting the Roll
Here's where the magic starts. Begin at the closed end of the bag. Think of it like rolling a yoga mat; you want to keep it tight but not so tight that you're crushing the material, especially if it's down. Slow and steady wins the race here. Oh, and try to keep the sides aligned. No one likes a lopsided roll, am I right?
Securing the Roll
You're almost there! Once you've got your sleeping bag rolled up nice and neat, it's time to bring out the straps or the sleeping bag's built-in elastics. Secure them around the roll, making sure it's tight enough to stay put but not so tight that you're stressing the material.
Advanced Fold – The Fold & Roll Technique
Want to up your sleeping bag game? Here's the Fold & Roll Technique—an advanced method for the camping connoisseurs out there.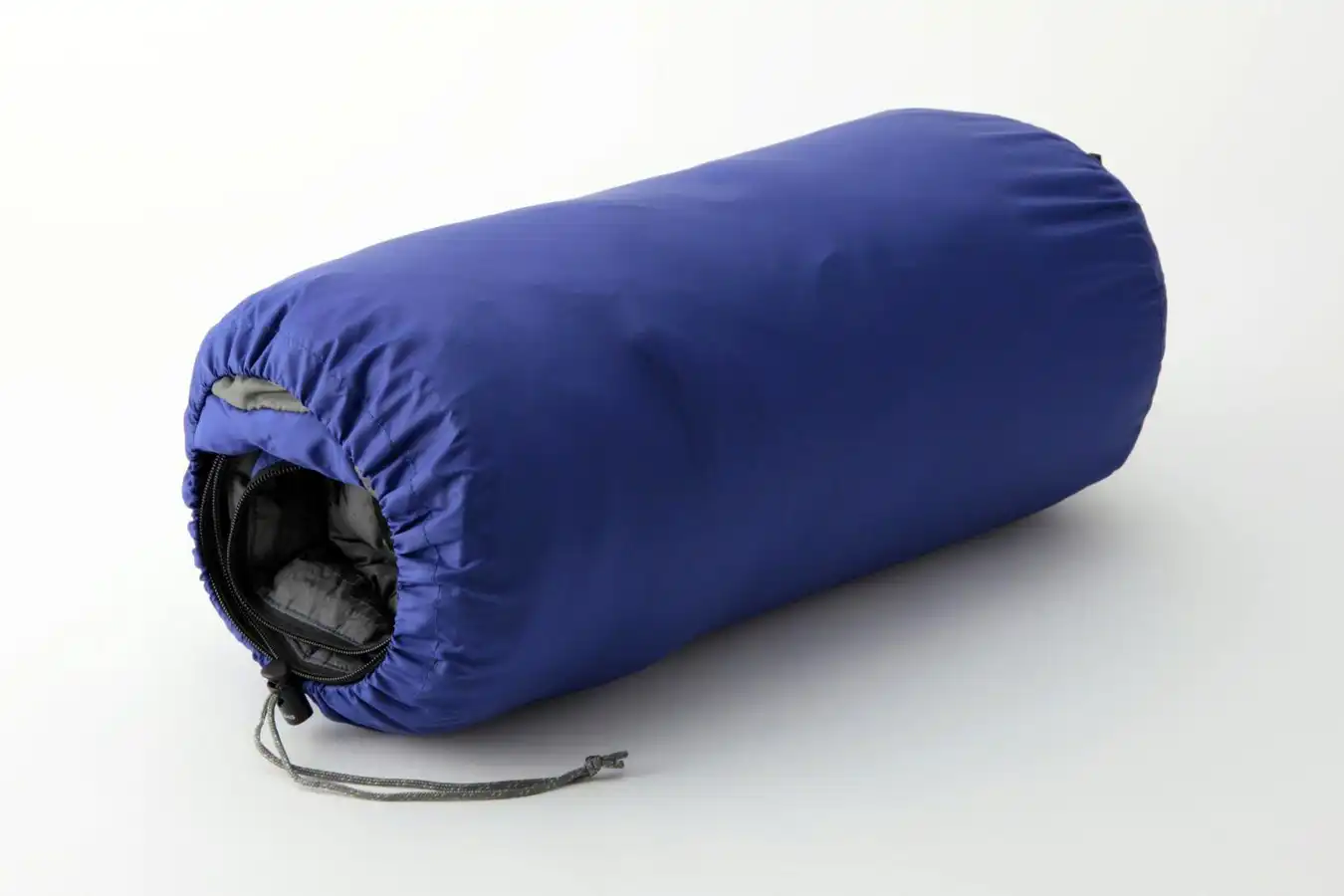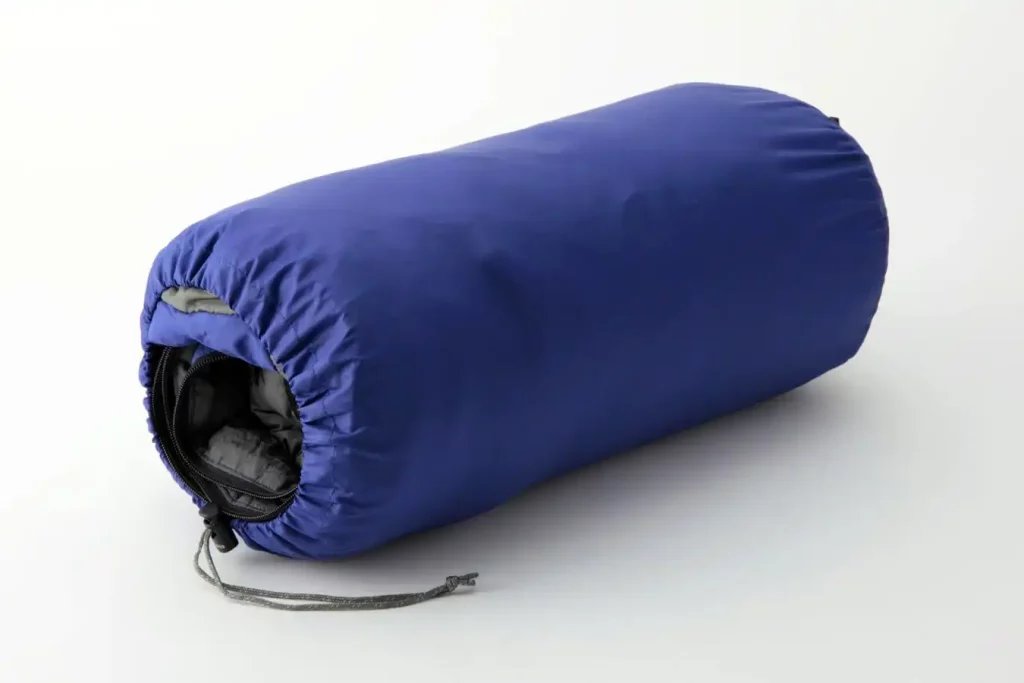 Benefits Over Basic Rolling
Alright, so you might be wondering, "Why bother with an advanced technique?" Well, let me tell you, the Fold & Roll takes up even less space, and it's even better for bags with extra padding or layers. Plus, it adds that extra oomph of organization that'll make your fellow campers green with envy.
Step-by-Step Process
Preliminary Fold: Start with your sleeping bag laid out flat. Fold it in half lengthwise, like you're closing a book.
Air Out: Just like in basic rolling, run your hands or feet over the bag to push out any trapped air. Seriously, trapped air is the nemesis of compact packing.
Begin the Roll: Now start at the closed end and roll it up as tightly as you can, keeping it even. Imagine you're rolling a more elongated, less tasty cinnamon roll.
Secure It: Once it's rolled, use those straps or built-in elastics to secure the roll. Et voila! You've just leveled up in your camping game.
Seriously, if you're still shoving your sleeping bag into its sack and hoping for the best, you'll love the peace of mind that comes with knowing how to fold a sleeping bag correctly.
Specialty Folds for Unique Sleeping Bags
If you've got a specialty sleeping bag, don't worry, we've got you covered! These tips are for those unique sleeping bag types.
Mummy Bags: Tailored Folding for Tailored Bags
Mummy bags are the skinny jeans of the sleeping bag world. They're tailored to your body, so the standard roll doesn't always cut it. Start by folding the bag in half, hotdog style. Roll from the feet end upward, squeezing out air as you go. Then, tuck it into its sack, head-end first. This keeps those pesky narrow ends from getting bunched up.
Double-Sized Bags: When You're Not Adventuring Solo
Two's company, but it's also a packing challenge. With double bags, the "Fold & Roll" is your friend, but you might need to divide and conquer. Fold the bag in half first. Then each person takes an end, and you roll toward each other like it's a couple's team-building exercise.
Tools to Make Folding Easier
Learning how to fold a sleeping bag is also a useful skill for other scenarios, like packing for a music festival or a sleepover. Packing shouldn't be a puzzle. Let's talk tools that make folding your sleeping bag a walk in the park—or should I say, a sleep in the woods?
Compression Sacks: A Closer Look
Look, compression sacks are like the VIP lounges of sleeping bag storage. These are not your run-of-the-mill stuff sacks. They've got straps that let you cinch the bag down to a smaller size. Think of stuffing a big, fluffy comforter into a magic sack that shrinks it down to the size of a football. If you're a frequent backpacker or just tight on space, these are a game-changer.
Air Release Tools: No More Trapped Air
Remember how I said trapped air is the arch-nemesis of compact folding? Meet its superhero: air release tools. These little gadgets attach to your compression sack and help suck the air out, making your sleeping bag as small as possible. Gone are the days of foot-rolling your bag for ten minutes trying to squeeze every last bit of air out!
Folding Aids: Surfaces, Sheets, and Rollers
Not all heroes wear capes; some are just a flat surface or a simple sheet. Yep, these can be your best friends when it comes to folding. A flat, clean surface like a camping table or a tarp can make the folding process smoother than a campfire serenade.
But wait, there's more! Some folks even use sleeping bag rollers—yes, that's a thing. It's a simple device that helps you roll your bag super tight, kind of like a sushi roller but for camping. It's especially great for kids or anyone who struggles with the physical aspect of folding a bulky sleeping bag.
How to Fold a Sleeping Bag: A Step-By-Step Guide
So, you've picked the right surface and smoothed out your bag. So, let's demystify how to fold a sleeping bag and make your outdoor excursions a bit more organized. Roll up those sleeves!
Lay It Flat and Zip It Up
First thing's first—lay your sleeping bag down flat on your chosen surface. Make sure it's zipped all the way up. If your bag has a zipper guard or baffle, ensure it's in place. Zipping up your sleeping bag makes sure it stays in a defined, rectangular shape, which is a heck of a lot easier to fold than a floppy, open bag.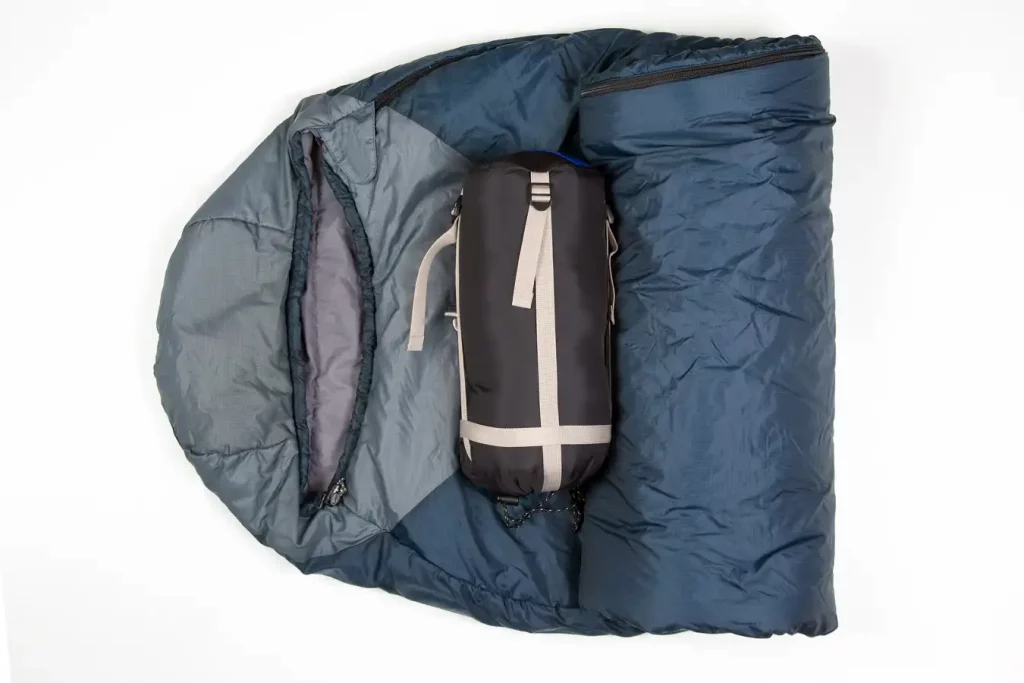 Push Out the Air
You ever try to pack a bag of chips? Air is the enemy here too. Starting at the foot end, gently roll or press down on the sleeping bag to push out any trapped air. Work your way towards the top, kind of like you're rolling out cookie dough, but less tasty.
Fold It In Half
Alright, let's make a sleeping bag sandwich! Take one side and fold it over so it lines up with the other, essentially folding it in half lengthwise. Remember to keep the zipper side on the outside; this makes the next steps easier and prevents potential snagging.
Start Rolling
Time for some action! Start tightly rolling your bag from the foot end towards the top. Keep the roll tight and consistent, which not only saves space but also keeps your bag in good shape. Every few rolls, pause and press out any trapped air; you'd be surprised how sneaky that stuff can be.
Strap or Bag It
Phew, the end is near! You've got this tightly rolled-up sleeping bag, and now it's time to secure that burrito. If your sleeping bag comes with straps, fasten them around the rolled-up bag. If it has a storage sack, gently slide the roll into it. You might have to wrestle it a bit; it's like putting on skinny jeans after Thanksgiving.
Tips for the Pro Camper
So you think you're a camping Jedi now, huh? Well, even Yoda had some tricks up his sleeve. Let's up your game with these pro tips!
Go Against Gravity
When you're rolling up your sleeping bag, consider rolling uphill if you're on a slope. Why? Gravity is a party pooper, always trying to make things fall down. But if you roll uphill, you're giving gravity the finger while making the process a lot smoother.
The Sleeping Bag Sandwich
Ever tried making a sleeping bag sandwich? No, you can't eat it—but your camping gear will thank you. After laying your sleeping bag flat, place a lightweight towel or even a shirt at the halfway mark before you start rolling. This acts like a barrier against dirt and gives a little extra padding, especially for those mummy bags that have extra cushioning at the bottom.
Use the Buddy System
Sure, folding a sleeping bag is often a one-person job, but two can do it way faster—and with fewer huffs and puffs. Grab a buddy and have them help smooth out wrinkles and push out the air while you roll. This is teamwork at its best, people.
Keep It Dry
Water is the enemy here, folks. A damp sleeping bag can get moldy, and that's grosser than finding a spider in your tent. If your sleeping bag got wet during your trip, make sure to air dry it completely before packing it away. Trust me, Future You will be grateful.
Clean Before Storage
Listen, you wouldn't wear the same socks for a month, right? So why would you put away a dirty sleeping bag? Before storing it, give it a good clean according to the manufacturer's instructions. This isn't just about hygiene—it'll also prolong the life of your beloved snooze cocoon.
Mistakes to Avoid
Hey, we're all human, right? But some of those little "oopsies" can cost us in the long run, especially when it comes to our cozy sleeping bags. Let's dive into the common pitfalls and how to sidestep them.
Overcompression: Tighter isn't always better
Okay, I get it. There's a strange satisfaction in making that bag as small as physically possible. But you know the saying, "too much of a good thing"? Overcompressing your sleeping bag can damage the insulation, making it lose its puffiness and warmth. Imagine squishing a marshmallow so hard it can't bounce back – that's what you're doing to your sleeping bag. So, give it a little breathing room!
Leaving it folded: The importance of airing out
Here's a visual for you: A crumpled piece of paper never truly goes back to its original smooth state, no matter how much you try. Same goes for your sleeping bag. Leaving it compressed or folded for long periods can permanently damage its shape and insulating capabilities. So, after your trip, spread it out, air it, and store it loosely. Think of it as giving your sleeping bag a well-deserved spa day.
Ignoring damages: Addressing minor issues before they become major
Picture this: You notice a tiny tear, and think, "Eh, it's just a small hole. No big deal!" Fast forward to your next camping trip, and you're wondering why there's a breeze in your bag. Minor damages can escalate QUICKLY. So, address those small issues when they're still, well, small. A stitch in time saves nine—or in this case, ensures you don't wake up freezing!
Alrighty, adventurer! Now that you're armed with knowledge about what NOT to do, you're set for many warm and snug nights under the stars. Keep these pointers in mind, and your sleeping bag will thank you. And always remember: Treat your gear right, and it'll treat you right.
Storing Your Sleeping Bag Post-Folding
So, you've folded that sleeping bag like a pro, but guess what? Where and how you store it is equally crucial. Let's dig into the storage smarts.
Proper storage locations
Alright, listen up: your garage or damp basement is NOT your sleeping bag's best friend—unless you're a fan of mold. A dry, climate-controlled space like a closet is a much safer bet. If you're lacking the closet space, even sliding it under your bed can work wonders, as long as the space is dry. Just avoid spots with excessive heat or moisture.
Long-term storage considerations
Planning to hang up your camping boots for a while? In that case, resist the urge to leave your bag squashed in its stuff sack. Over time, that compresses the insulation and reduces its effectiveness. Instead, go for a larger, breathable storage bag or hang it up loosely in a closet. Your future self will thank you when you don't have to shell out bucks for a new one.
FAQs about to Fold a Sleeping Bag
How do you fold a sleeping bag?
To fold a sleeping bag, first lay it flat, remove any trapped air, fold it in half lengthwise, then roll tightly from the foot end towards the head end, securing it with straps or in a stuff sack.
Should you roll or fold sleeping bags?
Both methods work, but rolling is generally more common as it tends to be easier and takes up less space; however, for long-term storage, you may prefer to fold and hang the bag to preserve insulation quality.
How do you fold an oversized sleeping bag?
For an oversized sleeping bag, it's best to employ the 'Fold & Roll' technique: first, fold the bag in half, then thirds, and roll tightly, using an extra set of hands if available to help keep the roll tight.
How do you fold an Ozark sleeping bag?
Folding an Ozark sleeping bag is similar to standard bags: lay it flat, push out any air, zip it up, fold it in half lengthwise, then roll tightly from the bottom up, finally securing it with straps or placing it in a stuff sack.
How often should I air out my sleeping bag?
Aim to air out your sleeping bag after every camping trip to keep it fresh and extend its lifespan.
Are there any materials that shouldn't be folded too tightly?
Avoid folding memory foam and down-filled bags too tightly, as it can compromise the material's loft and insulation.
Is it possible to repair damages caused by improper folding?
Yes, minor damages like seam tears can often be repaired with a specialized outdoor gear repair kit, but extensive damage may require professional attention.
Can I use the same folding method for all my outdoor gear?
No, different types of outdoor gear like tents, tarps, and sleeping pads have their own recommended folding methods to maximize durability and ease of storage.
Sum It Up
Learning how to fold a sleeping bag properly can save you a lot of space in your backpack. From understanding the importance of folding your sleeping bag right to knowing how to store it, we've covered a lot of ground. So, what's next? Well, armed with these hacks, you're all set to treat your sleeping bag like royalty. Your reward? A long-lasting, always-cozy, fast-to-set-up companion for all your outdoor adventures.
Ready to hit the trails and make your sleeping bag the envy of the campsite? Go ahead, use your newfound wisdom on your next trip. And hey, if you've got any folding or storing hacks of your own, don't be shy—share 'em in the comments below. After all, the best camping community is a helpful one!
Happy Trails and Snug Sleeping Bags to You! 🏕️🌟
Also learn: How to Fold Clothes for Travel Backpack