Choosing the right travel agency in Nepal can transform your Himalayan adventure from ordinary to extraordinary.
Every year, thousands of people flock to Nepal, but not all experiences are created equal.
We've put together some of the best travel agencies that will help you explore this mountainous paradise with unmatched expertise and unforgettable moments.
With insider knowledge and a passion for authentic experiences, these agencies elevate your journey, making it more than just a vacation.
As a traveler, I'll guide you through this journey, drawing from my personal outdoor experiences and passion for exploration.
This is not sponsored content. This is written based on my experience and shared for the convenience of travelers.
Top 10 Travel Agencies in Nepal and What They Offer
ACME Holiday Tours Pvt. Ltd.
ACME Holiday Tours Pvt. Ltd. is a seasoned player in the travel industry of Nepal. Known for its customer-focused approach, ACME excels at crafting holidays that cater to the specific interests and requirements of travelers. Their tour guide is excellent with season travel.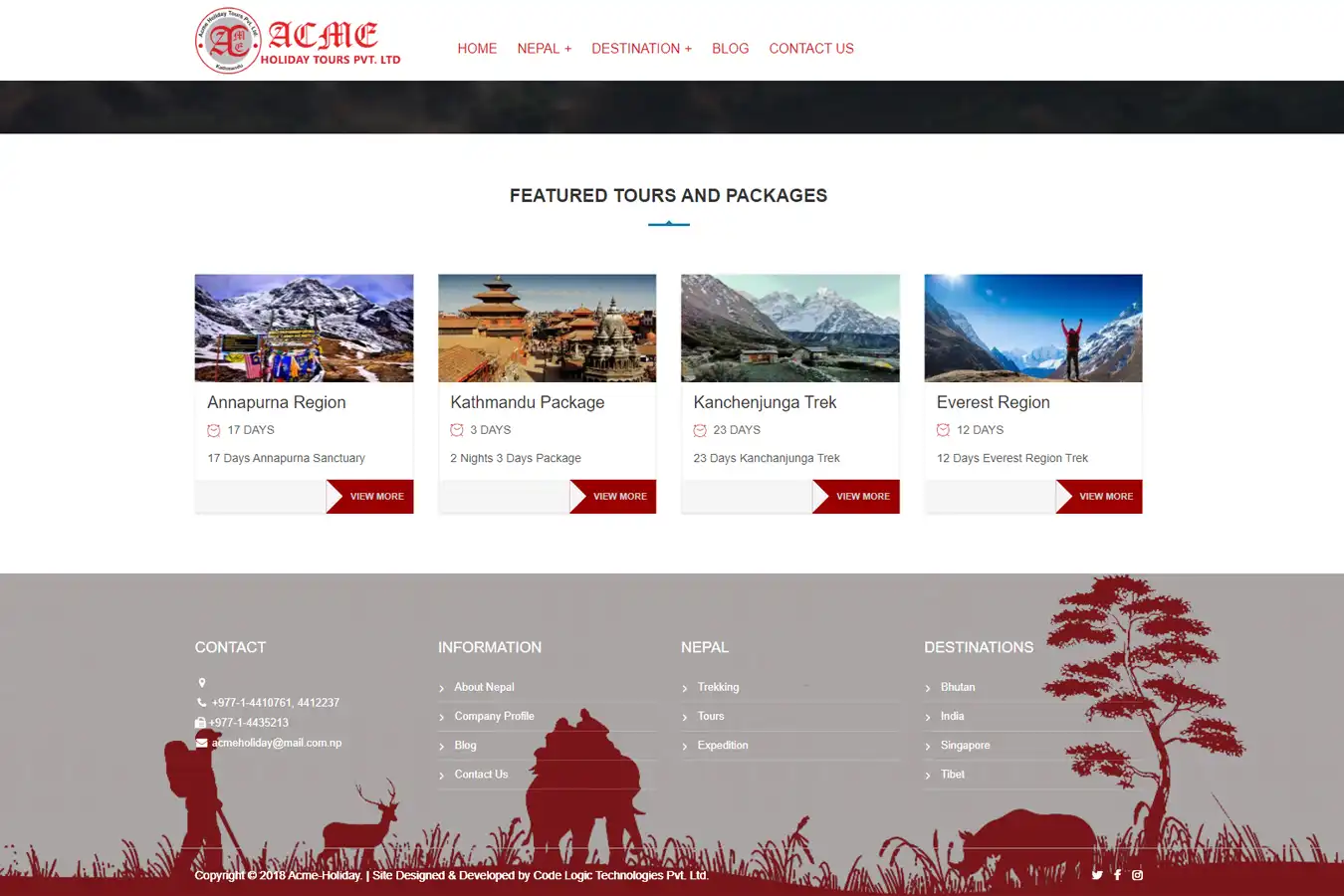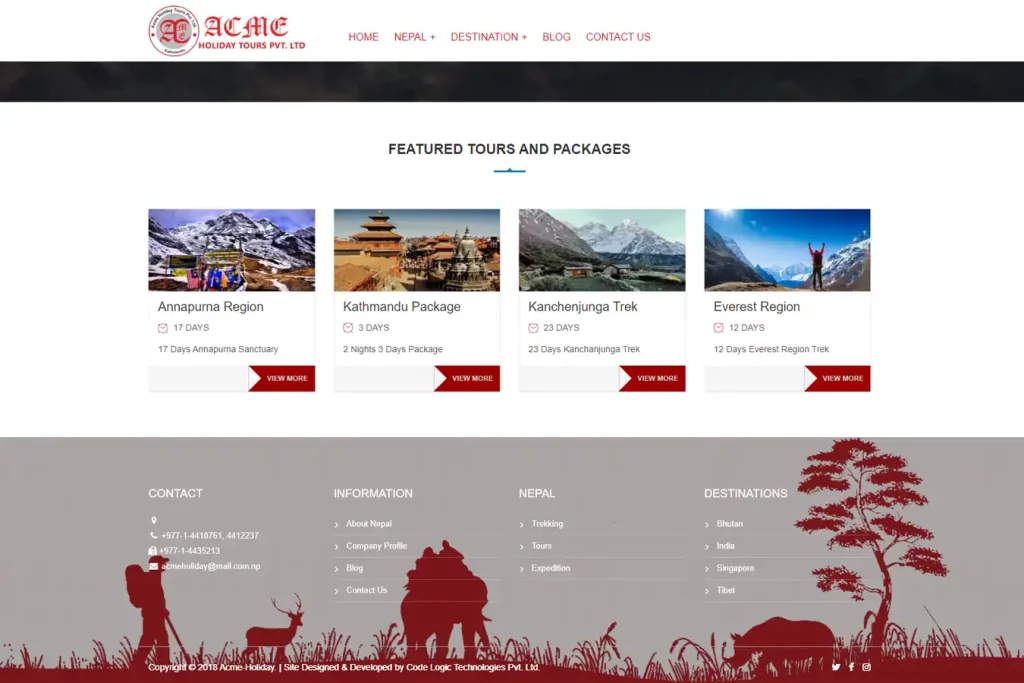 Services:
They offer a broad range of services including trekking, wildlife tours, bird watching, city tours, cultural tours, and custom holidays.
Nepal Tour Packages:
From trekking the snow-clad peaks of the Himalayas, to experiencing the vibrant wildlife in the Terai plains, their tour packages offer something for every type of traveler.
Why Choose ACME Holiday Tours Pvt. Ltd.
With their exceptional service, customizable itineraries, and dedication to delivering an authentic Nepali experience, ACME Holiday Tours Pvt. Ltd. stands as an ideal choice for travelers seeking personalized, meaningful travel experiences in Nepal.
Himalayan Social Journey, Travel Agency in Nepal
With decades of experience under their belt, Himalayan Social Journey has forged a name for themselves in the sphere of Nepalese tourism. Their success is built upon a deep-rooted understanding of the terrain, respect for local culture, and an unwavering commitment to sustainable tourism.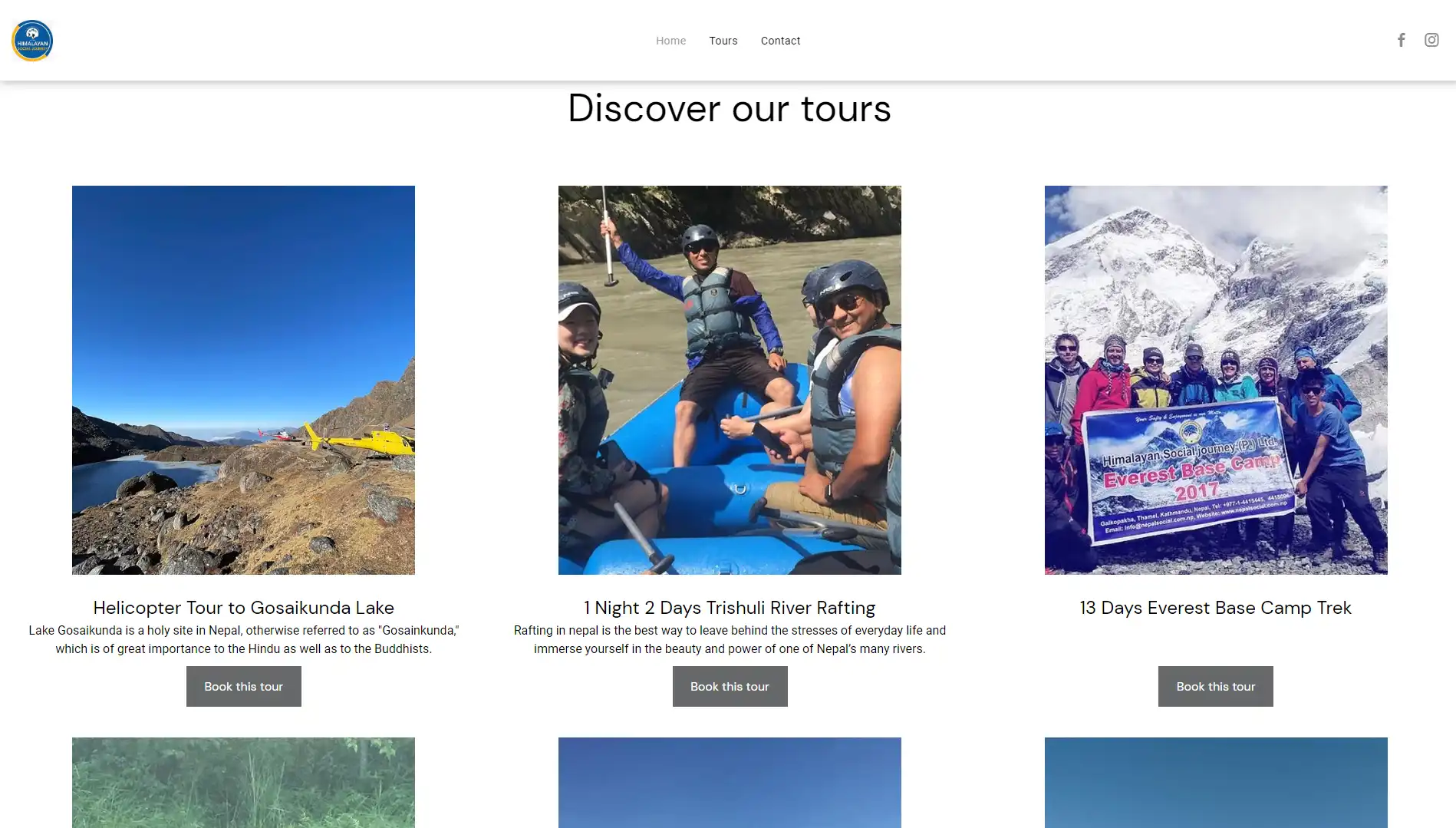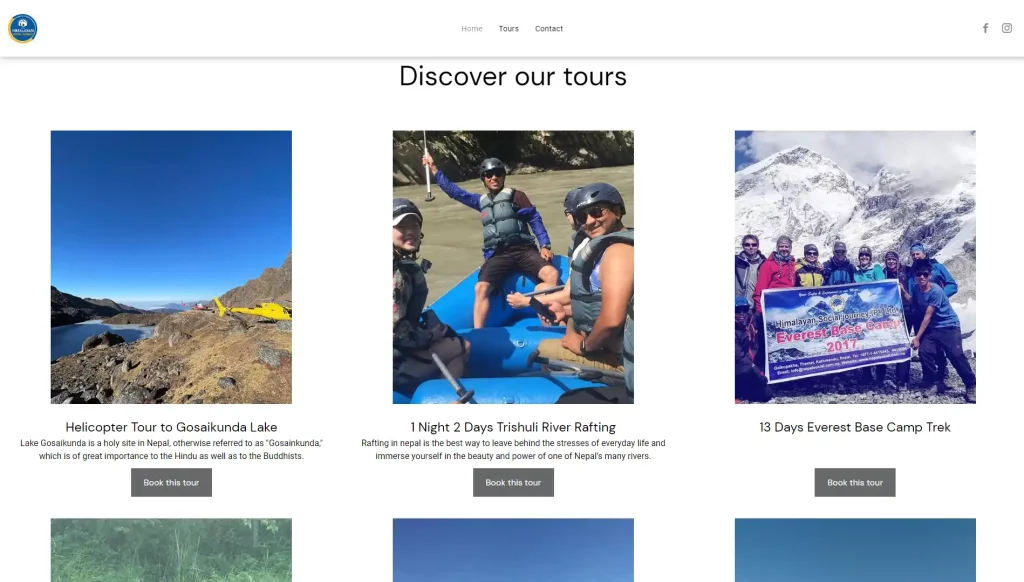 Services:
From trekking through the winding mountain paths to experiencing the bustling cities and serene landscapes, their services cover a wide array of activities. The agency's primary offerings include mountain trekking, adventure sports, jungle safaris, private tours and cultural tours.
Nepal Tour Packages:
Himalayan Social Journey offers a multitude of tour packages that cater to various interests and fitness levels. Be it the challenging Base Camp Trek, the leisurely Annapurna Circuit Trek, or the enriching Kathmandu Valley Cultural Tour, they have something for everyone.
Why Choose Himalayan Social Journey
Their focus on personalized service, experienced guides, and commitment to responsible travel make them an excellent choice for your Nepal adventure.
Ace the Himalaya Travel Agency in Nepal
Ace the Himalaya, operating since 2006, offers you an adventure through some of Nepal's most iconic landscapes. With an emphasis on eco-friendly practices and local community support, they deliver an experience that is as rewarding as it is exciting.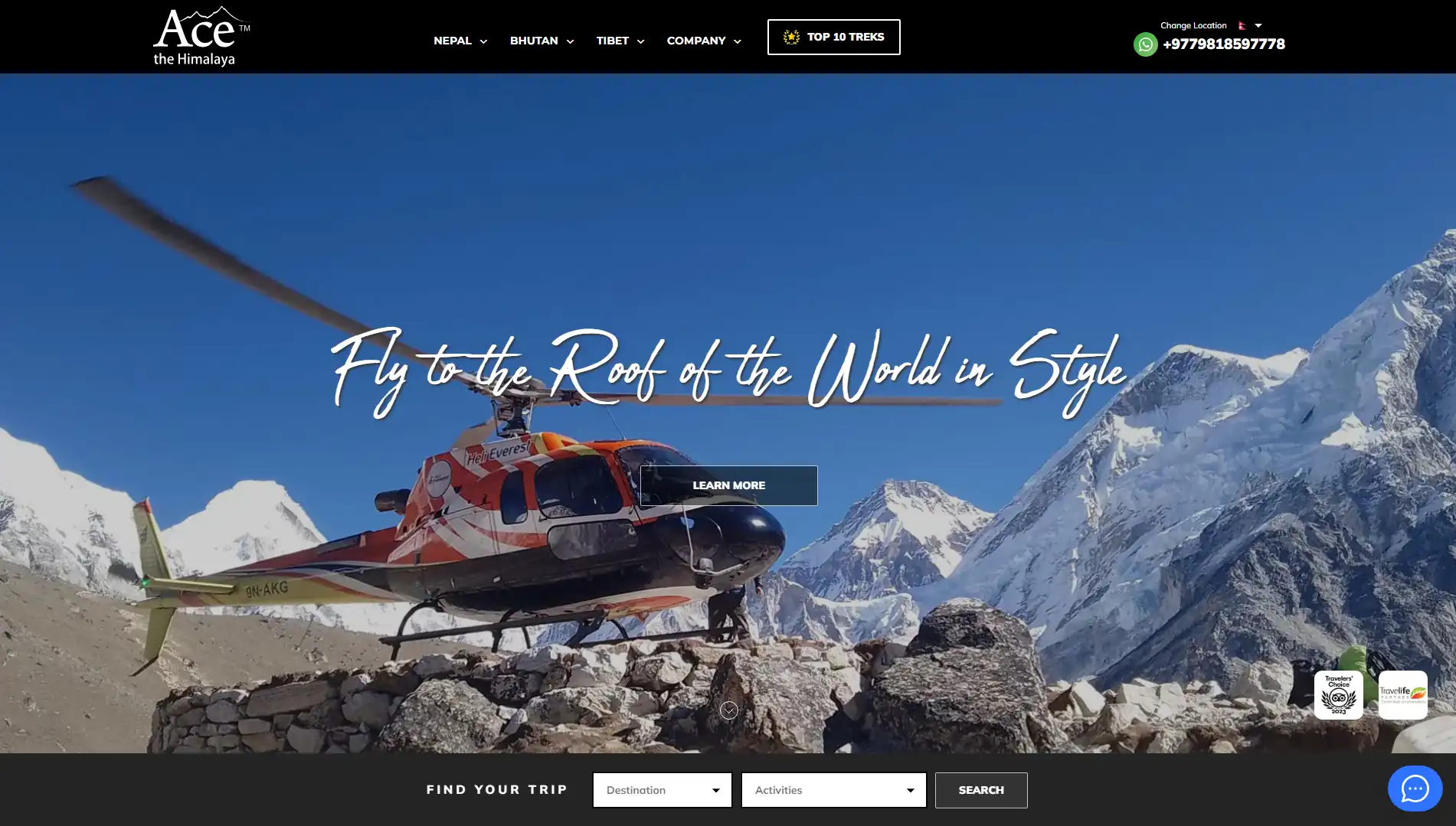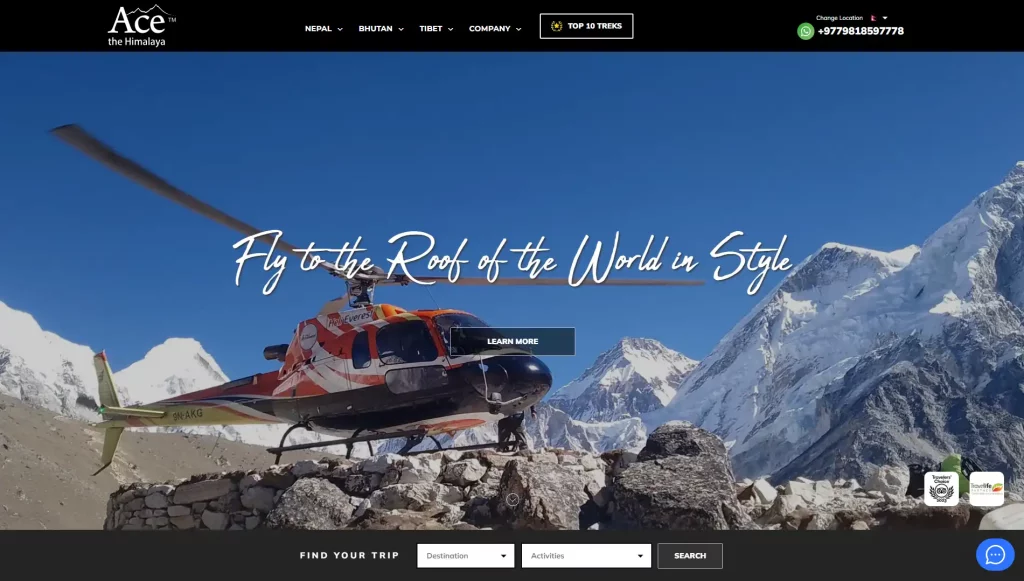 Services:
They provide a variety of services, including trekking, peak climbing, sightseeing tours, wildlife safaris, and even mountain biking in the Himalayas.
Tour Packages:
Their varied tour packages include everything from the exhilarating Base Camp trek to the tranquil Rara Lake tour, ensuring that there's a unique and unforgettable adventure waiting for every kind of traveler.
Why Choose Ace the Himalaya
With a track record of delivering top-notch service, expert guidance, and strong ethical responsibility, Ace the Himalaya is a frontrunner in the Nepal travel industry.
Nepal Hiking Team
Nepal Hiking Team, as the name suggests, is a professional group of adventure enthusiasts ready to guide you through the Himalayas' breathtaking landscapes.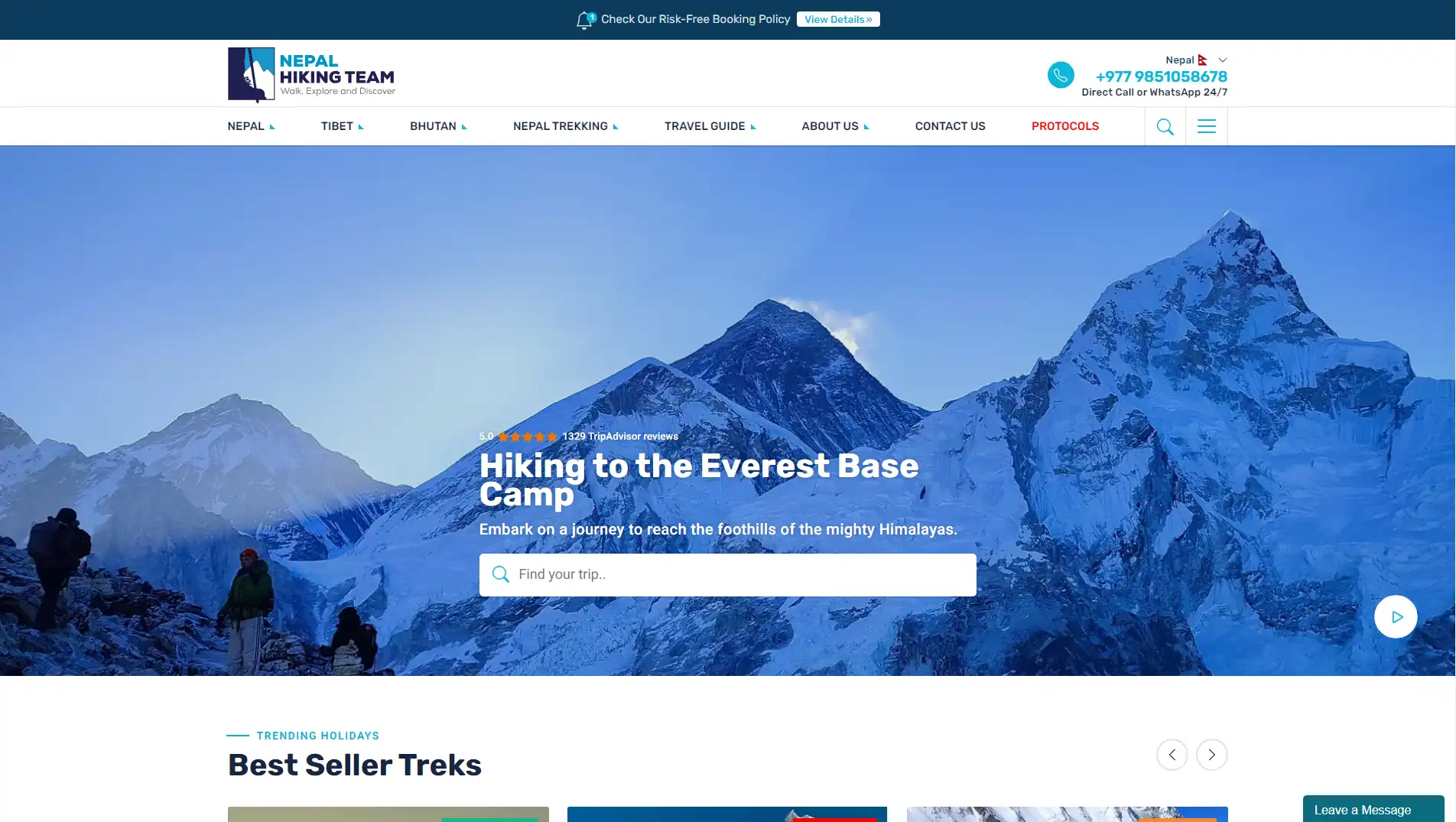 Services:
Offering a range of services like trekking, tours, peak climbing, and helicopter tours, Nepal Hiking Team ensures an immersive experience in the heart of the mountains.
Tour Packages:
Their tour packages cover popular treks like Base Camp, Annapurna Base Camp, and unique offerings like the Buddhist Pilgrimage tour, providing a variety of experiences for all travelers.
Why Choose Nepal Hiking Team:
Their customer-centric approach, coupled with extensive local knowledge, guarantees a safe, enjoyable, and enlightening trip, making them a trusted choice for your Himalayan adventure.
Earthbound Expeditions Travel Agency in Nepal
Earthbound Expeditions is known for its dedication to crafting unforgettable travel experiences while making a positive impact on the environment and local communities. Established with the vision of bringing travelers closer to nature, Earthbound Expeditions has become a name synonymous with ethical travel.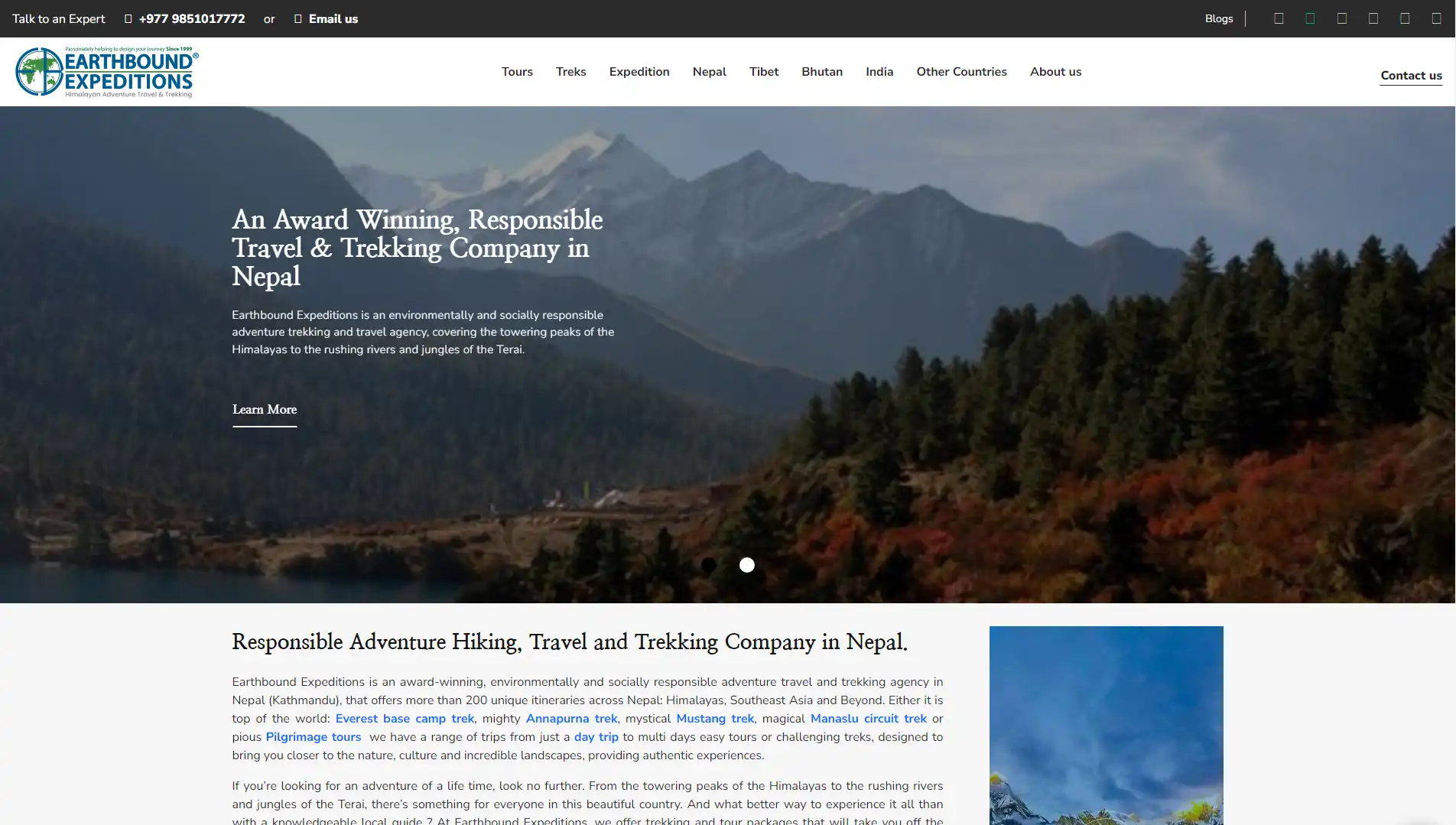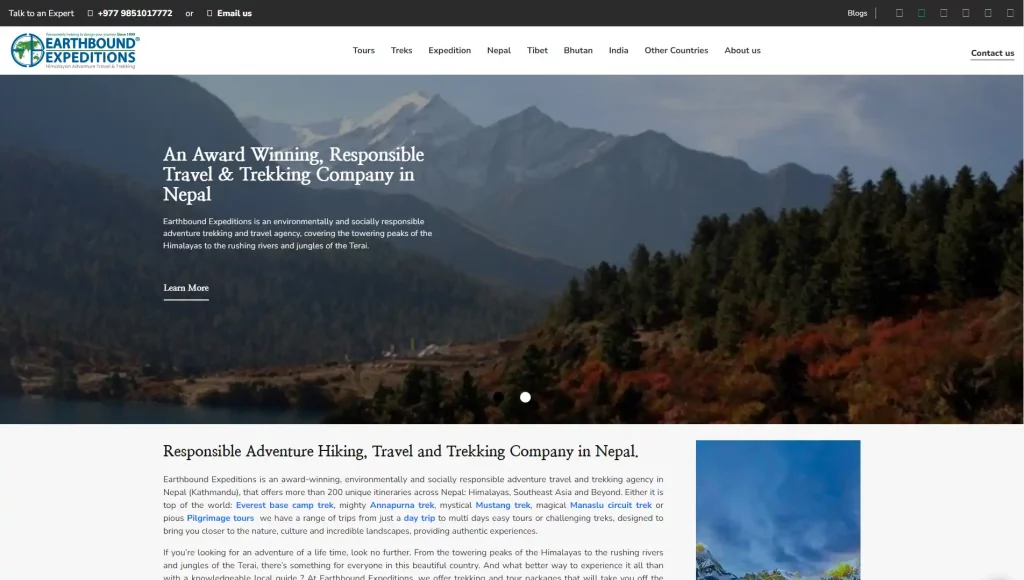 Services:
They offer a wide range of services, including trekking, cultural tours, family holidays, and yoga retreats, all with a focus on sustainability and community engagement.
Tour Packages:
Earthbound Expeditions' tour packages cover popular treks like Annapurna Base Camp and off-the-beaten-path experiences such as indigenous people's cultural tours.
Why Choose Earthbound Expeditions
Choose them for their dedication to sustainable tourism, experienced guides, and innovative travel experiences that delve deep into the culture and natural beauty of Nepal.
Mountain Monarch Travel Agency in Nepal
Mountain Monarch, an adventure outfit run by experienced trekking guides, has built its reputation on providing high-quality and personalized service. Their attention to detail ensures that you will have a seamless adventure.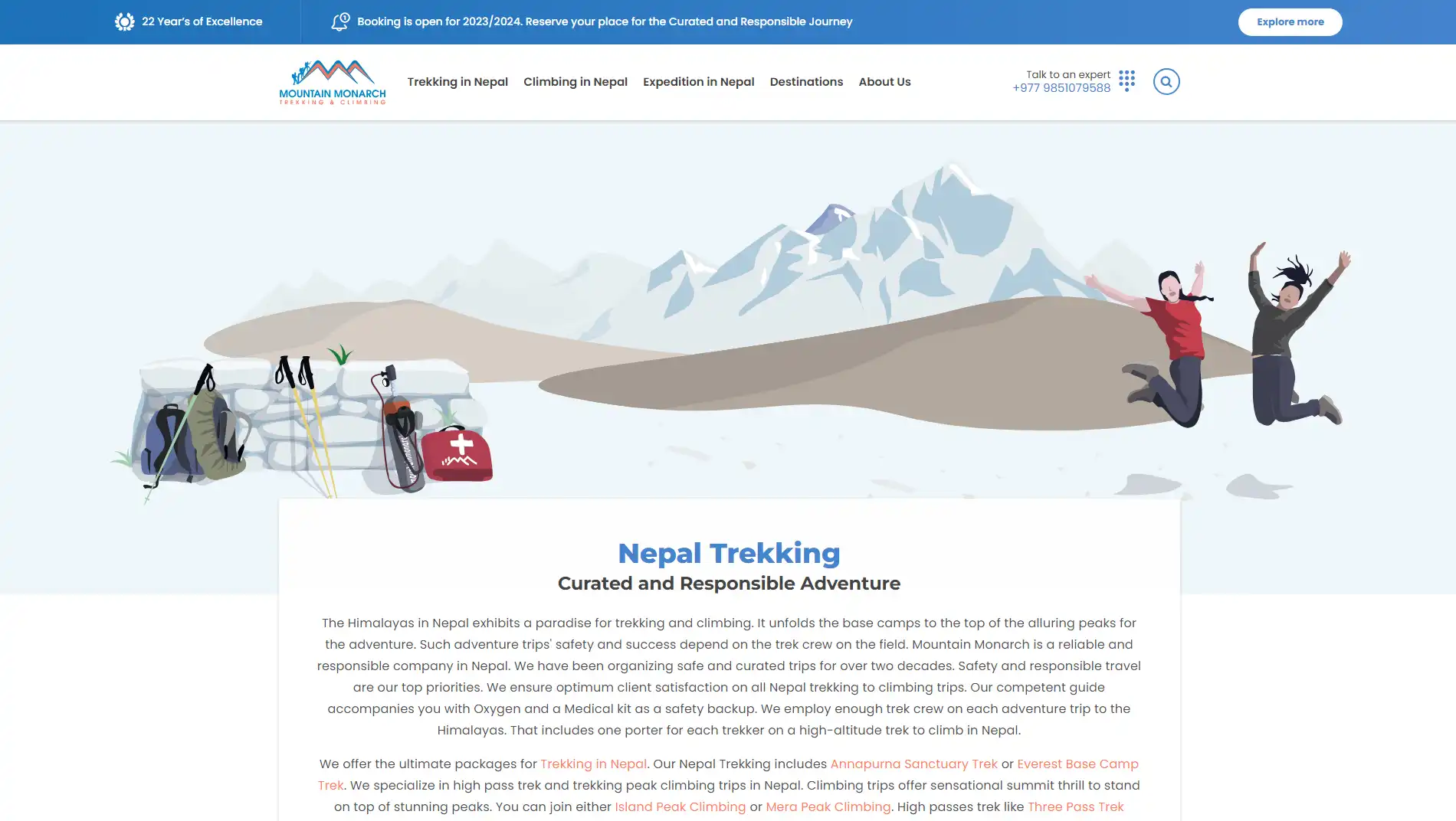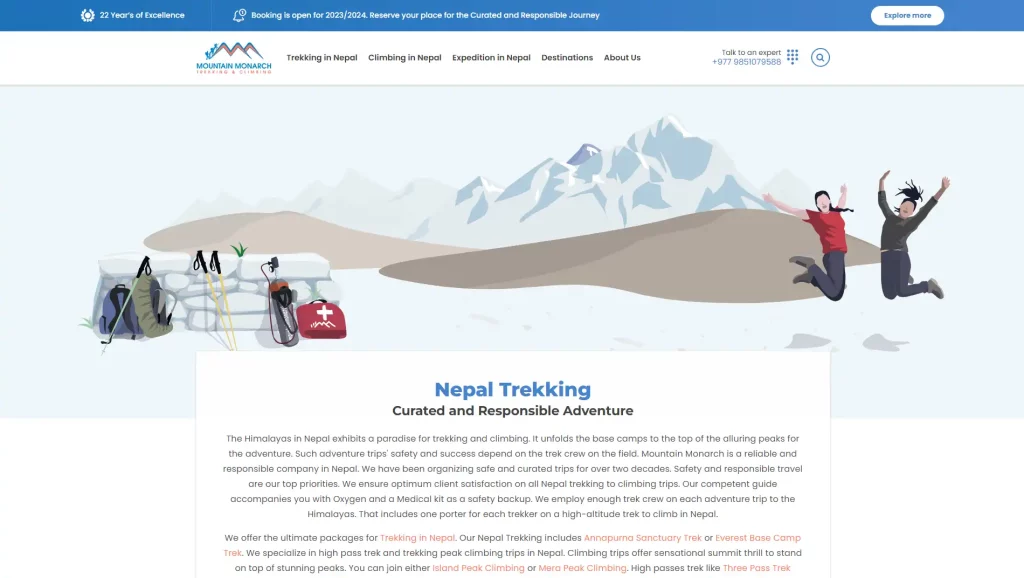 Services:
Services encompass trekking, mountaineering, cultural tours, and customized trips tailored to fit your interests.
Tour Packages:
Their tour packages include renowned treks like the Annapurna Circuit and adventure-packed trips like the Three Passes Trek in Everest.
Why Choose Mountain Monarch:
Opt for Mountain Monarch for their outstanding customer service, expert guides, and tailored itineraries that will make your journey uniquely yours.
Boundless Himalayas Trekking & Expedition
Boundless Himalayas Trekking & Expedition combines the thrill of adventure with cultural immersion. Their commitment to safety and the environment ensures that you can enjoy the splendors of Nepal worry-free.
Services:
They offer trekking, mountaineering, tours, jungle safaris, and mountain biking, among other services.
Tour Packages:
With options ranging from the classic Everest Base Camp trek to the more obscure Upper Dolpo trek, there's a package for every type of adventurer.
Why Choose them:
Their commitment to safety, environmental stewardship, and deep connections with local communities make them an ideal choice for conscious travelers seeking authentic experiences.
Mosaic Adventure Trek and Tours
Mosaic Adventure is an agency that's been consistently delivering meticulously planned, and enjoyable experiences. They understand that travel is more than just seeing sights; it's about creating memories.
Services:
Their services range from treks and expeditions to cultural tours and family trips.
Tour Packages:
Whether you opt for the Base Camp trek or a cultural tour through ancient Nepali villages, Mosaic Adventure has a package that's just right for you.
Why Choose Mosaic Adventure
Their focus on customer experience, combined with their depth of local knowledge and focus on sustainability, makes them a top choice.
Adventure Great Himalaya
With over a decade of experience, Adventure Great Himalaya has a proven track record in providing exciting adventures and cultural experiences.
Services:
They offer trekking, tours, mountaineering, and adventure sports.
Tour Packages:
Their packages range from the iconic Annapurna Circuit Trek to specialized tours like bird watching jungle safari in the Nepali wilderness.
Why Choose Adventure Great Himalaya
Adventure Great Himalaya's dedication to providing unforgettable experiences, coupled with their focus on safety and sustainability, make them a solid choice.
Nepal Vision Treks & Expedition
Nepal Vision Treks & Expedition has been one of the front-runners in promoting sustainable tourism in Nepal. Their extensive network and deep understanding of the terrain and local culture offer an enriching experience for travelers.
Services:
They provide a vast range of services, such as trekking, mountaineering, wildlife safaris, and cultural tours, among others.
Travel Packages:
Their tour packages are versatile, with offerings like the famous Everest Base Camp trek, tours of UNESCO World Heritage Sites, and adventures in the jungles of Chitwan National Park.
Why Choose Nepal Vision Treks & Expedition
Their commitment to eco-friendly practices, combined with an expansive suite of packages and a team of knowledgeable guides, makes them an excellent choice for those wanting to discover Nepal in a responsible way.
Himalayan Wonders Adventure
Himalayan Wonders Adventure is a renowned agency committed to offering unique, personalized experiences. They believe in creating journeys that connect travelers with the heart of Nepal's natural beauty and rich cultural heritage.
Services:
Their services include trekking, heritage tours, adventure sports, annapurna mountain range and nature-oriented excursions.
Tour Packages:
Their offerings encompass everything from the Everest High Passes Trek for adventure enthusiasts to relaxed tours in Kathmandu and beyond.
Why Choose Himalayan Wonders Adventure
Choose Himalayan Wonders Adventure for their unique, customizable itineraries, commitment to responsible tourism, and their knowledgeable team that ensures a memorable and enlightening experience.
For more information to visit Nepal, please check out the official portal of government of Nepal.
Read more: Top 11 Travel Agencies in the Philippines
Why Choose a Travel Agency in Nepal?
When planning a incredible trip to Nepal, you might wonder why you should choose a local tours agency instead of a familiar international one. Here's why:
Understanding the Value of Local Expertise
In Nepal, every path is a journey and every corner tells a story. The vibrant local markets, the tranquil monasteries, the scenic mountain trails – there's so much to discover and experience. But to unlock the authentic essence of Nepal, you need guidance from those who know it best: the locals.
Local tour companies in Nepal are operated by professionals who have grown up amidst these mesmerizing landscapes. They have a deep-rooted understanding of the local culture, traditions, and customs. They can guide you through off-beat trails, share tales of local folklore, and ensure you get to taste the most delicious local delicacies. Their insider knowledge can turn your trip from a generic tour into a personalized journey of discovery.
Convenience and Customized Packages
International agencies might offer standardized packages that cater to the generic crowd. But when you're venturing into a unique destination like Nepal, you deserve a travel experience that's as unique as you are. This is where nepal travel companies shine.
Whether you're an adrenaline junkie seeking a thrilling trek to the Everest Base Camp, a history buff yearning to explore the heritage sites of Kathmandu Valley, or a spirituality seeker drawn to the peaceful monasteries of Lumbini, local agencies can curate tailored packages that align with your interests, fitness levels, and travel goals.
Safety and Risk Management
Traveling in a foreign land comes with its share of uncertainties. In the rugged terrains of Nepal, you might encounter challenges like altitude sickness, unexpected weather changes, or tricky trekking paths.
Here again, the expertise of a local travel agency in Nepal is invaluable. They are equipped to foresee and handle such situations. Their guides are trained in first aid and risk management, ensuring that you can embark on your adventure with confidence and peace of mind.
Moreover, in the post-pandemic world, these agencies are committed to implementing health and safety protocols, ensuring you can explore the wonders of Nepal without compromising on your wellbeing.
Outdoor pursuits comparison: Mountain Climbing Vs Rock Climbing
How to Choose the Right Travel Agency in Nepal
Here are some crucial factors to consider when choosing a travel agency in Nepal:
Checking Agency Credentials and Reviews
Just as you wouldn't hand over your car to an unlicensed mechanic, you shouldn't trust your travel plans to an uncertified agency. Ensure that the agency is registered with the appropriate local authorities like the Ministry of Tourism in Nepal. Also, check if they are affiliated with recognized international travel organizations.
Don't stop at just checking credentials. Dive into the experiences of past travelers too. Look up reviews on independent platforms, social media, and travel forums. Real-life experiences of fellow travelers can provide valuable insights into the agency's reliability, professionalism, and service quality.
Nepal Tour Packages
Nepal tour packages offer a wide array of experiences, from trekking the majestic Himalayas to exploring cultural sites. Packages often include accommodation, transportation, and guide services, with flexibility for customization. It's vital to check what's included and consider the season for travel. Preparation and safety, especially for trekking, are crucial. So, whether you're an adventurer, culture enthusiast, or nature lover, there's a Nepal tour package that can be tailored to your needs for an unforgettable journey.
Assessing the Quality of Customer Service
Your travel agency will be your lifeline during your trip. Their attitude towards customer service can significantly impact your travel experience.
Try to gauge their responsiveness, attentiveness, and flexibility. Do they respond promptly to your queries? Do they take the time to understand your unique needs and preferences? Are they flexible enough to tailor their packages according to your requirements? These are indicators of an agency that genuinely values its customers.
Evaluating the Agency's Sustainability Practices
In this era of conscious travel, it's important to choose a travel agency that respects the destinations it promotes. Sustainable tourism is especially crucial in a biodiverse country like Nepal, home to fragile ecosystems and endangered species.
Investigate the agency's sustainability practices. Do they adhere to responsible trekking guidelines? Do they contribute to local communities? Are they mindful of their carbon footprint? Choosing an agency that practices sustainable tourism not only contributes to conserving Nepal's natural and cultural heritage but also enriches your travel experience by fostering meaningful connections with the local environment and people.
Read more: Travel Agency in Hong Kong
Before Booking with a Nepalese Travel Agency
Understanding the Booking Procedure
Booking with a Nepalese travel agency is generally simple. It often involves selecting a package online, having a chat with the agency about your needs, and securing your booking. Payment methods commonly include bank transfer or credit card, and sometimes payment upon arrival.
Questions for Your Travel Agency
Before you settle on a booking, clarify all necessary details. Understand what the package covers and what it doesn't. Are there extra costs? If trekking, inquire about acclimatization, emergency procedures, and guide-client ratios. Transparency from the company is key here.
Getting Ready for Your Nepal Trip: Key Tips
Once your booking is locked in, it's time to prepare for your adventure. Look into local weather, packing essentials, and cultural norms. Your Nepal travel agency should provide an itinerary and a packing list. If you're trekking, start working on your fitness.
Essential guide: How to Attach Trekking Pole to Backpack
FAQs about Travel Agency for Nepal Tours
How much is a trip to Nepal per person?
The cost of a trip to Nepal can vary widely depending on your preferences. On average, for a comfortable stay, expect to spend between $30-$50 per day, per person, including accommodations, meals, and local transportation. For luxury travelers, costs can rise to $200 per day or more.
How much does a travel agent cost?
Travel agent fees can differ based on the complexity of your travel plans. Generally, you can expect to pay a service fee ranging from $50 to $200. However, some travel agencies don't charge a direct fee but earn their revenue through commissions from hotels and tour operators.
How to plan a tour in Nepal?
Planning a tour in Nepal involves deciding on the length of your stay, choosing the right season to visit, identifying key attractions you want to see (like Mount Everest or Kathmandu Valley), and selecting a reliable travel agency. Don't forget to consider whether you want to do trekking or prefer a cultural tour, as this will significantly impact your itinerary.
Final Thoughts about Nepal Travel Agency
Finalizing a travel agency in Nepal for your next adventure is no small decision. Embarking on Nepal travels offers you an unforgettable journey through its majestic mountains and the rich cultural heritage.
But with our top 10 choices, you are now well equipped to make an informed choice.
Remember, a perfect trip is not just about the destination, but also about the journey, and these agencies are committed to making your journey unforgettable.
Some More Reliable Tour Operators & Travel Agents in Nepal
Abode Asia Tours & Travel Inc
Global Asia Tours & Travels Pvt. Ltd.
Friendship Nepal Tours & Travels Pvt. Ltd.
Fsun Nepal Tours & Travels Pvt. Ltd.
Accessible Adventure Travels & Tours Pvt. Ltd.
We hope our guide has made your decision easier, bringing you one step closer to your dream adventure.
Since 2014, Luxury Holidays Nepal has been a premier provider of lavish adventure and tour operator in the Himalayas. Nepal awaits you, with its breathtaking mountains lush green forests, vibrant culture, and heartwarming hospitality.
Get ready to make some unforgettable memories with your chosen travel agency in Nepal.
To know more: 16 Travel Agencies to visit in Thailand