Searching for the best tent for motorcycle camping? You're in the right place.
This article is your ultimate guide.
As an outdoor enthusiast, we'll sift through the top picks and share detailed reviews including pros and cons.
Expect practical insights and handy tips to aid your choice.
Let's turn your camping dreams into a reality!
Get ready to find your perfect camping companion.
Exciting information and practical tips are just a scroll away.
Top Picks for the Best Motorcycle Camping Tents
Reviews of the Best Motorcycle Camping Tents
In order to guide you towards an informed decision, we've gathered reviews and recommendations from experienced motorcycle campers who've personally used these motorcycle camping tents. Here are some of the top-rated motorcycle camping tents according to their reviews:
Your camping experience takes a big leap with the MSR Hubba Hubba NX 2-Person Lightweight Backpacking Tent. It's not just a tent but a shelter designed for those who relish the open roads and the starry skies.
In your journey on two wheels, you'll find this tent's lightweight, freestanding tent design a boon. Its pole geometry and non-tapered floor gift you with spacious living, enough to forget you're in a tent. The two doors make exit and entry a breeze.
This minimalist tent embodies the expertise MSR brings to the table. It balances weight, comfort, and durability in a way that makes it a top pick among motorcycle campers.
I've seen numerous online testimonials, confirming the tent's worth. Users rave about its easy setup and its weather-resistance, thanks to the DuraShield coating and the premium Easton Syclone poles.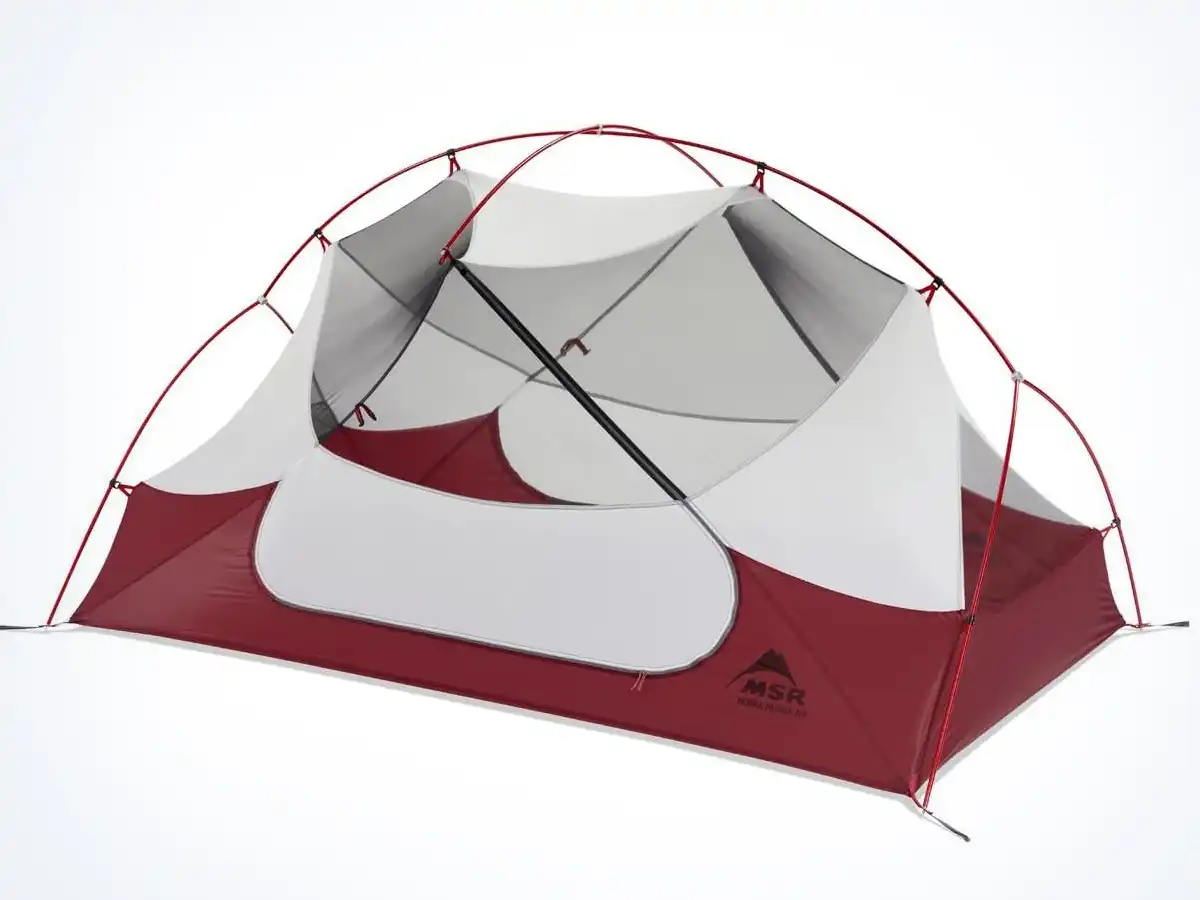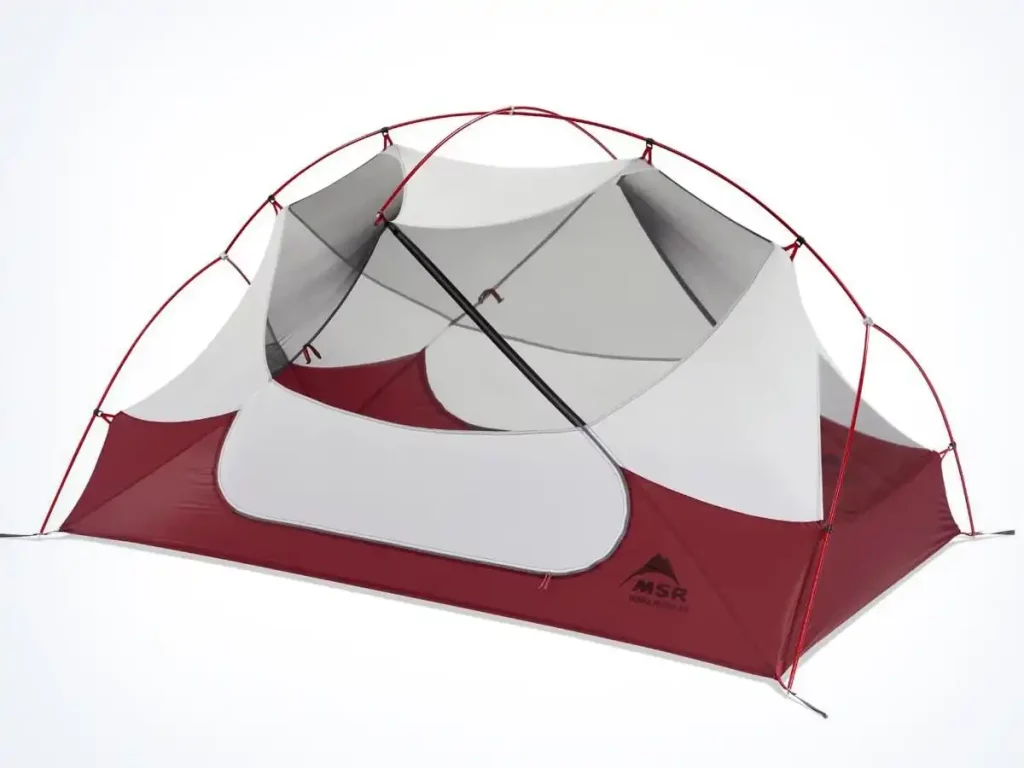 The tent provides a generous 29 square feet of tent floor area and a peak height of 39 inches. The twin vestibules give an additional 17.5 square feet of storage. It's just the space a rider needs!
Pros:
3-season ready compact tent
Spacious tent
Lightweight tent, and easy to setup
Waterproof floor
Robust against wind and rain
Stargazing feature
Semi freestanding tent
Cons:
Footprint sold separately
Could be a tad bit expensive for some
Specifications:
20-denier ripstop nylon / 15-denier nylon mesh
29 sq ft of floor area, 39″ peak height
Total weight: 3.9 lbs, minimalist setup: 3.5 lbs
Packs down to 18×6 inches
3-year manufacturer's limited warranty
What sets this product apart:
Not all tents boast a stargazing-ready rollup vestibule. Nor do they promise the same level of robustness and lightweight design that the MSR Hubba Hubba NX does.
Choosing the best motorcycle tent is an essential part of preparing for a road trip adventure. Thats why Snugpak Scorpion 2 come to us. Motorcycle camping adventures are made memorable with the Snugpak Scorpion 2 Camping Tent. This robust little house takes your camping experience to a whole new level.
Imagine setting up camp after a long day's ride. You need a tent that's light yet roomy and easy to set up. That's exactly what the Scorpion 2 delivers. With dimensions of 81″ x 51″ x 41″, it comfortably houses two people.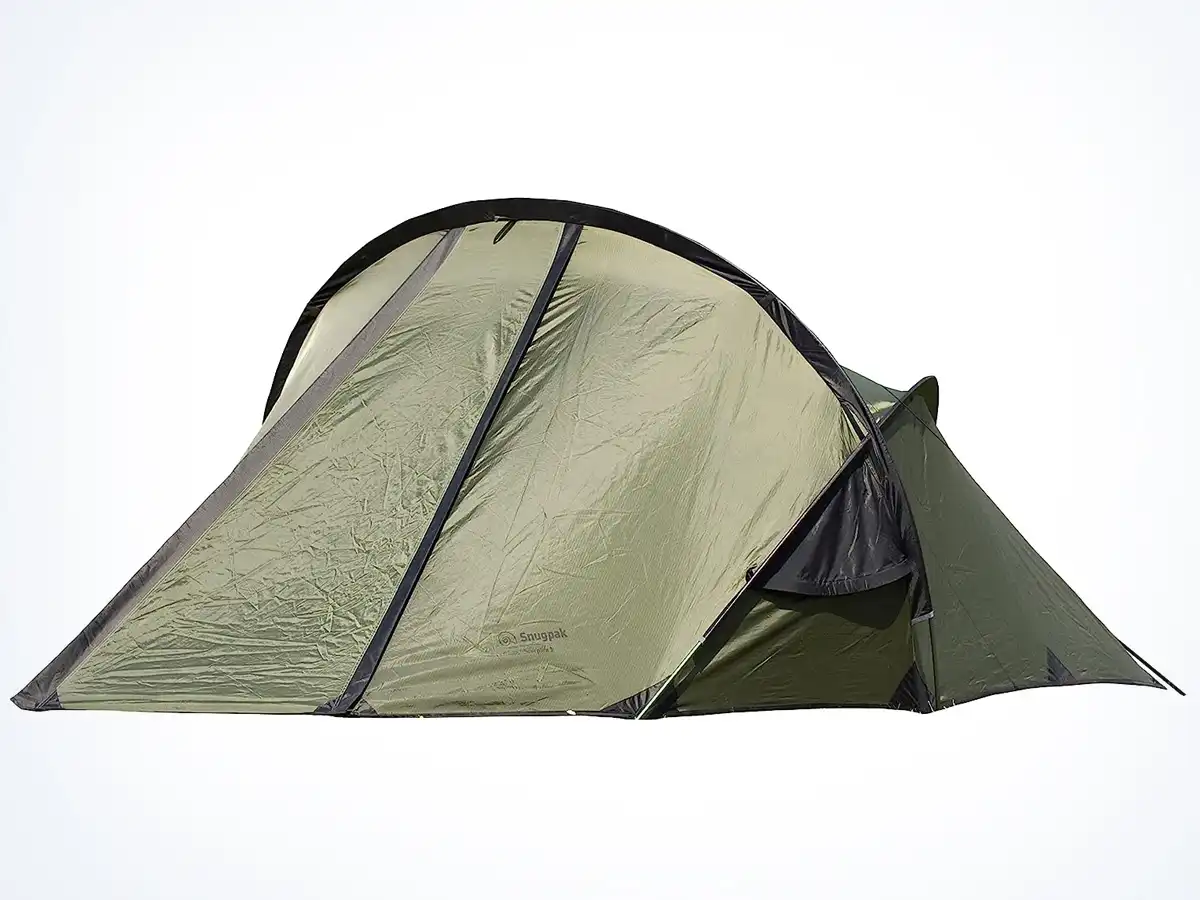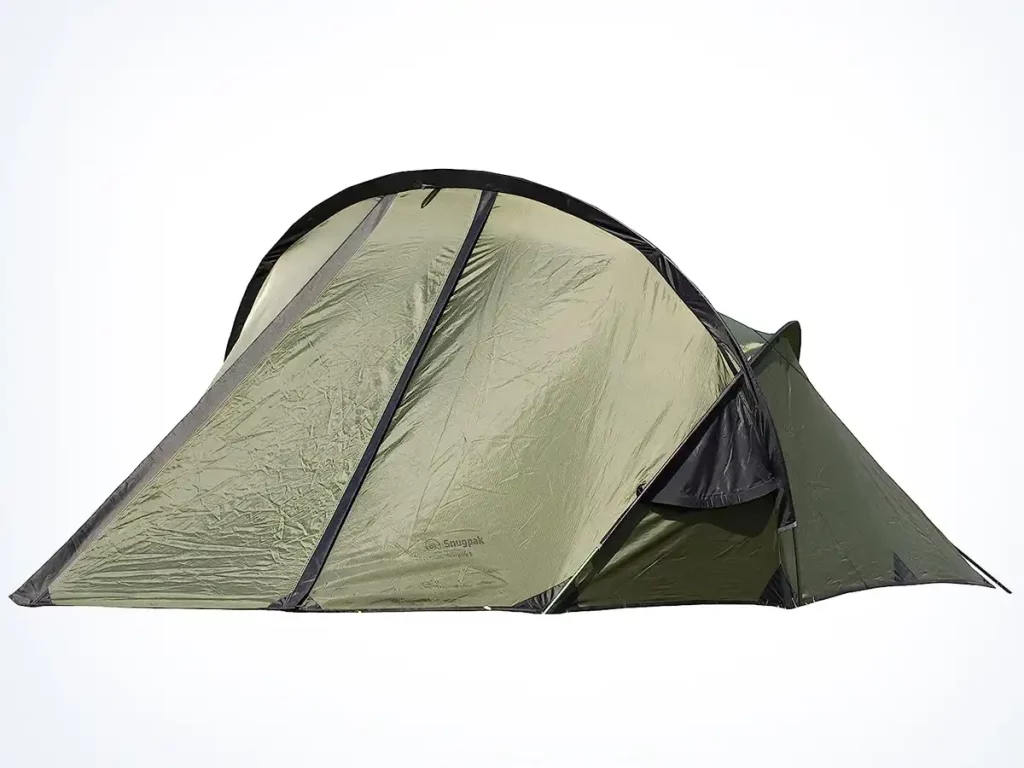 Snugpak's Scorpion 2 is renowned for its sturdiness. Its 210t polyester RipStop flysheet with a 5000mm waterproof polyurethane coating, along with DAC Featherlite aluminum poles, are meant to withstand all weathers.
From the reviews I've read, users highly praise its ability to resist tough weather conditions. Its 4-season suitability and the compact packing size make it a motorcyclist's trusted friend.
This compact beast packs down to 17″ x 7.5″, weighing 4.93 lbs on the trail and 5.83 lbs when packed. Truly designed with the on-the-go camper in mind.
Pros:
4-season compatibility
Semi freestanding tents
Compact pack size
Comes with a repair kit
Ample space for 2 people
Cons:
· May feel heavy for some riders
· Only one door
Specifications:
50D Polyester No-See-Um-Mesh
DAC Featherlite NSL anodized poles
Alloy stakes (14 + 2 spare)
Basic repair kit included
Dimensions: 17″L x 7.5″W x 1″H
What sets this product apart:
What's unique about the Scorpion 2 is that it comes equipped with a basic repair kit. This feature shows Snugpak's commitment to hassle-free camping.
For the two-wheeled explorer, the Big Agnes Blacktail Hotel Bikepacking Tent is a true game-changer. Light yet tough, it's your ultimate home-on-the-go.
Imagine a tent that is as trail-ready as your bike. The Blacktail Hotel Bikepack makes this a reality. Its burly compression stuff sack and daisy-chain webbing are tailor-made for bike-frame attachments, making it an on-road or off-road stalwart.
The ingenuity of Big Agnes is well reflected in the Blacktail Hotel. With its symmetrical pole structure and pre-bent poles, it delivers superior headspace. Also, the Dirt Dagger UL Tent Stakes and the reflective guylines make setup a breeze.
User testimonials commend its robustness and spaciousness. Its clever design, including the daisy-chain webbing loops and external elastic webbing, has been noted for its usefulness.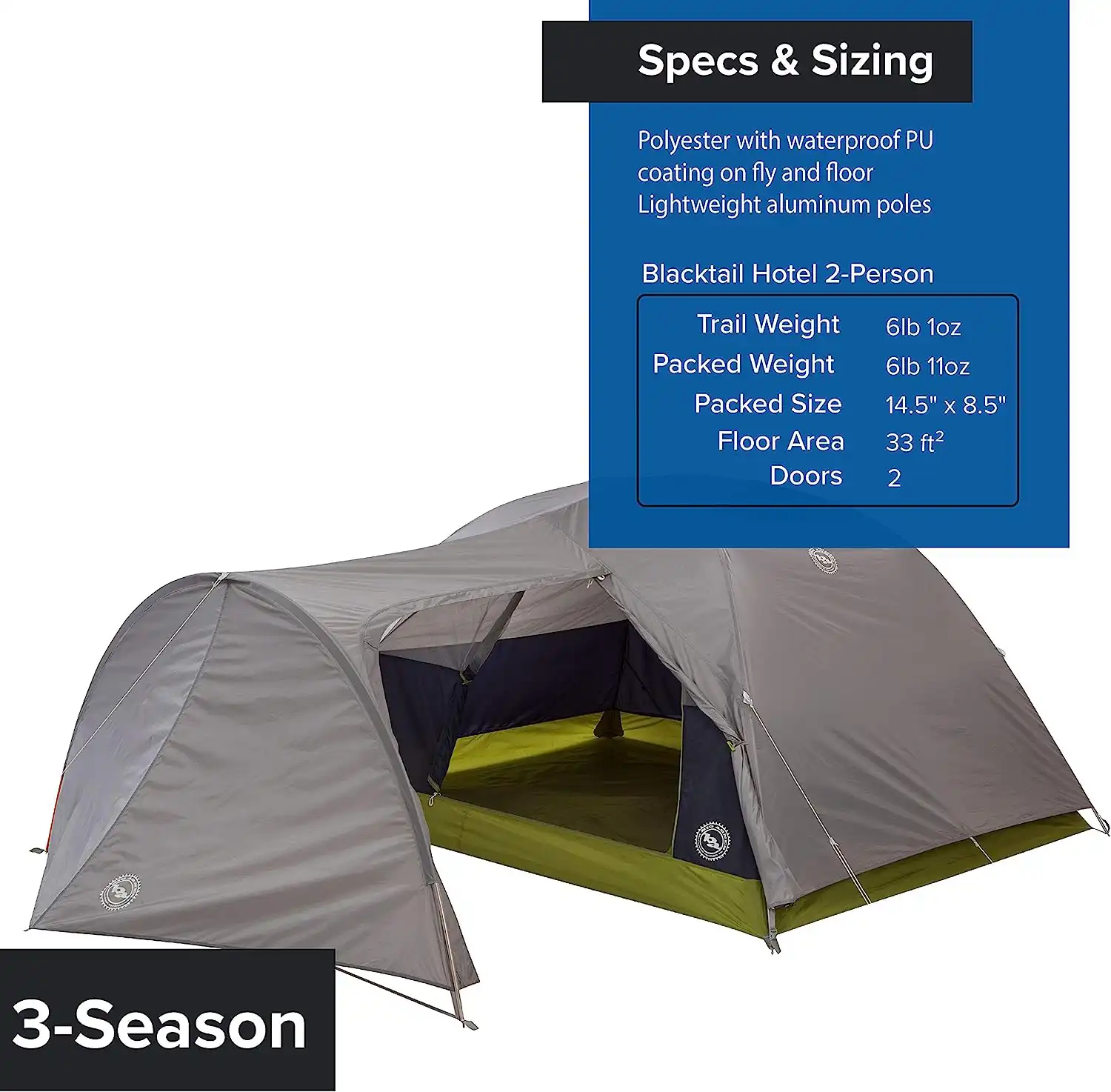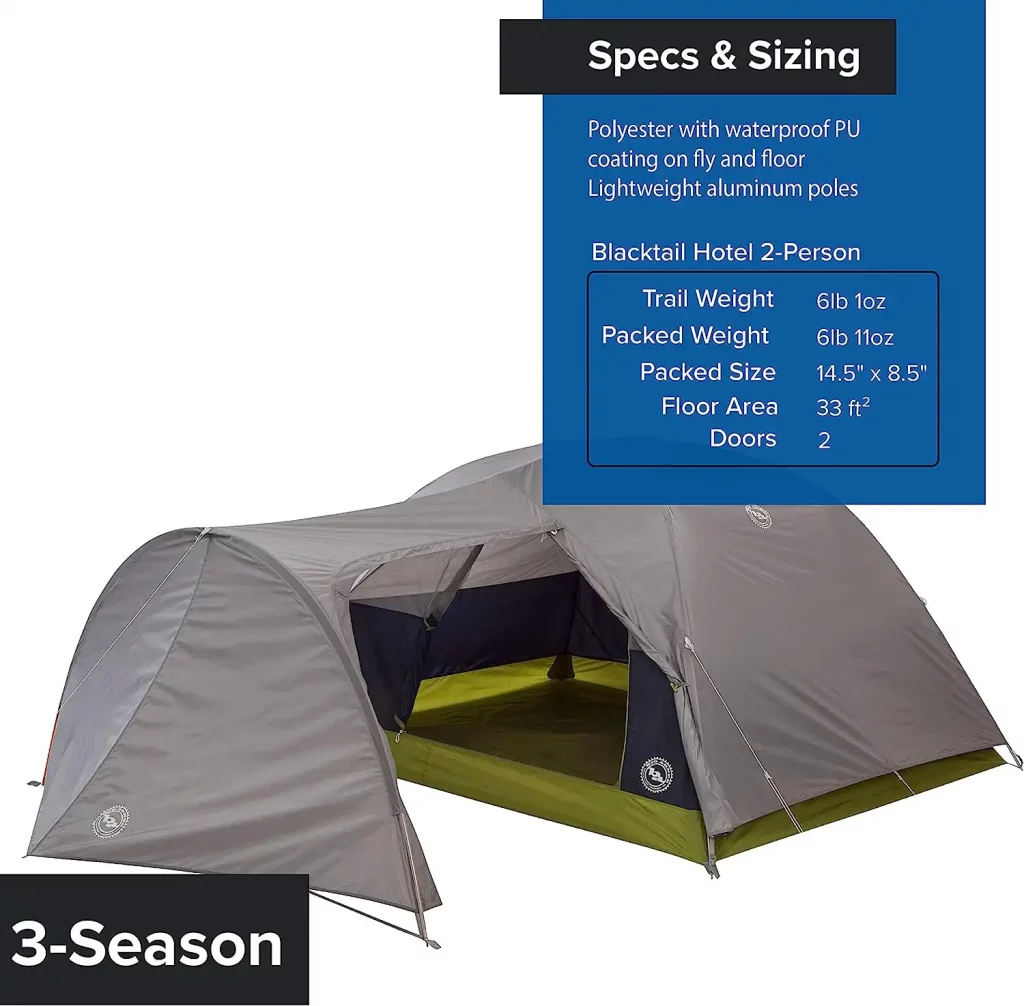 Quantitative measurements:
The tent weighs in at 5 lb. 14 oz., packing down to a compact 13″ x 8″. With dimensions of 142″ x 90″ x 42″, it provides ample room for two people.
Pros:
Weatherproof tent, 4-season ready
Ample space and easy setup
Bike-frame attachment feature
Variety of storage options
Lightest tent
Cons:
Footprint sold separately
Specifications:
Aluminum poles and Dirt Dagger UL Tent Stakes
Reflective guylines and webbing
Multiple storage options
Dimensions: 142″L x 90″W x 42″H
What sets this product apart:
The unique feature of this tent is the bike-frame attachment provision. This, coupled with the extended footprint option, shows Big Agnes' commitment to a cyclist-friendly design.
Turn your motorcycle camping adventure into a luxurious affair with the Coleman Tent Coastline 3 Plus. Designed for the nomad, it truly is one of the best.
Envision having a roomy sanctuary to rest after a thrilling ride. The Coastline 3 Plus offers a spacious sleeping area to fit not just you, but your hefty packs and boots as well.
Coleman has always been synonymous with outdoor gear, and this tent is no exception. Its tunnel tent structure optimizes space-to-weight ratio, while the rising PE groundsheet ensures you stay dry even in inclement weather.
Based on my research, user reviews consistently praise its spaciousness and resilience to weather. The ample storage area and durability of the groundsheet have been particularly highlighted.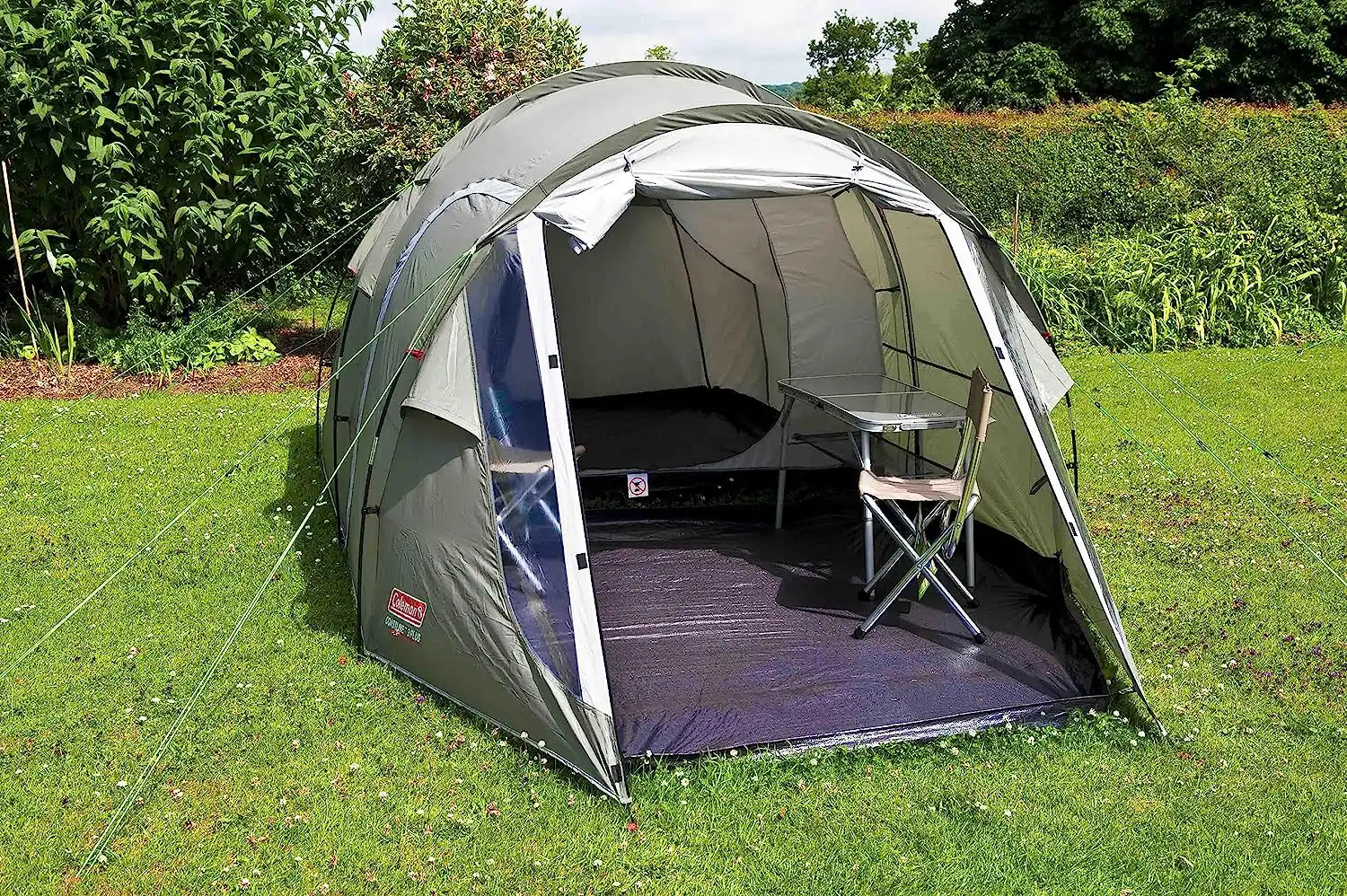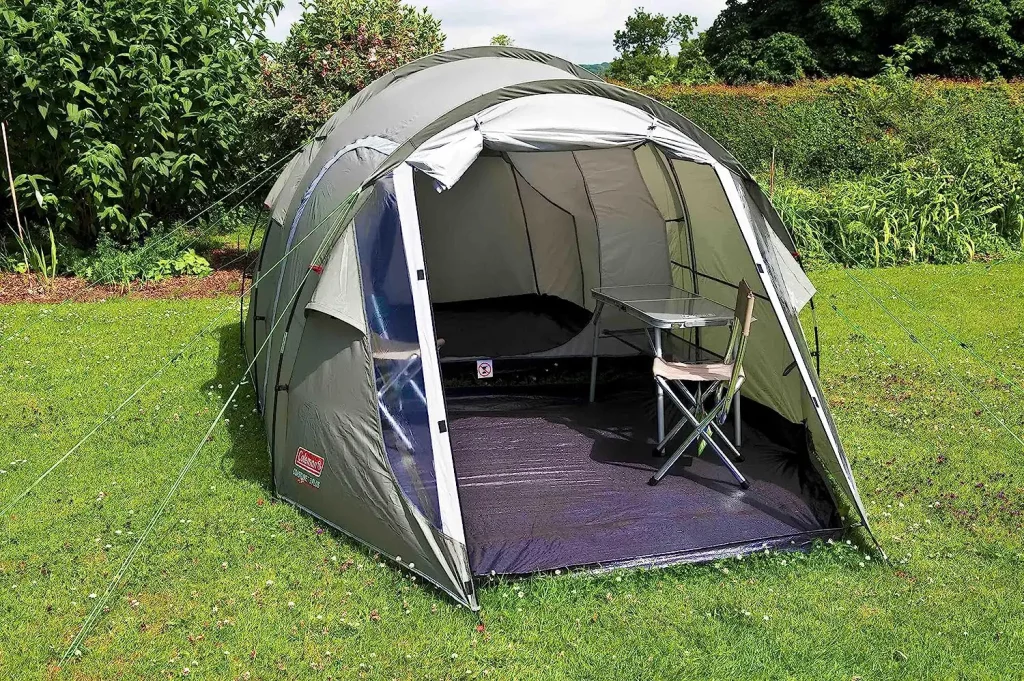 Boasting a sleeping area of 4.2 sq.m and storage area of 3.78 sq.m, it offers ample space. The tent uses a polyester 185t flysheet, providing a tough outer shell.
Pros:
Spacious sleeping and storage area
Durable materials
Good weather protection
Cons:
Installation might take some time
Specifications:
Material: Polyester, Polyethylene
Tunnel tent structure
Rising PE groundsheet
Free Standing installation type
What sets this product apart:
What distinguishes the Coastline 3 Plus is its thick polyethylene storage area groundsheet, designed to resist heavy use – ideal for a motorcyclist's needs.
Get ready for camping convenience with the Naturehike Opalus Backpacking Tent. This all-weather haven makes camping truly enjoyable.
Imagine having a roomy retreat that can accommodate everyone comfortably during your outdoor expeditions. The Opalus offers that and much more.
Naturehike demonstrates its expertise with this design. The tent's fabric combines 20D Polyester and B3 breathable mesh, ensuring excellent weatherproofing. It's resistant to cold, rain, and snow, making it a trusty shelter.
Users have vouched for its spacious interiors, the bonus of a large lobby, and excellent weather resistance. Its warranty terms also reinforce its authenticity.
With dimensions of 165″L x 75″W x 43″H, the Opalus provides plenty of space. Its weatherproof rating of 4000mm underlines its readiness to tackle various weather conditions.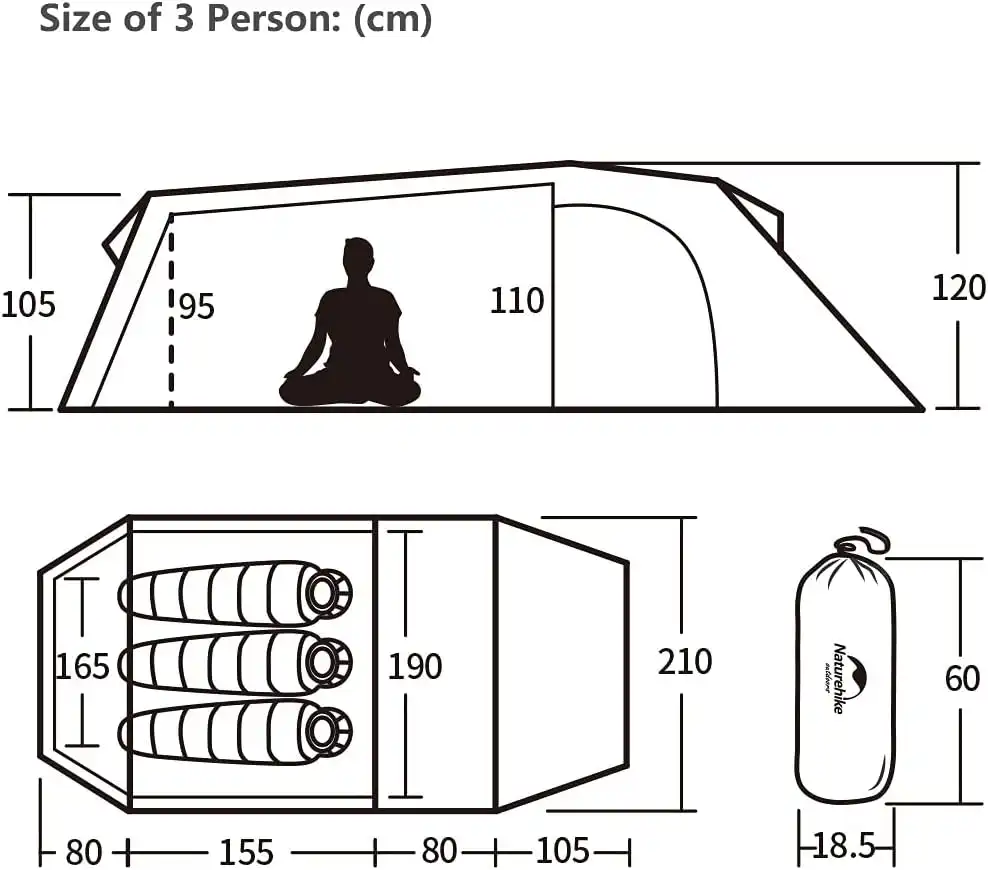 Pros:
Spacious interior and lobby
Weatherproof
4-season ready
Double-door design for better ventilation
Cons:
Setup instructions could be clearer
Might be heavy for some hikers
Specifications:
Material: Polyester & B3 breathable mesh
Weatherproof rating: 4000mm
Double-door design
Large lobby
What sets this product apart:
What makes the Opalus stand out is its expansive lobby, functioning like an outdoor mobile kitchen. Add to this the double-door design promoting air circulation, it's the perfect camping companion.
Adventure beckons with the Wolf Walker Motorcycle Tent. Designed for serious bikers, this lightweight motorcycle tent provides space for you, your buddies, and your bike!
Imagine camping with your full-sized motorcycle snug inside your motorcycle tent. With four entryways, access is a breeze, and the mesh panel keeps bugs out, all the while maintaining privacy.
Wolf Walker shines in providing campers with a unique solution. Their design integrates a separate enclosure for bike storage, ensuring the bike's security while not compromising sleeping space.
The motorcycle tent comes with Wolf Walker's customer-centric guarantee for quality, providing a refund or replacement for any quality issues, attesting to its authenticity.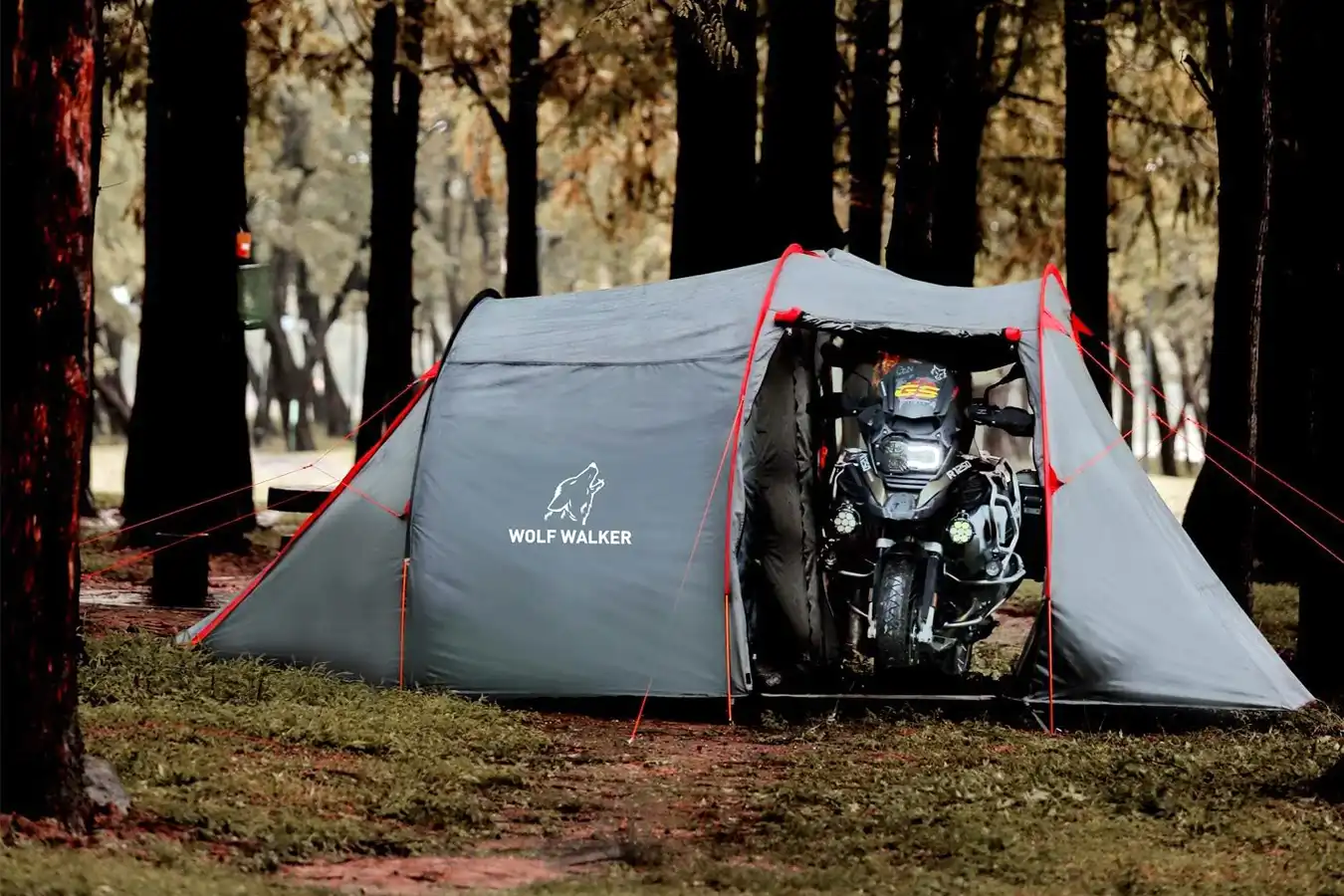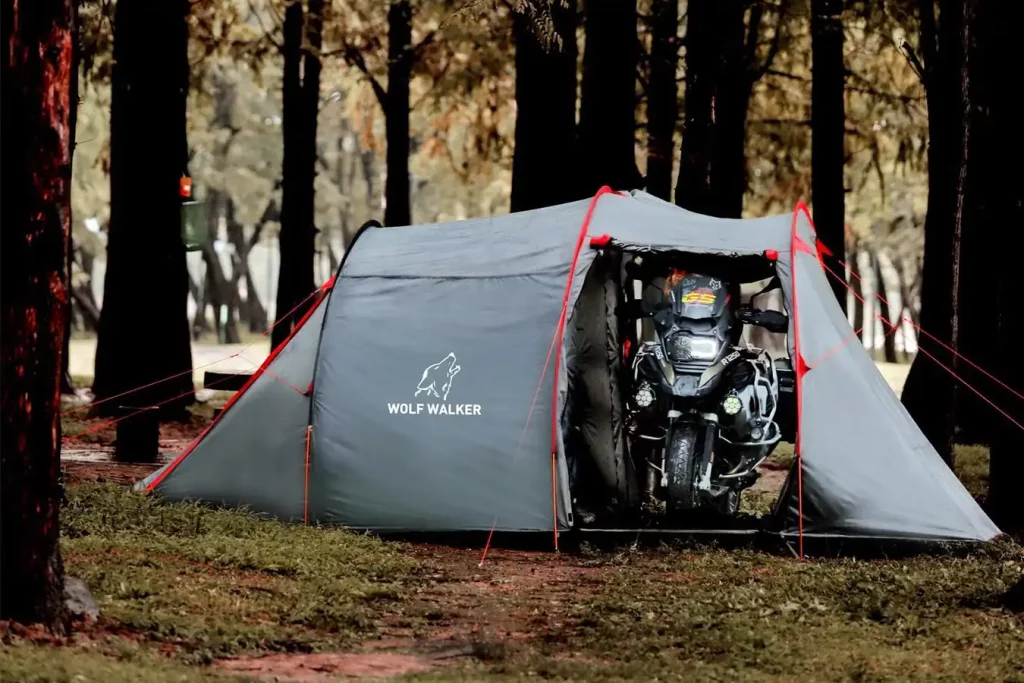 The motorcycle tent measures 107″L x 98″W x 75″H, comfortably accommodating 2-3 adults. With its waterproof rating, it provides excellent protection from heavy rains and winds.
Pros:
Unique bike port design
4-entryways for convenient access
Mesh panel for bug protection and privacy
Easy to set up and pack
Cons:
Might be bulkier than other tents
Takes time to master setting it up
Specifications:
Material: Durable Polyester
Special Feature: Bike port
4 entryways
Weatherproof rainfly
What sets this product apart:
What sets the Wolf Walker motorcycle tent apart is its bike port, allowing you to store your motorcycle safely within your camping space.
Prepare for the great outdoors with the Kelty Late Start Backpacking Tent. Built for convenience and comfort, it's an updated version of the popular Kelty Salida Tent and is perfect for any camping or hiking expedition.
Sleep soundly in a spacious interior that measures 85″ x 54″ at its widest point. With a peak height of 40 inches, moving around is comfortable. It also boasts a single vestibule with 7.85 square feet of storage space, offering a dry place to store your gear.
Kelty brings innovation with pre-bent aluminum poles for extra room inside the tent. Its freestanding design allows for easy set up, and the ability to move the tent around to find the best campsite is a significant plus.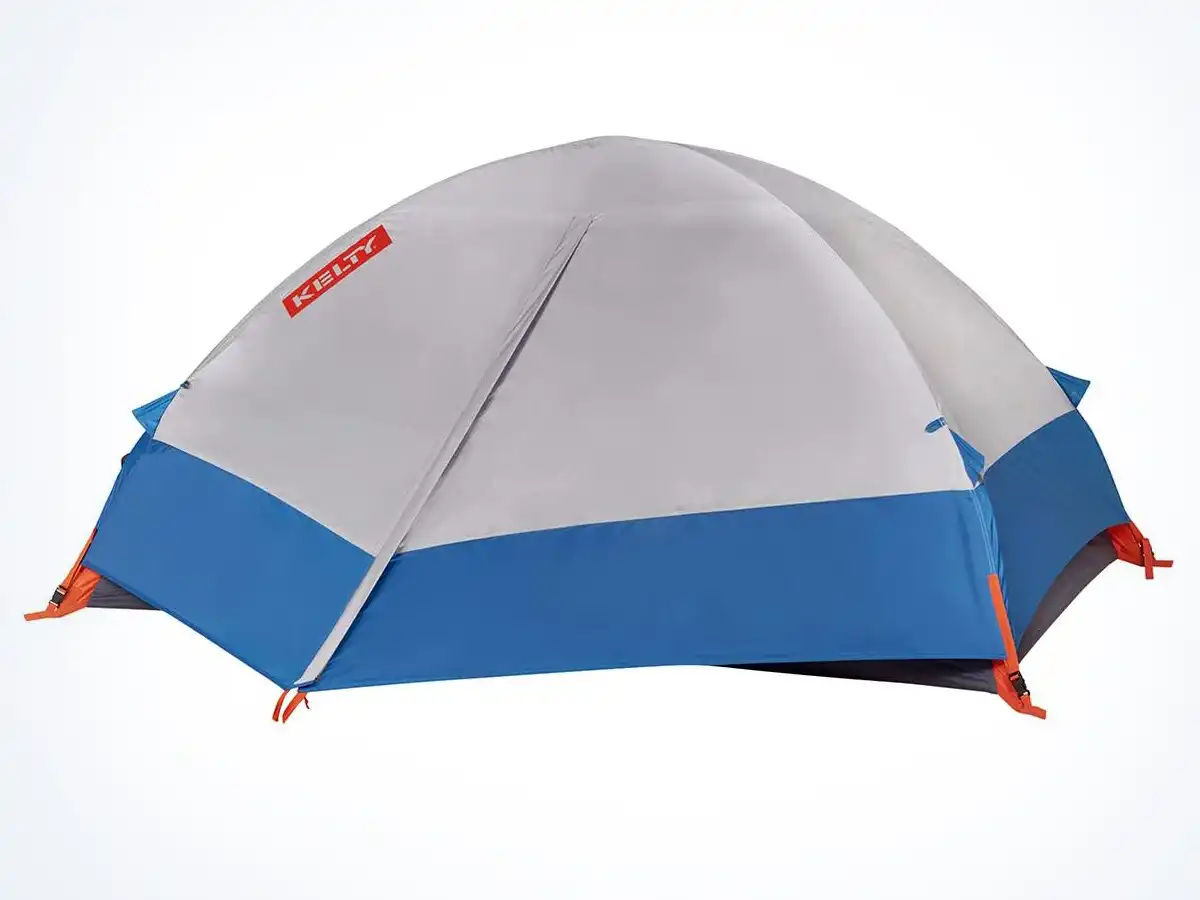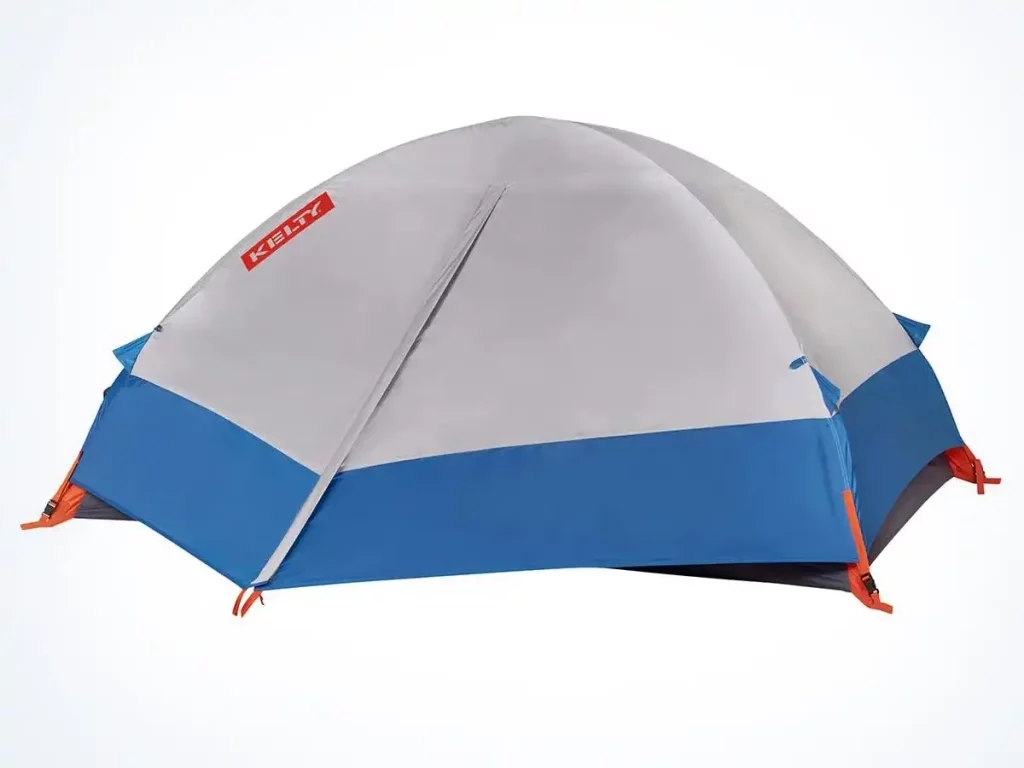 The brand Kelty has a solid reputation in the outdoor industry, and the use of high-quality 68 denier fabric for both the floor and the rainfly underlines the product's authenticity and quality.
The Kelty Late Start is a three season tent, ready to house two campers comfortably. Weighing just a few pounds, it's also easy to carry on backpacking trips.
Pros:
Pre-bent aluminum poles for extra space
Freestanding tent
No-see-um mesh walls for better ventilation
68 denier fabric for durability and water resistance
Cons:
Single door might limit access options
May not be suitable for extreme cold or high winds
Specifications:
Material: Nylon
Special Features: Water-Resistant, rain-cover, portable, Accessory pockets, lightweight
Seasons: 3 (Autumn, Summer, Spring)
What sets this product apart:
The tent's unique feature is its pre-bent aluminum poles, creating extra room inside the tent. Its freestanding design offers flexibility, and the No-see-um mesh walls allow for better ventilation.
For a reliable and functional camping experience, consider the AYAMAYA Waterproof Motorcycle Tent. Designed with two distinct rooms and a robust waterproof construction, it provides both space and security for your outdoor adventures.
With its two-room design, this tent allows you to separate your sleeping area from your gear storage, creating a more organized and comfortable camping experience. It's large enough to comfortably accommodate up to four people in the sleeping area, while also providing a spacious vestibule for storing bikes, motorcycles, or other camping gear.
The AYAMAYA tent exhibits impressive weather resistance, having passed waterproof tests with a rating above 3000mm. This can give campers peace of mind during rainy weather or damp conditions. Moreover, the tent's easy setup, requiring just one person and taking roughly five minutes, contributes to its overall user-friendliness and convenience.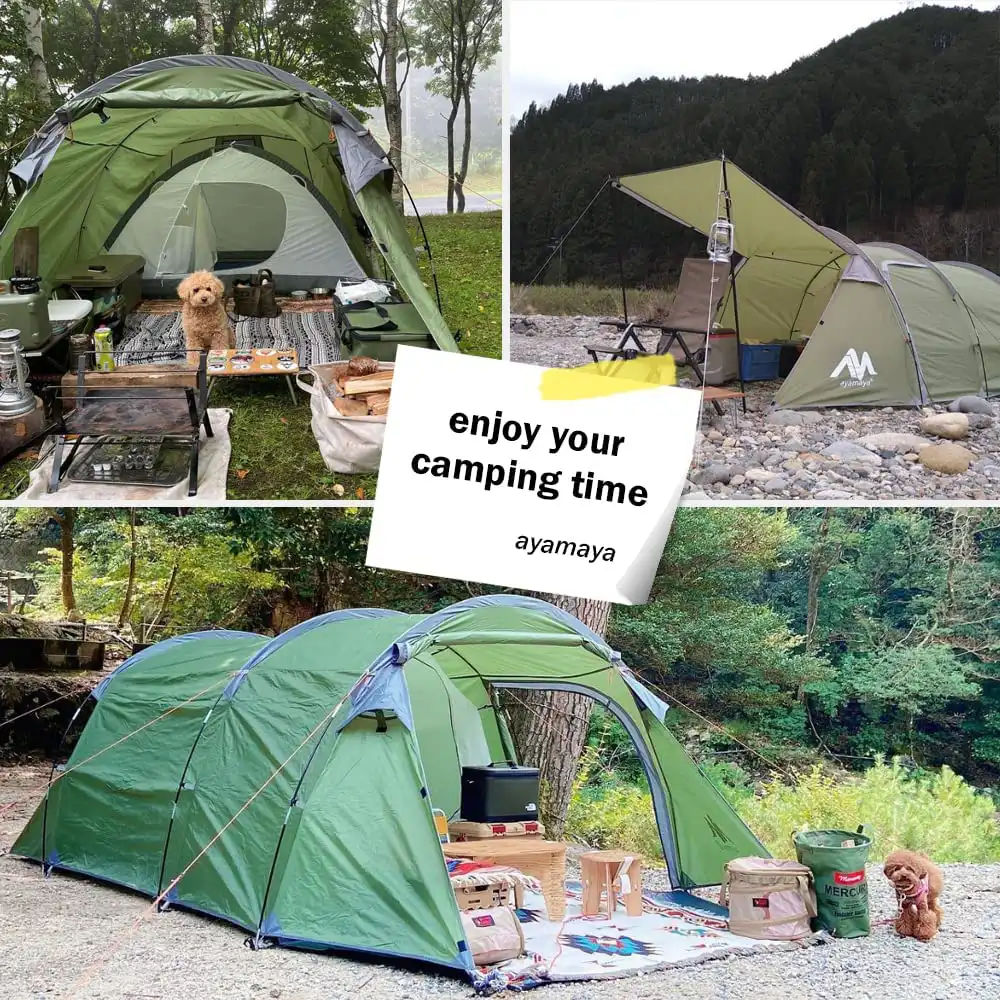 AYAMAYA is a reputable brand known for their high-quality camping gear. The use of durable materials such as B3 mesh, 190T breathable Polyester for the liner, and 210T Rip-stop Polyester for the outer tent, is a testament to the brand's commitment to quality and longevity.
The total dimensions of the camping tent are 79.2″L x 51.6″W x 168″H, and it weighs 11.6 pounds. These dimensions make it suitable for motorcycle trip, as well as more adventurous outdoor excursions.
Pros:
Two-room design for added organization
Large vestibule for gear loft
High waterproof rating for weather resistance
Quick and easy setup
Cons:
May be too large for backpacking trips
Packed weight Heavy for single person transport
Specifications:
Material: Polyester
Special Features: Waterproof, Tent Stakes
Occupant Capacity: 4
What sets this product apart:
The unique two-room design and the large vestibule area for gear storage sets the AYAMAYA tent apart from many others on the market. It's an excellent option for campers who require extra space for their gear or want to maintain a clean and organized sleeping area.
Experience the great outdoors with the Vango Talas Tunnel Tent, a well-crafted camping solution that's perfect for motorcycle adventures and more.
This tent has earned a reputation as one of the best options for motorcycle camping. Its lightweight and compact design, paired with sturdy and reliable construction, make it a popular choice among campers.
The Vango Talas Tunnel Tent is crafted from 100% Protex 70D Polyester, providing an impressive waterproof performance with a hydrostatic head of 3000 mm. The use of PE groundsheet, waterproof to 10,000 mm, adds further resilience against wet conditions.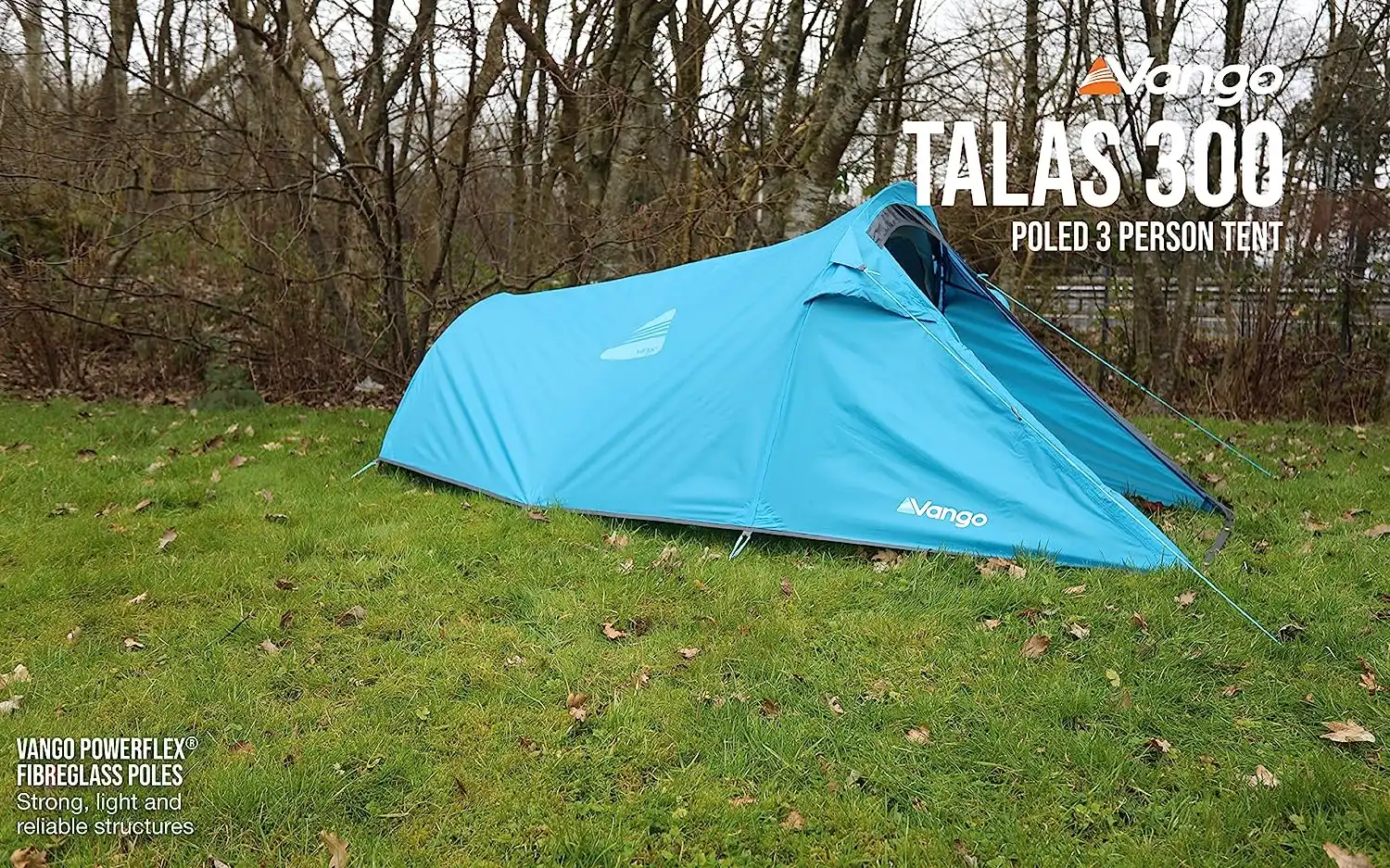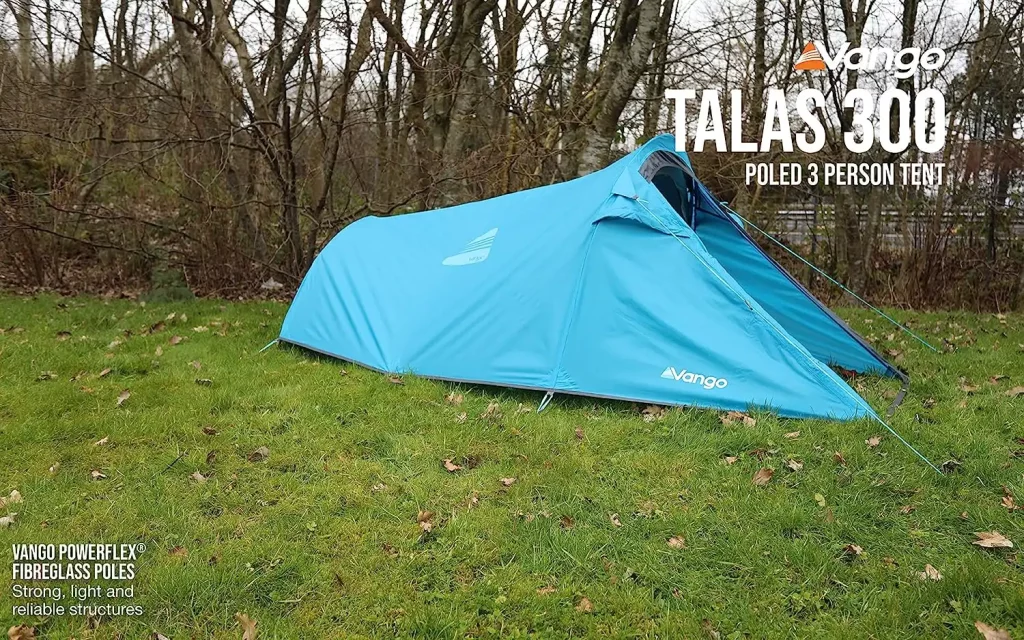 Vango is a well-established brand in the camping gear industry, known for its durable and high-performing products. The use of Protex 70 denier polyester in this tent attests to the brand's dedication to quality and customer satisfaction.
The Vango Talas Tunnel Tent is relatively lightweight, with an item weight of only 2.8 kilograms. This makes it an excellent choice for campers who need to travel light. When packed, the tent measures 52cm long with a diameter of 15cm, emphasizing its compact nature.
Pros:
Lightweight and compact for easy transportation
High waterproof rating for weather resistance
Quick and flexible setup options
Freestanding tents
Waterproof rain fly
Cons:
The three-person capacity might be a tight fit with gear
The inner first pitching might not be suitable for rainy weather setups
Specifications:
Material: Polyester
Special Features: Waterproof
Occupant Capacity: 3
What sets this product apart:
A standout feature of this tent is the "inner first" pitching. This method makes the tent quick to pitch and allows it to be used without the flysheet in warmer climates. It provides flexibility in different camping conditions, setting it apart from other tents in the market.
Experience solo camping at its finest with the Winterial Single Person Personal Bivy Tent, an excellent choice for motorcycle camping.
This tent comes highly recommended for solo motorcycle campers due to its compact size, lightweight design, and easy setup.
The Winterial Bivy Tent is a 3-season tent, making it suitable for spring, fall, and summer camping. Its included rainfly offers full coverage, ventilation, and insulation during rainy or colder weather, and it can be easily removed to allow excellent cross-breeze ventilation in warmer weather.
Winterial is a recognized brand that specializes in creating lightweight and durable outdoor gear. This single person tent is no exception, constructed with 190T Polyester and featuring all-metal poles and stakes, showcasing the brand's dedication to quality and durability.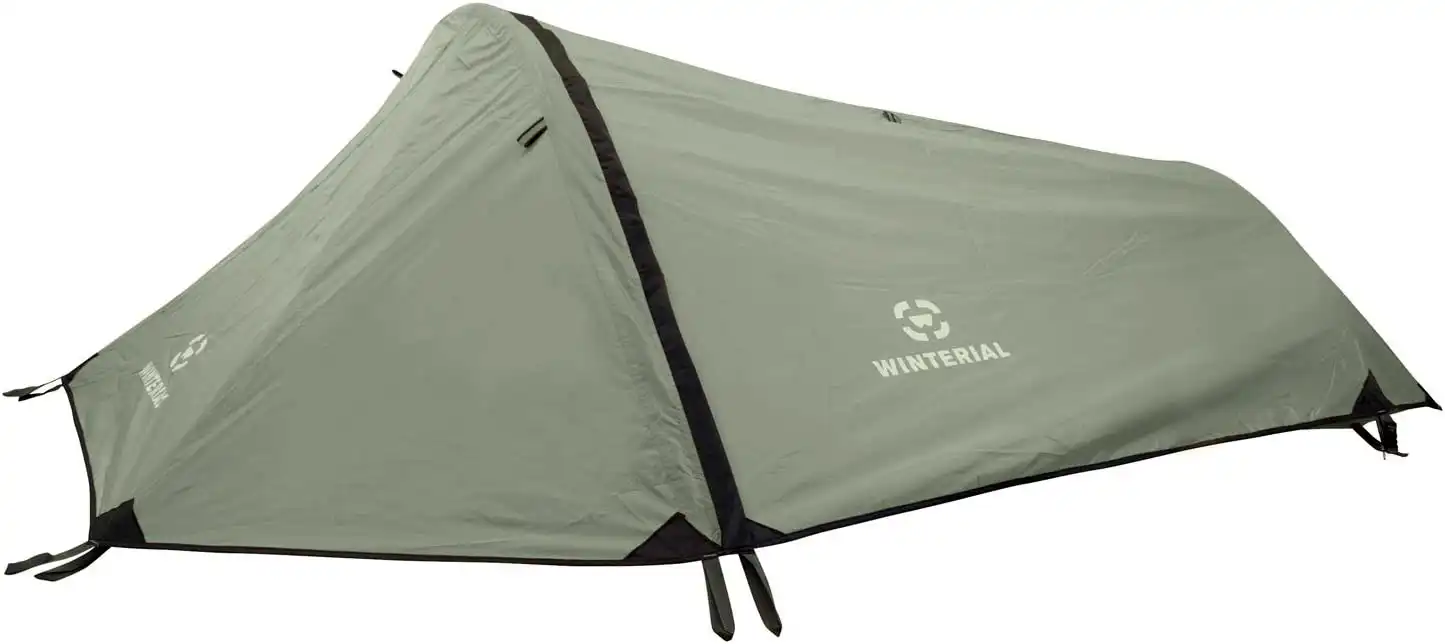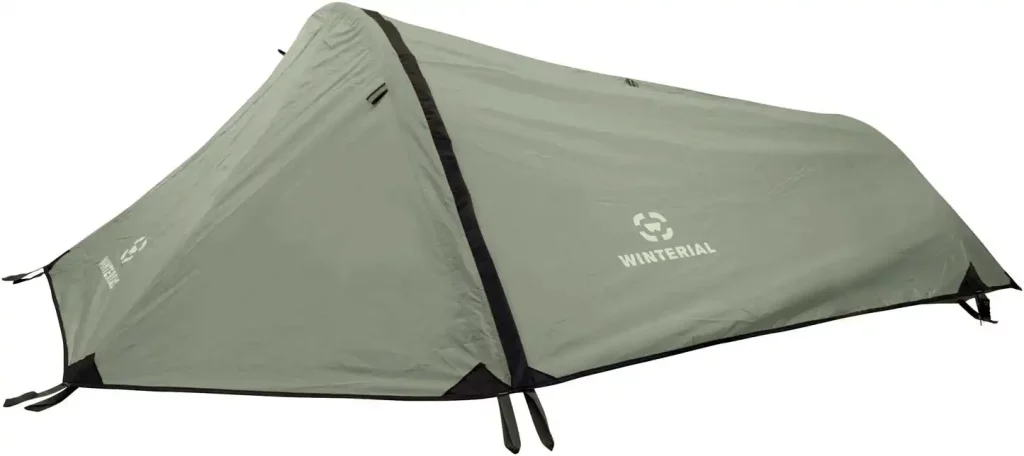 This tent weighs only 2lbs 9oz, making it an ideal choice for lightweight camping. It packs down to 18″ x 4.5″ x 4″ for transport, emphasizing its compact nature, while offering a comfortable 38″ x 28″ x 90″ space when set up.
Pros:
Ultralight tent
Quick and easy setup
3-season tent adaptable to different weather conditions
Cons:
Specifications:
Material: Aluminum, 190T Polyester
Special Features: Waterproof, Lightweight, Rainfly
Occupant Capacity: 1
What sets this product apart:
Its fast and easy setup is a standout feature of this tent. You can install the two aluminum poles, stake down the corners, and have your tent ready within five minutes.
Experience comfortable and convenient camping with the HIKERBRO Camping Tents, an excellent choice for motorcycle camping. While premium tents often offer a range of advanced features, many outdoor enthusiasts find that cheaper tents can also provide great value and satisfactory performance for their camping needs.
The motorcycle tent is praised by users for its spaciousness, making it an ideal choice for family outdoor trips or gatherings of 3-4 people.
HIKERBRO has designed this tent with two primary spaces – a large sleeping area that measures 7.4ft x 6.6ft x 4.3ft, and a vestibule area of 6.6ft x 6.6ft x 4.3ft. This layout is perfect for storing camping gear, accessories, and even a motorcycle or a bicycle.
The tent is made of high-quality materials, with an inner layer of 190T breathable polyester and an outer layer of 210T rip-stop polyester. These materials help the tent withstand extreme weather conditions and ensure a longer lifespan than ordinary materials.
With dimensions of 88.8″L x 79.2″W x 51.6″H, the motorcycle tent is large enough to comfortably accommodate 3-4 people.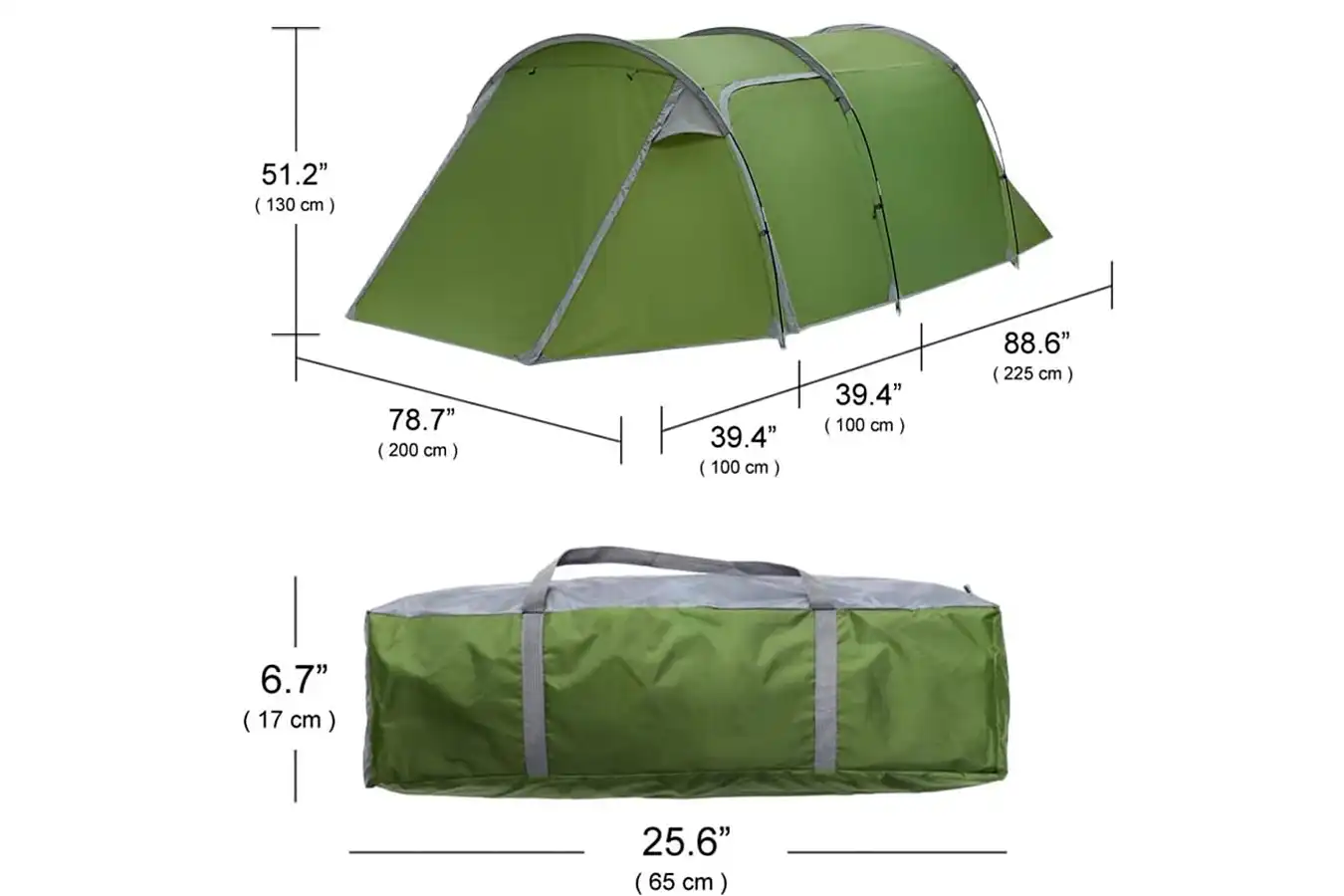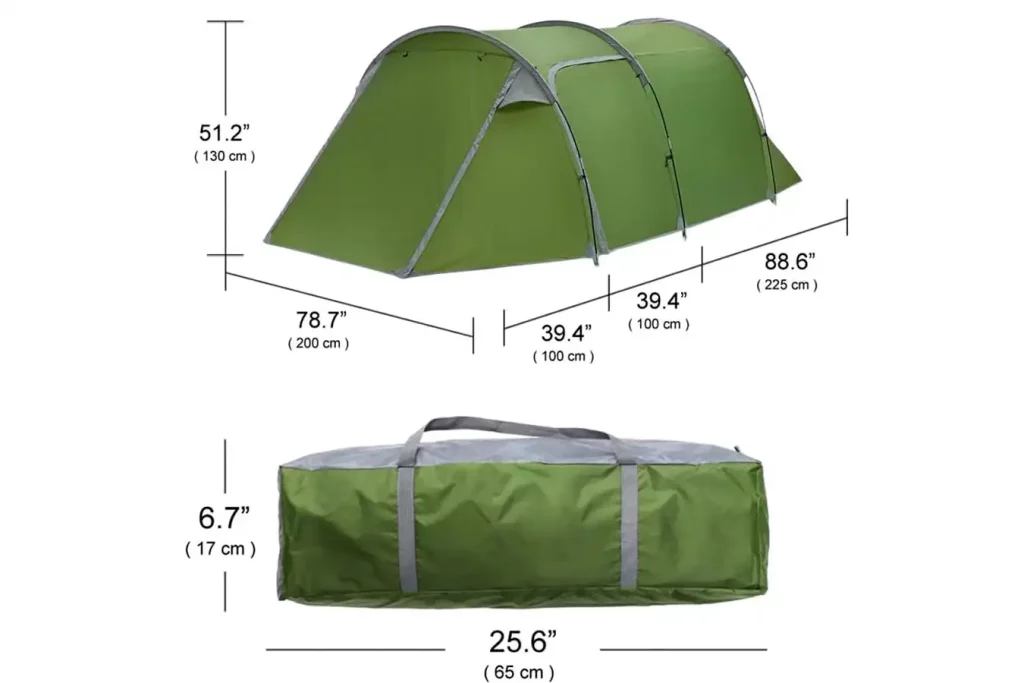 Pros:
Large space to accommodate 3-4 people comfortably
Durable and high-quality materials
Waterproof and sun protection design
Cons:
May not be suitable for harsh winter conditions
Specifications:
Material: Polyester, Polyurethane
Special Features: Waterproof
Occupant Capacity: 4
What sets this product apart:
What sets this product apart is its ease of setup. One person can easily set up the motorcycle tent by installing the 3 shock-absorbing tent poles in the corresponding sleeves, securing them to the ground with stakes and ropes, and finally hanging the inner tent.
Comparing the Best Tents for Motorcycle Camping
When it comes to motorcycle camping, your tent is your home away from home. Choosing the right one can make a significant difference in your overall experience. Below, we'll compare some key features of a selection of the best tents for motorcycle camping on the market.
Comparing Key Features Across Selected Tents
Before purchasing a motorcycle tent, it's essential to understand how specific features and design aspects can enhance your camping experience. Factors such as the weight of the motorcycle tent, its size, ease of set-up, and resilience to different weather conditions play a crucial role. Let's take a closer look at the key features of some top motorcycle tents.
1. MSR Hubba Hubba NX 2-Person
The MSR Hubba Hubba NX is a free-standing, three-season tent designed for two. This lightweight option, ideal for those who like to travel light, offers two doors for easy access and two vestibules for gear storage.
2. Snugpak Scorpion 2 Camping Tent
The Snugpak Scorpion 2 is a robust, reliable four-season tent. It offers plenty of space for two and can withstand harsh weather conditions, making it perfect for year-round motorcycle camping.
3. Big Agnes Blacktail Hotel Bikepacking Tents
Big Agnes offers a roomy, three-season tent with the Blacktail Hotel. It includes extra storage space in a vestibule, which makes it ideal for those who like to bring a lot of gear along.
4. Coleman Tent Coastline 3 Plus
The Coleman Coastline 3 Plus is a spacious tunnel tent designed to accommodate three people. Its sleeping and storage areas are separate, ensuring a comfortable sleep and plenty of space for your gear.
5. Naturehike Opalus Backpacking Tent
With its large interior, double-door design, and high waterproof index, the Naturehike Opalus tent is a great all-rounder for any motorcycle camping trip.
6. Wolf Walker Motorcycle Tent for Camping
The Wolf Walker motorcycle tent offers room for up to three people and a motorcycle. It features a separate secure enclosure for your bike and gear.
7. Kelty Late Start Backpacking Tent
The Kelty Late Start motorcycle tent is designed for two. It is easy to set up and offers a waterproof rainfly for those rainy camping nights.
8. AYAMAYA Waterproof Motorcycle Tent
This motorcycle tent from AYAMAYA offers two rooms: one for sleeping and one as a vestibule. It provides ample space for up to four people and a motorcycle.
9. Vango Talas Tunnel Tent
The Vango Talas Tunnel motorcycle tent is a highly waterproof, durable option suitable for up to three people. It features breathable polyester for a comfortable night's sleep.
10. Winterial Single Person Personal Bivy Tent
The Winterial Single Person tent is a compact, three-season bivy tent, ideal for solo motorcycle campers who like to keep their camping gear light and simple.
11. HIKERBRO Camping Tents
The HIKERBRO motorcycle tent is spacious and waterproof, designed to accommodate 3-4 people. It features two doors on the front vestibule for better ventilation.
Value for Money: High-end vs Budget Options
When choosing a motorcycle tent, it's also important to consider your budget. High-end options often offer superior materials and construction, as well as more features. However, budget-friendly moto tents can also provide great value and durability for their cost. It's about balancing your needs, your budget, and the features you prioritize.
No matter what your budget is, there's likely a tent that will work for your motorcycle camping trip. The Coleman Tent Coastline 3 Plus and the Naturehike Opalus Backpacking Tent are among the best tents for motorcycle camping due to their compact size and durability.
Understanding Your Needs
Choosing a tent for motorcycle camping isn't a one-size-fits-all decision. It's a personal choice, shaped by various factors like the weather you'll be camping in, the terrain you'll traverse, and the weight you're willing to carry. It's crucial to have the right riding gear to ensure both comfort and safety during long motorcycle journeys. Here's what you should consider:
The Role of Weather and Seasonality
Mother Nature is notoriously unpredictable, so planning for the weather is essential. A hot summer trip through the Nevada desert will require a different tent than a chilly autumn ride along the Pacific Northwest coast.
For warmer weather, opt for a motorcycle tent with plenty of ventilation. Mesh panels and windows are a godsend when the mercury rises. On the other hand, if you're a four-season rider who enjoys the rush of a winter ride, you'll want a tent that can withstand wind and snow. These motorcycle tents are typically built with thicker fabric and fewer mesh panels.
Remember, it's always better to over-prepare when it comes to weather. On one memorable trip through Colorado, I was caught in an unexpected summer snowstorm. I thanked my lucky stars for the four-season tent I'd packed.
Importance of Size and Weight for Motorcycle Travel
Motorcycle travel is a lesson in minimalism, so size and weight are key considerations. You need a tent that's compact enough to fit in your saddlebags, but spacious enough to comfortably house you (and a companion, if you're not riding solo).
A lightweight, one-person tent might be perfect for a solo ride down Route 66. But if you're taking a scenic coastal drive with a partner, a two-person tent will be more suitable. Weight plays a significant role too. Carrying a heavy tent can impact your bike's performance and fuel efficiency.
I learned this the hard way during a trip through the Appalachian Mountains. My old, bulky tent made my bike sluggish and unresponsive, turning an exhilarating ride into a slog. I've since switched to a lightweight, compact model that's barely noticeable in my luggage.
Finding the right tent for your motorcycle camping trip requires careful consideration. You'll need to balance factors like weather resistance, size, and weight against your personal comfort and the specifics of your journey.
Key Features of a Good Motorcycle Camping Tent
For a motorcyclist who loves camping, finding the perfect motorcycle tent that balances comfort, size, and durability is essential. Motorcycle adventure riders often embark on thrilling journeys, traversing diverse terrains and weather conditions for the ultimate road experience.
Okay, we've set the stage and now know what factors to consider when buying a tent. But how does that translate into tangible tent features? After years of motorcycle camping, I've honed in on several key characteristics that can make or break your camping experience. Here's what you should be looking for:
Weight and Portability
Let's start with the most crucial factor for us bikers – weight and portability. In general, a good motorcycle camping tent should be lightweight and compact. Every extra pound you pack onto your bike affects your fuel efficiency and overall ride experience.
Look for tents that offer a good balance between weight and space. There are plenty of one or two-person tents on the market that weigh less than 5 pounds. I once switched to a lighter tent for a trip through the Rockies, and the difference in bike performance was astounding!
Durability and Material Quality
A tent isn't just a shelter; it's an investment. It should last you through numerous camping trips and stand strong in various weather conditions. Motorcycle tents with durable materials such as rip-stop nylon or polyester offer excellent longevity. They resist tearing and withstand UV rays better than cheaper materials.
On a journey to the Keokradong, my motorcycle tent was subjected to intense sunlight, strong winds, and sharp desert vegetation. But thanks to its high-quality material, it weathered the conditions beautifully, serving as a trusty refuge.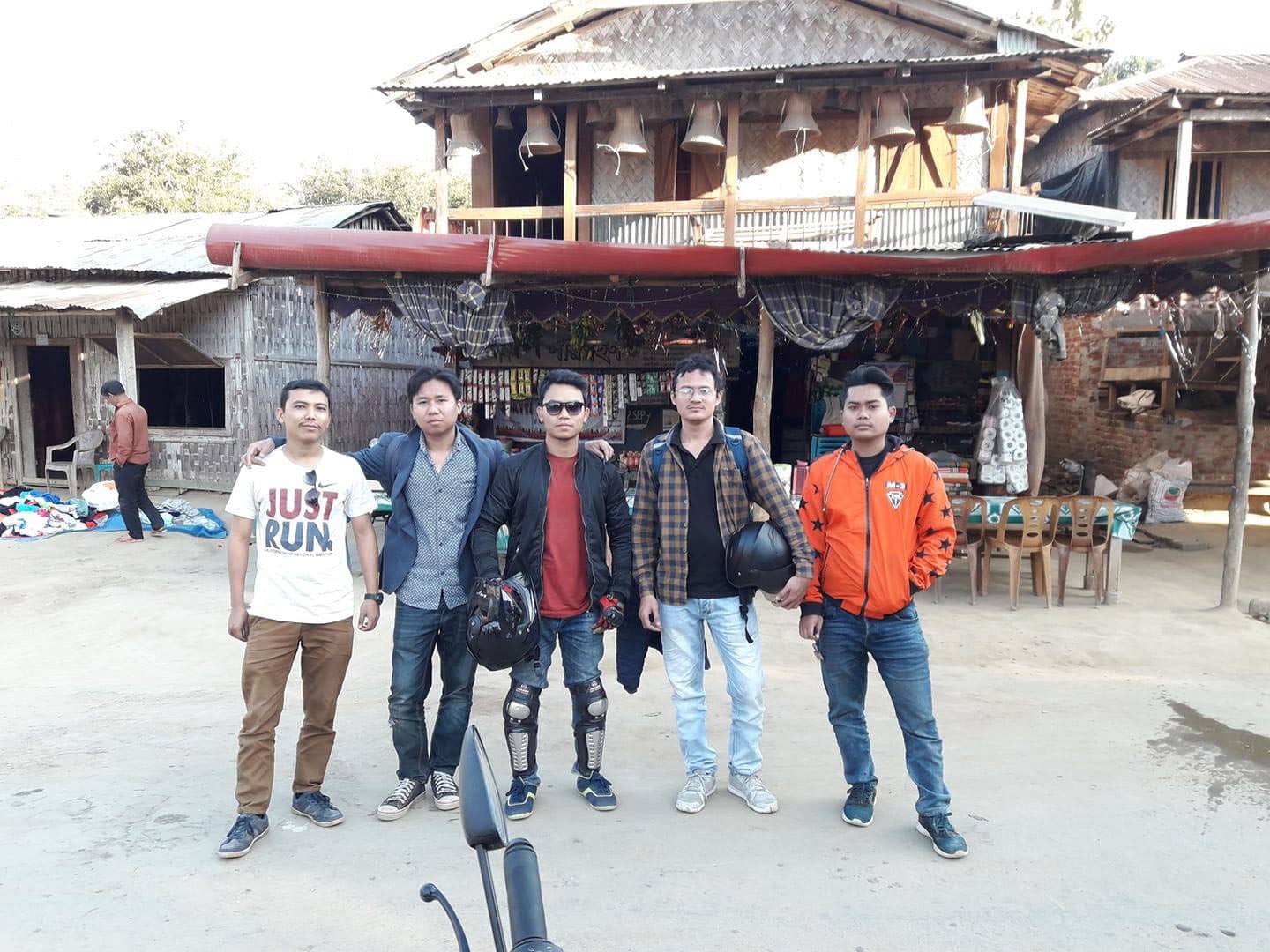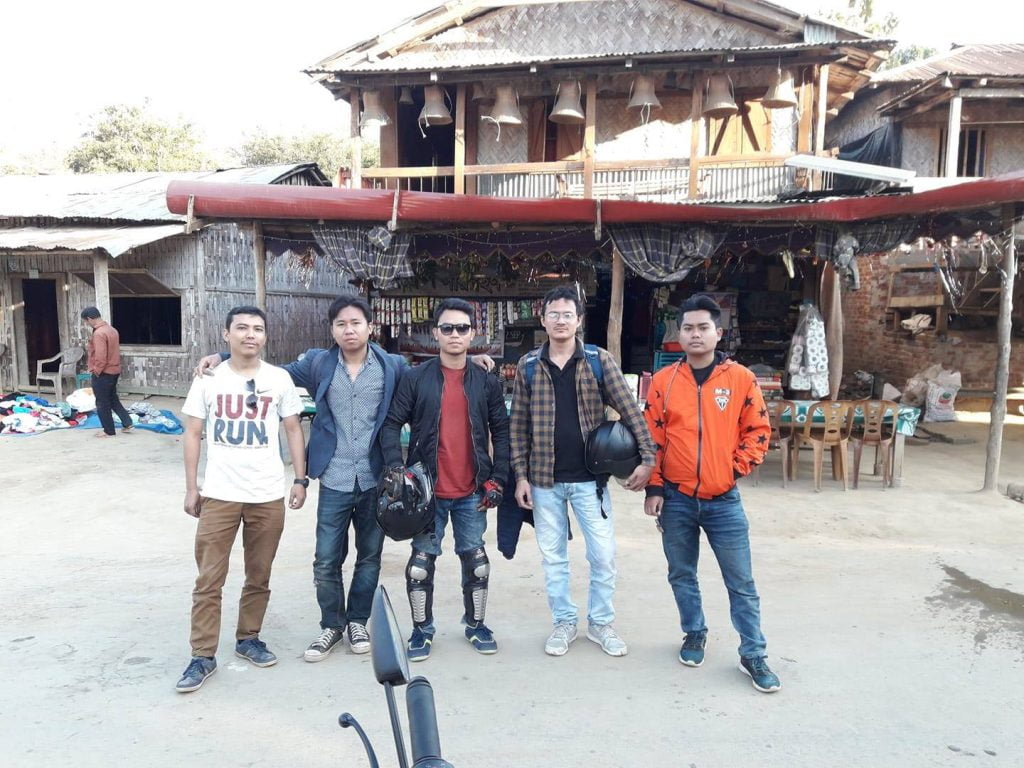 Easy Setup and Packability
After a long day on the road, the last thing you want is to fumble with a complicated tent setup. A good motorcycle camping tent should be easy to pitch and take down. Tents with color-coded poles or fewer pole sections can significantly ease the setup process.
Equally important is how easily the tent packs away. Ideally, it should fit back into its bag without a wrestling match. My current motorcycle tent can be packed in less than five minutes – a godsend when trying to beat a rainstorm or make an early morning departure.
Weather Resistance
Your tent should stand as a sturdy shield against the elements. Look for a waterproof motorcycle tent with a full-coverage rainfly. A rainfly is the separate waterproof cover that fits over the roof of your tent.
On a rainy night in the Pacific Northwest, my rainfly was the only thing standing between me and a soaked sleeping bag. A robust wind resistance is also critical. Aluminum poles and guy-out loops can help your tent withstand blustery conditions.
Ventilation and Comfort
A quality tent provides more than just protection; it offers a comfortable living space. Look for tents with plenty of mesh panels for airflow to prevent condensation and provide cooling in warm weather.
During a summer trip in Arizona, the cross-ventilation in my tent was a lifesaver, keeping me cool despite the sweltering outside temperature.
Specialty Features for Motorcycle Campers
Some tents come with specialty features designed explicitly for motorcycle campers. For instance, some tents feature a vestibule area for storing your gear or even your bike. Others may include a footprint, an additional piece of fabric placed under your tent to prevent wear and tear.
Such features might seem trivial, but they make a massive difference. When I camped in Alaska, my tent's vestibule gave me peace of mind, protecting my gear from the rain and curious wildlife.
In short, choosing the right motorcycle camping tent boils down to personal preference and the specific needs of your journey. Armed with this knowledge, you'll be well-equipped to make an informed decision. The quest to find the best motorcycle camping tent often depends on a combination of factors such as size, weight, and weather resistance.
Tips for Motorcycle Camping
If you're planning a two-wheeled adventure, choosing the best motorcycle camping tent can significantly enhance your outdoor experience. Venturing on a motorcycle camping trip can be an exhilarating and liberating experience. Now that we've discussed how to pick the perfect tent, let's talk about some practical tips for your motorcycle camping adventure. These tips aren't just random tidbits, they're hard-earned wisdom from years of motorbike camping!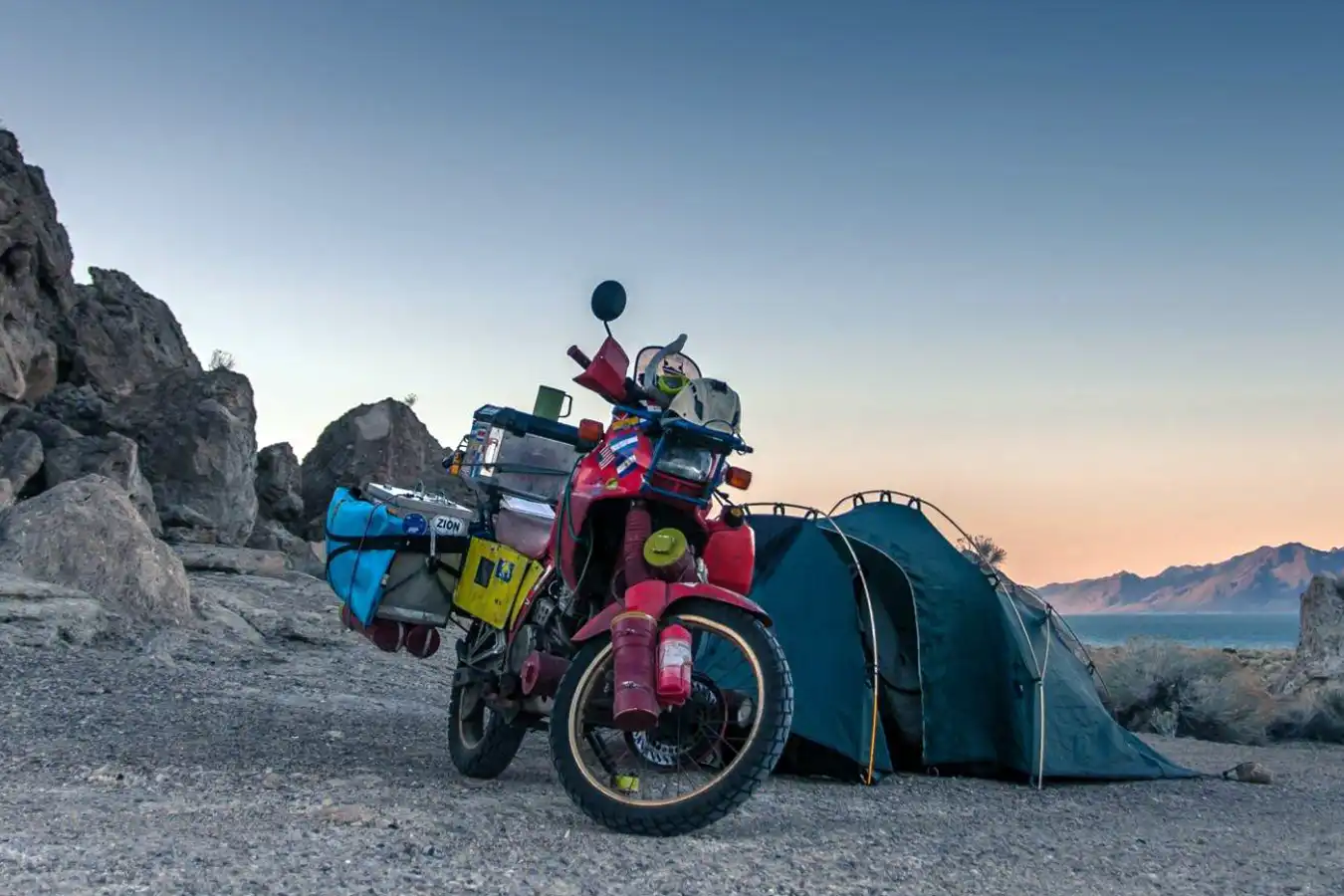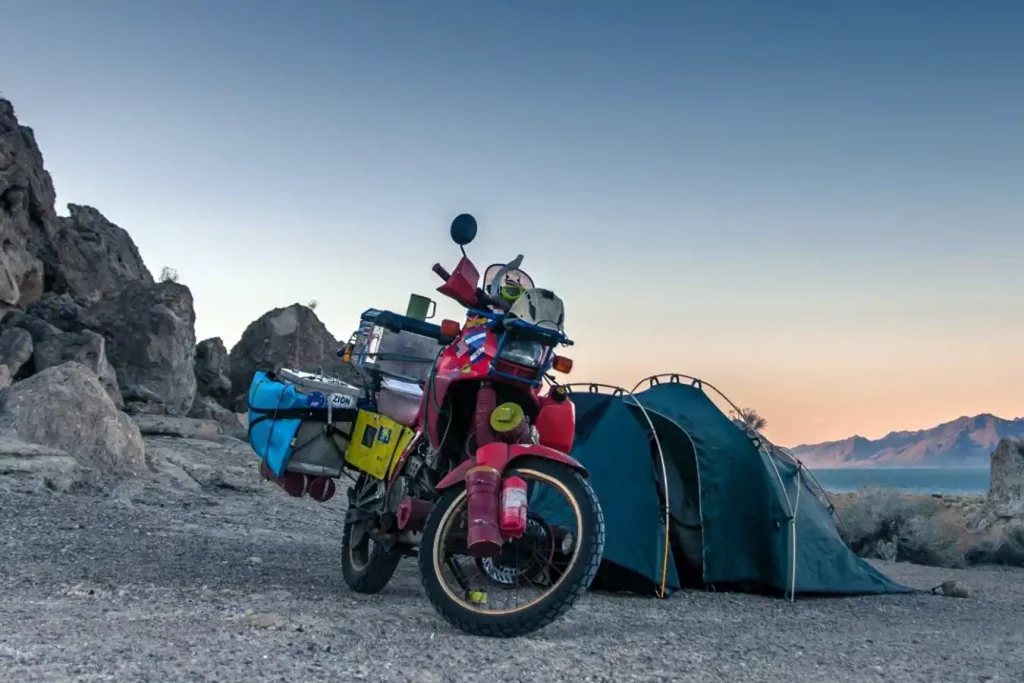 Packing for Your Motorcycle Camping Trip
Packing efficiently for a motorcycle trip can feel like solving a complex puzzle. However, with a bit of planning, it becomes second nature. When it comes to packing your motorcycle camping tent, roll it tightly and place it at the bottom of your bag; this will allow for better weight distribution on your bike. Your heaviest items should be packed closer to the center of your motorcycle for optimal balance.
Remember to pack the essentials: a first-aid kit, a map or GPS, versatile clothing, food and water, and, of course, your camping gear. And here's a pro tip – carry a small tarp. It takes up minimal space and can serve multiple purposes, from a picnic blanket to an extra layer of protection for your tent against wet or rocky ground.
Setting Up and Breaking Down Your Tent
As mentioned earlier, an easy setup and breakdown are crucial factors in choosing your motorcycle camping tent. But practice makes perfect. Try setting up your tent at home a few times before hitting the road; this will make the process much smoother when you're in the great outdoors. When breaking down your tent, ensure it's dry before packing it up to prevent mold and mildew. If it's wet, air dry it as soon as possible.
Maintaining Your Tent
Proper tent maintenance extends its lifespan significantly. After each trip, clean your motorcycle camping tent with a mild soap and warm water. Avoid machine washing as it can damage the tent fabric. Repair minor tears immediately using a tent repair kit to prevent them from getting worse.
Prolonging Your Tent's Lifespan While on the Road
On the road, there are several things you can do to protect your motorcycle camping tent. Use a footprint or tarp under your motorcycle camping tent to protect it from sharp objects. Always pitch your tent in a flat area free of debris. Avoid camping under trees to prevent sap or bird droppings from damaging your tent. And always store your tent dry, as moisture can degrade the material over time.
When faced with unpredictable weather conditions on your trip, investing in the best waterproof motorcycle tent can keep you dry and comfortable, no matter what Mother Nature has in store.
Final Thoughts about Tent for Motorcycle Camping
Motorcycle camping offers a unique blend of freedom and connection to the great outdoors. Choosing the best motorcycle camping tent for your journey and knowing how to use and maintain it can enhance this experience tremendously.
The key is to find the perfect balance between your personal needs and the features offered by the tent. Researching the best tents before your camping trip can significantly enhance your overall outdoor experience. As a dedicated motorcyclist, it's important to invest in the best motorcycle tents that provide a balance of durability, portability, and ease of setup for those overnight trips.
So, what's next? Adventure! With this knowledge, you're ready to make an informed decision and choose a tent that will serve as a reliable companion on your motorcycle camping journeys.
As you prepare for your next trip, remember the essential tips we've discussed here. Packing smartly, practicing your setup, and maintaining your tent can make your camping experience more enjoyable and hassle-free.
Now, it's time to get out there, and as I always say – "Keep the rubber side down and the canvas side up!" Your perfect motorcycle camping adventure awaits you.