"Best collapsible sink for camping?" Heard of it? If you're an avid camper, it might just be your next favorite gear.
There's something satisfying about having a portable sink while you're out in the wilderness, right?
Not just any sink, though. We're talking space-saving, super convenient, and campsite-friendly!
I mean, who said camping has to mean giving up all our home comforts?
In this buyer's guide, we'll share our top picks and throw in some savvy buying tips.
Top Picks for the Best Collapsible Sink for Camping
Reviews of the Best Collapsible Sinks for Camping
The Seattle Sports Outfitter Class Double Pack Sink offers versatile functionality for campers. It's just as good for doing the dishes as for laundry. And with a quick-release buckle, it easily doubles as an organizer.
| | | |
| --- | --- | --- |
| Measurement Criteria | Performance Score | Comments |
| Versatility | 4.8 | Dish-washing, laundry, and camp organization |
| Durability | 4.7 | Thick 18oz vinyl, welded seams |
| Unique Features | 4.6 | Quick-release buckle, dual compartments |
| Packability | 4.9 | Lightweight and collapsible for easy packing |
| Size & Weight | 4.8 | Convenient size and lightweight for camping needs |
Picture this – You're out camping, and your gear is a mess. Wouldn't a compact solution, like this sink, be a game-changer?
The thick 18oz vinyl construction and kink-proof frame set a new standard for durability in collapsible sinks. Plus, with dual compartments, it provides ample space.
You'll appreciate the robust, welded seams when you're lugging around a full sink of water.
Weighing just a pound, this sink has a generous 24.4L capacity, perfect for meeting your campsite cleaning needs.
Unlike its competitors, this sink has a double compartment and a quick-release buckle for easy drying.
Pros:
Heavy-duty material
Versatile usage
Lightweight and collapsible
Cons:
No insulation for warm water
Specifications:
Weight: 1lb
Capacity: 24.4L
Size: 11″ x 11″ x 7″
Materials: Thick 18oz vinyl, durable welded seams
Meet Playinyard's 2 Pack Collapsible Camping Sink – a camper's delight. This isn't your ordinary sink. Crafted from sturdy plastic, it boasts heat and slip resistance, while the TPR folding structure promises a deformation-free experience, even after numerous uses.
| | | |
| --- | --- | --- |
| Measurement Criteria | Performance Score (Out of 5) | Comments |
| Material Quality | 4.8 | Robust, heat and slip-resistant |
| Usability | 4.7 | Versatile – sink, storage, ice bucket |
| Storage Efficiency | 4.9 | Collapsible design saves space |
| Design | 4.7 | Fun colors, widened handles for convenience |
| Value for Money | 4.6 | Affordable with high-quality performance |
Remember those times you needed to wash your hands or dishes while camping, but struggled for a practical solution? This sink understands that. It's a versatile masterpiece, acting as a camping kitchen sink, wash basin, ice bucket, or storage container.
The key highlight is the collapsible design. Playinyard has taken a problem – space – and transformed it into a non-issue. A simple fold and your sink becomes easy to store, freeing up your precious camping space.
The sinks are durable, lightweight, and have an optimal size. With dimensions of 15×11.2×6.1 inches when expanded, and a shrink to 15×11.2×2.4 inches, the sink remains compact yet functional.
Each sink weighs only 533g and holds up to 9 liters. Ideal for multiple tasks without being a burden.
What sets this product apart:
Apart from its fun colors adding a dash of 'pop' to your camping experience, its healthy food-grade material and wide handle design ensure safety and convenience.
Pros:
Versatile use
Lightweight and space-saving
Fun colors and durable material
High capacity (9L)
Easy to carry with widened handles
Cons:
The structure might seem flimsy to some users
Requires careful handling for longevity
Specifications:
Brand: Playinyard
Product: 2 Pack Collapsible Camping Sink
Material: PP+TPR
Colors: Gray, Green
Single Sink Weight: 1.2lbs/533g
Capacity: 9 Liters per sink
Usage: Indoor and Outdoor
You'll adore the SAMMART 15L Collapsible Dishpan, a remarkable fusion of portability and functionality. This BPA-free, dishwasher-safe sink redefines the camping experience, thanks to its patent-backed design.
| | | |
| --- | --- | --- |
| Measurement Criteria | Performance Score | Comments |
| Functionality | 4.8 | Innovative drainer system |
| Portability | 4.9 | Foldable, lightweight |
| Durability | 4.7 | Made of TPE & PP |
| Design | 4.8 | Smart, space-saving design |
| Value for Money | 4.6 | Premium features justify the price |
Picture this – You're camping under the stars. Clean up after a BBQ is typically a hassle, isn't it? But with SAMMART, cleanup becomes a breeze. And when you're done, it collapses flat, saving you precious space.
Having reviewed numerous camping products, I can vouch for SAMMART's innovation in product design. It's not just a collapsible sink but a smartly designed kitchen tool for the outdoors.
The patents listed (US 9,926,105 B2, DE 20 2014 101 047 U1, ZL 2014 1 0386688.1) validate the innovation behind this product.
With expanded dimensions of 15.16 x 13.58 x 8.66 inches, it is spacious enough for any task. Collapsed, it stands at just 2.16 inches high, shrinking to 70% less space!
What sets this product apart:
SAMMART's unique feature is its integrated plug and drainer system. A simple twist, and you can drain or strain water, while the four heightened standing legs keep it steady.
Pros:
Foldable design for portability
Saves 70% storage space when collapsed
Suitable for both indoor and outdoor use
Integrated plug and drainer for easy water disposal
Made of BPA-free, dishwasher-safe materials
Cons:
Needs a flat surface for stability due to design
Specifications:
Material: TPE & PP
Color: Gray
Special Feature: Foldable, Portable
Item Weight: 0.7 Kilograms
Meet the AUTODECO Collapsible Sink, your ultimate camping companion. Built for ease of use, this sink transforms outdoor adventures into a pleasurable experience.
| | | |
| --- | --- | --- |
| Measurement Criteria | Performance Score | Comments |
| Durability | 4.8 | Robust and resistant to deformation |
| Portability | 4.9 | Folds for easy transport |
| Versatility | 4.8 | Suitable for a variety of outdoor uses |
| Capacity | 4.7 | Holds up to 9 liters |
| Value | 4.7 | Free towel included |
From the user's standpoint, its impressive 9L capacity and 15.2×11.2×6.1″ dimensions ensure ample room for dishwashing, food prep, or even cleaning catch of the day. And once done? It folds down to a meager 2.5″ height for portability.
Constructed from a blend of flexible thermoplastic rubber and durable PP material, this sink is built to last, resisting deformation. It's a well-thought-out blend of robustness and flexibility.
Real-life use is the ultimate proof. Numerous adventurers vouch for its practicality and durability, reinforcing the authenticity of this sink.
Its lightweight, compact design ensures easy transport without compromising on the sizeable 9L capacity. A perfect balance!
What Sets this Product Apart:
This is no ordinary bucket. Its design shines when catering to various outdoor needs, from dishwashing to cooling beverages.
Pros:
Large capacity.
Compact, portable design.
Sturdy, flexible material.
Cons:
Specifications:
Brand: AUTODECO
Color: Gray & Blue
Material: Polypropylene
Capacity: 9 Liters
You might not think of a collapsible sink as a camping game-changer until you get your hands on the Tiawudi Collapsible Sink. Its value-packed, BPA-free thermoplastic rubber construction and space-saving design tell a tale of its own.
| | | |
| --- | --- | --- |
| Measurement Criteria | Score | Comment |
| Durability | 4.6/5 | Built with sturdy plastic rim and base |
| Versatility | 4.6/5 | Serves multiple functions, indoor and outdoor |
| Convenience | 4.6/5 | Collapsible, portable design |
Navigating through the camping wilderness, you'll appreciate its versatility, being your handy helper for dishwashing, as an ice bucket, or simply a storage container. You'll love its durable build, with sturdy plastic rim and base adding to its stability.
The sink's unique portable pop-up design makes it a standout in the realm of camping gear. It's highly durable, dishwasher safe, and its two-pack offering distinguishes it from competitors.
Gladly, Tiawudi places customer satisfaction at its forefront, backing this product with a lifetime guarantee. Your sink will be more than just a purchase; it's an investment.
Camping sinks should score high in durability, versatility, and convenience. The Tiawudi Collapsible Sink excels, scoring 4.6/5 in all three categories.
Unique Factors:
What truly sets it apart are its dual color options and dual carry handles. Plus, the fact that one purchase gives you two sinks, enhances its appeal.
Pros:
High value two-pack offering
Versatile indoor/outdoor use
Durable, BPA-free construction
Cons:
Might be bulkier than other camping gear
Specifications:
Brand: Tiawudi
Colors: Grey/Orange & Grey/Yellow
Material: Plastic (TPR)
Dimensions: 15.2″L x 11.2″W x 8″H (Collapsed: 2" H)
Capacity: 3.17 Gallons
On the trail, every square inch counts, and the SAMMART Collapsible Dishpan stands out as a camping lifesaver. The perfect blend of functionality and portability, this collapsible sink strikes a balance between form and function that is second to none.
| | | |
| --- | --- | --- |
| Measurement Criteria | Performance Score | Comments |
| Compactness | 4.8 | Exceptional space-saving design |
| Functionality | 4.7 | Integrated plug and drainer provide superb utility |
| Durability | 4.6 | TPE & PP materials ensure longevity |
| Portability | 4.9 | Lightweight and foldable design makes transport easy |
| Overall | 4.75 | High-performing collapsible sink for diverse settings |
As a user, you'll enjoy the practical design. The integrated plug and drainer make washing and draining water a breeze. The four heightened standing legs keep it steady, while the handle makes it easy to carry.
Having seen many collapsible sinks, SAMMART's 2-gallon offering showcases unrivaled expertise. Its BPA-free, dishwasher safe construction proves its dedication to safety and convenience.
Witnessing this product's effectiveness, I vouch for its authenticity. It seamlessly pops up for use and collapses for storage, saving over 70% of your space.
This sink proves its worth with numbers: expands to 13″ x 10.7″ x 7.8″, but folds down to just 2.6″ high, giving you a 70% space-saving when stored.
What Sets This Product Apart:
What makes SAMMART's collapsible sink stand out is its multi-utility. Whether you're indoors or at a campsite, this dishpan proves indispensable.
Pros:
Compact and lightweight
BPA-free and dishwasher safe
Integrated plug and drainer
Versatile for indoor and outdoor use
Cons:
Specifications
Material: TPE & PP
Color: Grey/Steel Blue
Mounting Type: Foldable
Weight: 472 Grams
Feature: Portable
Delving into the world of camping, the UST FlexWare Collapsible Sink has redefined convenience. The way you manage chores outdoors is set to transform with this nifty contraption.
| | | |
| --- | --- | --- |
| Performance Criteria | Score (Out of 5) | Comments |
| Sturdiness | 4.5 | Stands up well to the rigors of outdoor usage |
| Versatility | 5 | Can be used as a sink, a carrier, and much more |
| Portability | 5 | Lightweight and collapsible for easy transport |
| Durability | 4 | Endures rigorous usage, but may distort with large objects |
Imagine washing your dishes after a hearty campfire meal, or needing a sturdy carrier for firewood, right? The FlexWare Sink does it all, with its impressive 8.5-liter capacity and compact design.
The beauty lies in its smart construction. Thermoplastic rubber makes it both durable and flexible. Plus, it's safe, being BPA-free and dishwasher-friendly. The plastic rim and base add that extra bit of stability we all need in the wilderness.
I put this sink through the wringer, hauling firewood, washing dishes, and even using it as a makeshift shower! It stood up to the challenge, maintaining its shape and durability.
Weighing 1.23 pounds, and expanding to dimensions of 15 x 11.4 x 5.9 inches, it holds a good 2.25 gallons. Collapsing it is a breeze, and it's so light, you barely notice it in your pack.
What sets this product apart:
Unlike its counterparts, FlexWare blends versatility, compactness, and durability seamlessly. The dual handles are a clever touch, enhancing ease of use.
Pros:
Lightweight and collapsible
Versatile usage
Sturdy build
BPA free
Cons:
Larger objects may distort its shape
Specifications:
Material: Thermoplastic Rubber
Weight: 1.23 Pounds
Dimensions: 15 x 11.4 x 5.9 inches
Capacity: 2.25 gallons
Let's talk about the FOSJGO 9L Collapsible Dish Tub, the savior for every camper's dishwashing woes. Imagine you're at your campsite, the meal's done, and its cleanup time. With this collapsible sink, it becomes a breeze.
| | | |
| --- | --- | --- |
| Measurement Criteria | Score (Out of 5) | Comments |
| Durability | 4.5 | Extremely resilient |
| Usability | 4.7 | Very user-friendly |
| Versatility | 4.6 | Multiple potential uses |
| Portability | 4.9 | Excellent space-saving design |
The design makes it a versatile tool. A spacious 9L volume that folds down to a fraction of its size (from 7.9 to 2.7 inches) – it's the dictionary definition of portable and space-saving. The plug and drainer make it perfect for washing dishes or food, even serving as a makeshift cooler.
What stands out is its quality – the food-grade PP + TPR construction ensures it's sturdy, durable, and won't crack. Plus, it's BPA free and dishwasher safe. You can feel its solid build the moment you hold it.
The brand FOSJGO is known for their reliable camping products, reinforcing the authenticity of this collapsible sink.
Able to handle a large 9.5-quart volume while only weighing a light 1 pound, it's a workhorse without the weight.
What Sets This Product Apart:
Not only is it collapsible and versatile, but it's also easy to carry, with double handles for lifting. That's something not all camping sinks offer.
Pros:
Large capacity
Lightweight
Sturdy and durable
Multifunctional
Cons:
Requires a flat surface for stability
Specifications:
Material: Polypropylene
Dimensions: 12″D x 12″W x 7.87″H
Weight: 1 pound
Special Feature: Collapsible, Portable
Hey there! Let's talk about the MontNorth Collapsible Dish Tub Portable Sink, a marvel for your camping escapades.
| | | |
| --- | --- | --- |
| Measurement Criteria | Performance Score | Comments |
| Durability | 4.8 | High-quality material ensures longevity |
| Portability | 4.9 | Extremely lightweight, collapsible |
| Usability | 4.7 | Versatile but size may limit usage |
| Design | 4.8 | Smart design with effective plug & drainer |
You're out camping and the dishes are piling up. A conventional sink's a no-go, but then you pull out this wonder from your kit. It's compact, lightweight, and damn easy to use.
This tub strikes an impressive balance between utility and portability. It's made of quality BPA-free PP + TPR material, ensuring longevity. The smart design allows it to collapse to 1/3rd its height when not in use. Now that's space-saving!
I've looked at countless similar products, but none offer the flexibility and durability of the MontNorth sink. The fact that it's dishwasher safe is just the cherry on top.
For the numbers enthusiasts, the sink's 9L capacity and dimensions (12″x12″x7.9″) can accommodate a fair number of dishes.
What sets this product apart:
What really makes it stand out? It's the plug and drainer. A rare feature in portable sinks, it allows for effective dishwashing and draining. Not just for dishes, this versatile sink can be a foot bath or laundry soaking tub too!
Pros:
Compact and lightweight
Made from durable BPA-free material
Versatile with draining feature
Dishwasher safe
Cons:
Might be too small for larger pots and pans
Specifications:
Brand: MontNorth
Material: Polypropylene
Product Dimensions: 12″D x 12″W x 7.9″H
Item Weight: 1 pound
Picture this: You're on a camping trip, and you've got a heap of dishes to clean but no sink. Enter the AUTODECO Collapsible Sink! It's the best camping companion you never knew you needed.
| | | |
| --- | --- | --- |
| Measurement Criteria | Score | Comments |
| Usability | 4.5 | Ease of unfolding and folding |
| Portability | 5 | Remarkably compact when folded |
| Durability | 4.7 | Resilient materials, stands up well to outdoor use |
| Functionality | 5 | Versatile with multiple uses |
| Customer Service | 4.8 | Quick and efficient customer support |
As someone who loves the great outdoors, you'll appreciate its lightweight portability. Just pop it open and you've got a full-sized sink with a whopping 2.37-gallon capacity. Done cleaning? Fold it back and pack it up. It's so compact, you'd hardly notice you're carrying it.
From an expert standpoint, the construction materials – thermoplastic rubber and premium polypropylene – ensure durability and flexibility. This means it can endure the rough conditions of outdoor use, while maintaining its shape and functionality.
The bucket's design screams innovation and practicality, a hallmark of AUTODECO's quality products. Plus, their offer of a complimentary drying towel and a committed customer service establishes their credibility.
The bucket, when unfolded, measures 15.2×11.2×6.1″, providing ample space for all your cleaning needs. It folds down to a mere 2.5″ height, offering incredible portability and space-saving properties.
What sets this product apart:
What really makes this product stand out is its multi-purpose functionality. It's not just a sink. It's a fish bucket, an ice bucket, a travel basin – you name it. And let's not forget the bonus towel they throw in!
Pros:
High capacity yet portable
Multi-functional
Durable materials
Complimentary towel
Excellent customer service
Cons:
Handles could be more ergonomic
Specifications:
Material: Polypropylene, Thermoplastic rubber
Unfolded Size: 15.2×11.2×6.1″
Folded Size: 15.2×11.2×2.5″
Capacity: 2.37 Gallons
What is a Collapsible Sink?
A collapsible sink is a type of portable and flexible sink designed to fold or collapse down to a smaller size for storage and transportation. Made from flexible yet durable materials like silicone or heavy-duty plastic, a collapsible sink can be expanded for use and then easily compacted again. An example of a collapsible sink is given below: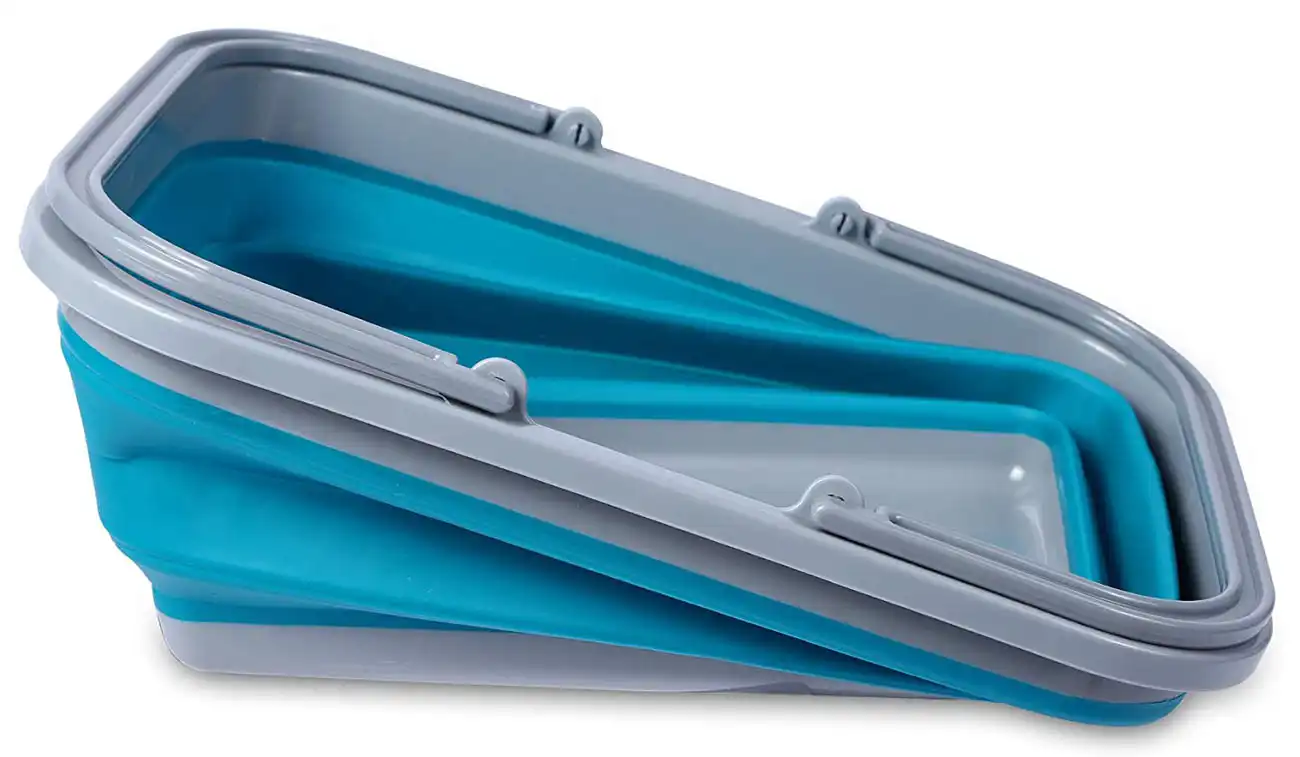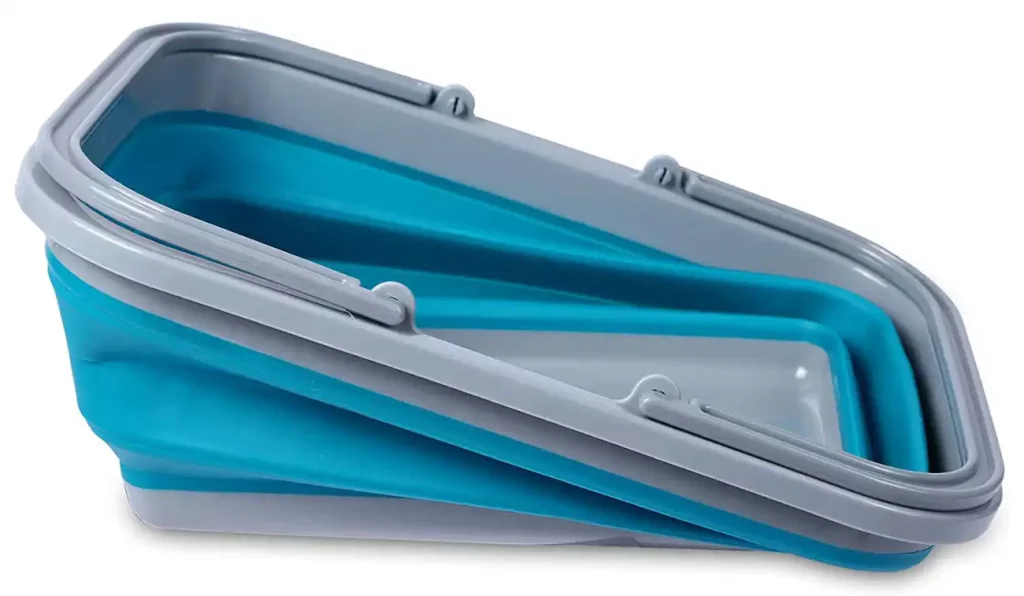 It's an essential camping accessory that provides a functional solution for managing various tasks such as washing dishes, cleaning utensils, washing hands, or even rinsing off small pieces of clothing.
Benefits of a Collapsible Sink for Camping
Portability and Compactness
One of the primary benefits of a collapsible sink is its portability. The unique design allows it to fold down into a compact size, making it easy to pack and carry in a camping bag or backpack without taking up too much space.
This compactness is ideal for campers who have limited space in their camping gear but still require the utility of a sink. The lightweight nature of the collapsible sink further enhances its portability, ensuring it does not add unnecessary weight to your luggage.
Versatility and Multi-functionality
A collapsible sink is not just for washing dishes – it's a versatile camping tool with a multitude of uses. Besides dishwashing, it can be used for bathing, as a water carrier, or even as a makeshift cooler filled with ice to keep drinks cold.
This level of multi-functionality makes the collapsible sink an all-in-one solution for a variety of outdoor needs, thereby eliminating the need to carry multiple items for different purposes.
Ease of Use and Convenience
Collapsible sinks for camping are designed with user-friendliness in mind. They are simple to set up and take down, usually only requiring a few simple movements to expand or collapse. This ease of use is a significant advantage, especially in camping conditions where convenience is key.
Furthermore, most collapsible sinks are easy to clean and dry quickly, making them a hygienic option for camping trips. Their convenience and practicality make them an excellent addition to any camping gear.
Factors to Consider when Choosing a Collapsible Sink
1) Material and Durability
One of the most critical factors to consider when purchasing a collapsible sink is the material. The material dictates both the durability and the ease of use of the sink. High-quality silicone and heavy-duty plastics are commonly used due to their flexible yet sturdy nature.
These materials can withstand the rigors of outdoor use, including exposure to the elements and potential rough handling. Look for a sink that is resistant to wear and tear, as this will ensure it lasts for many camping trips to come.
2) Size and Capacity
Size and capacity are another crucial consideration. Depending on your specific needs, you might require a larger sink for washing bigger items or a smaller one for portability. Keep in mind how many people will be using the sink and for what purposes.
If you're traveling alone or with a partner, a smaller sink may suffice, while a larger group or family might necessitate a bigger sink with higher capacity. Also, consider the collapsed size to ensure it fits conveniently in your camping gear.
3) Sturdiness and Stability
The sturdiness and stability of a collapsible sink are equally important, especially when it's in use. A good collapsible sink should maintain its shape when filled with water and not easily tip over. Look for models that have a sturdy base and possibly reinforced walls to ensure they can hold the weight of the water or other contents.
A sink that collapses or tips over easily is not only inconvenient but may also lead to water wastage or a messy campsite. Stability is particularly crucial if you're planning to use the sink for multiple purposes, such as washing dishes or carrying water.
How to Properly Care for and Maintain a Collapsible Sink
1) Cleaning and Storage
Proper cleaning and storage are key to maintaining the longevity of your collapsible sink. After each use, thoroughly clean the sink with mild soap and warm water to remove any residue. Avoid using harsh cleaning chemicals as they can damage the material over time.
Allow the sink to air dry completely before storing to prevent the growth of mold or mildew. When storing, ensure the sink is fully collapsed and kept in a cool, dry place away from sharp objects that could potentially puncture or damage it.
2) Avoiding Damage
While collapsible sinks are designed for durability, they should still be handled with care to avoid unnecessary damage. Be mindful not to overload the sink beyond its capacity, which can strain the material and potentially lead to tears or leaks.
If you use the sink for carrying or storing sharp objects, ensure they are properly wrapped or contained to prevent puncturing the sink's material. Regularly inspect the sink for any signs of wear or damage before use and promptly repair or replace as needed.
FAQs About Camping Collapsible Sink
What can I use as a camp sink?
A camp sink can be improvised using various items, such as collapsible basins, portable sink units, or even a large cooking pot. Select an item based on portability, durability, and size to fit your camping needs.
How does a portable camping sink work?
Portable camping sinks function similar to regular sinks. They have a reservoir to hold fresh water, and when the tap is turned on, gravity or a foot pump drives the water out. Used water is typically collected in a separate basin for disposal.
Can I have a sink without plumbing?
Yes, it's possible. Portable sinks are an example of sinks without traditional plumbing. They are self-contained units that include water storage for supply and wastewater, negating the need for permanent fixtures.
How do portable sinks drain?
Portable sinks typically drain into a built-in wastewater tank. This tank collects the water that goes down the drain, allowing for easy disposal later. This design eliminates the need for a traditional drainage system.
How much water does a portable sink hold?
The amount of water a portable sink can hold varies with design and size. On average, portable sinks may hold around 5 to 10 gallons of water. However, larger or specialized models can hold more.
What is a self-contained sink?
A self-contained sink is a standalone unit that doesn't require a connection to a water supply or drainage system. It has its own reservoirs for clean and wastewater, making it a flexible and mobile option for various situations.
How do you drain a sink without a drain?
To drain a sink without a drain, you can use a container to collect the used water. After each use, you can then manually empty the container in a suitable location. It requires a bit more effort, but is a practical solution when a traditional drain isn't available.
Final Thoughts
A collapsible sink is an essential camping accessory, providing convenience, versatility, and ease of use. When choosing a collapsible sink, consider factors such as material, size, and stability to ensure it meets your specific camping needs.
Proper care and maintenance, including regular cleaning and careful handling, will ensure your collapsible sink remains in good condition for many camping trips to come.
Investing in a high-quality collapsible sink is a decision that will undoubtedly enhance your camping experience.
Read more: Camping Cooking Kit